Last Updated: 11/30/2022
A thread on WHO is REALLY behind the #Balenciaga ads:
The Devil In Disguise: Lotta Volkova
1. She has been one of the main stylist in Balenciaga since 2014.
2.She has a relationship with an accused pedophile.
3. We can't only boycott #Balenciaga but also the people behind it.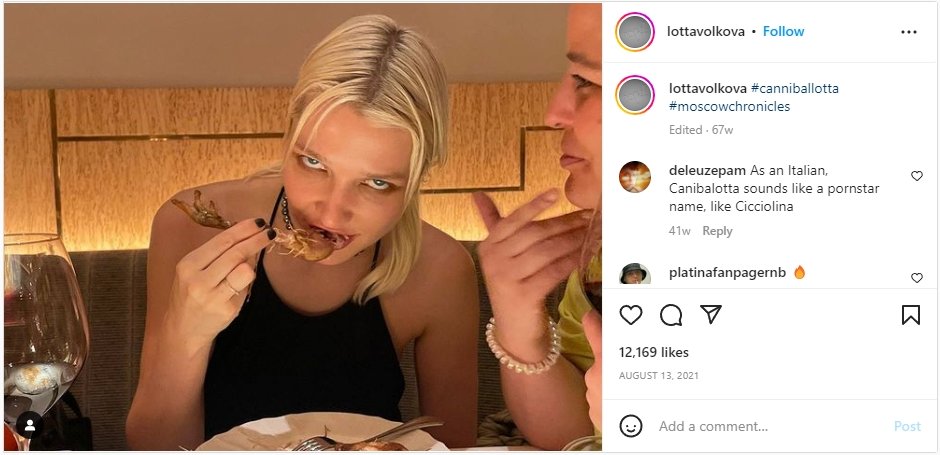 I also want to make something very clear, I feel #Balenciaga threw the photographers under the bus and that's not enough. If I'm wrong in something correct me please as I don't want to spread misinformation. I'm going to start with the strangest first and how it led me to her.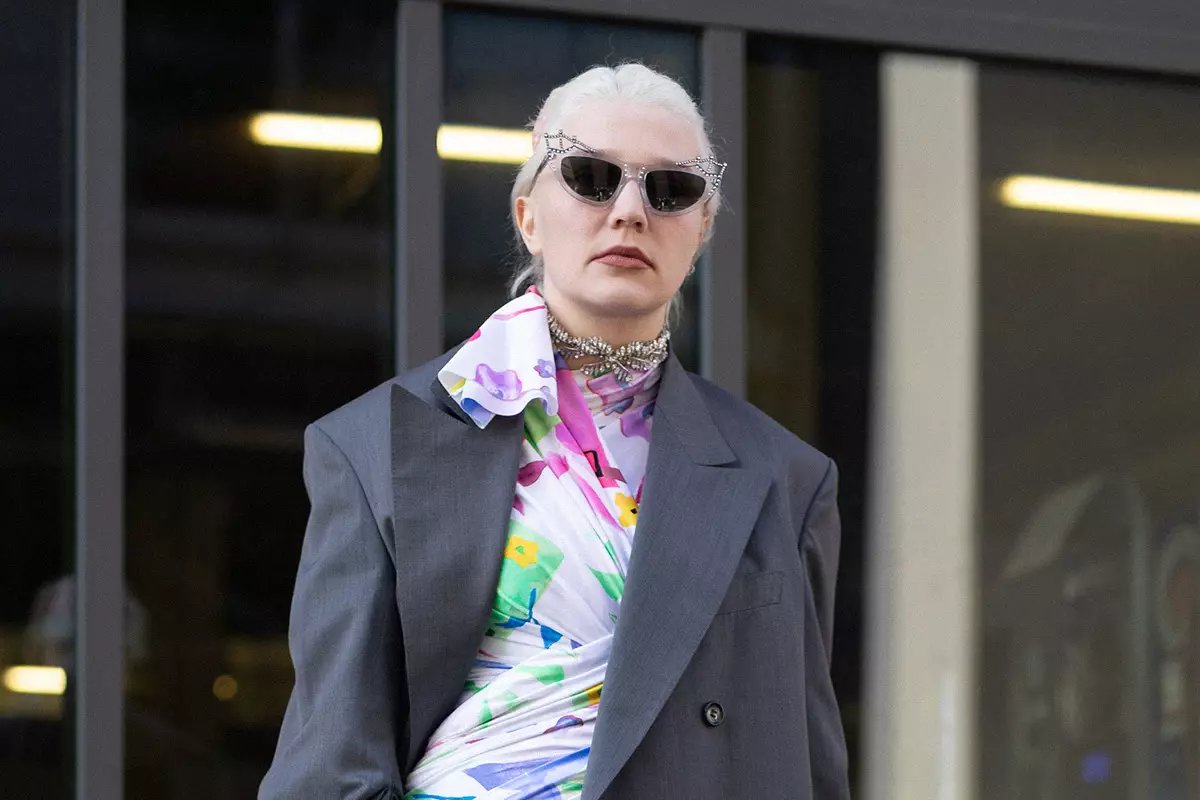 Meet the photographer that led me to her: Gabriele Galimberti
he said on this daily mail article: 'As usual for a commercial shooting, the direction of the campaign and the choice of the objects displayed are not in the hands of the photographer.' I believe him on this.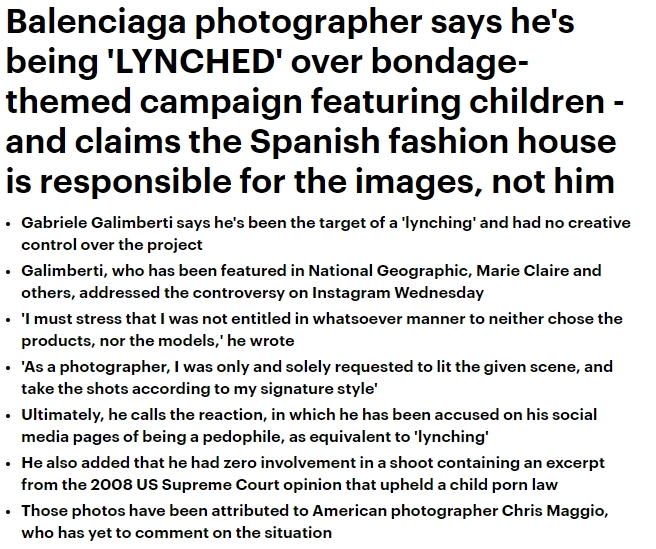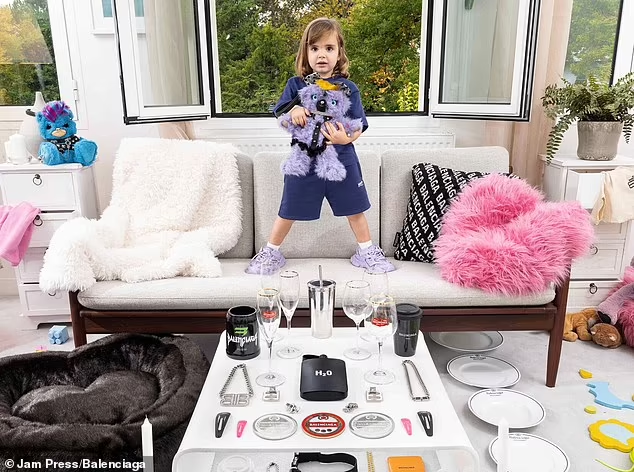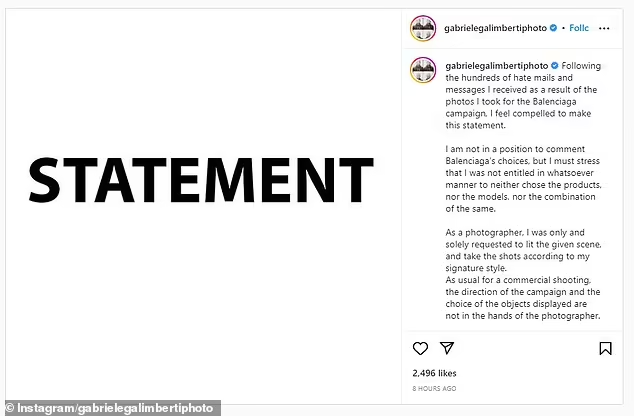 He did pretty much keep his mouth shut though except for the name Chris Maggio, this where it gets creepy. Chris Maggio have done some really high profile work for Vogue,Balenciaga,GQ,Bloomberg and others however what caught me was one work that was called Double Magazine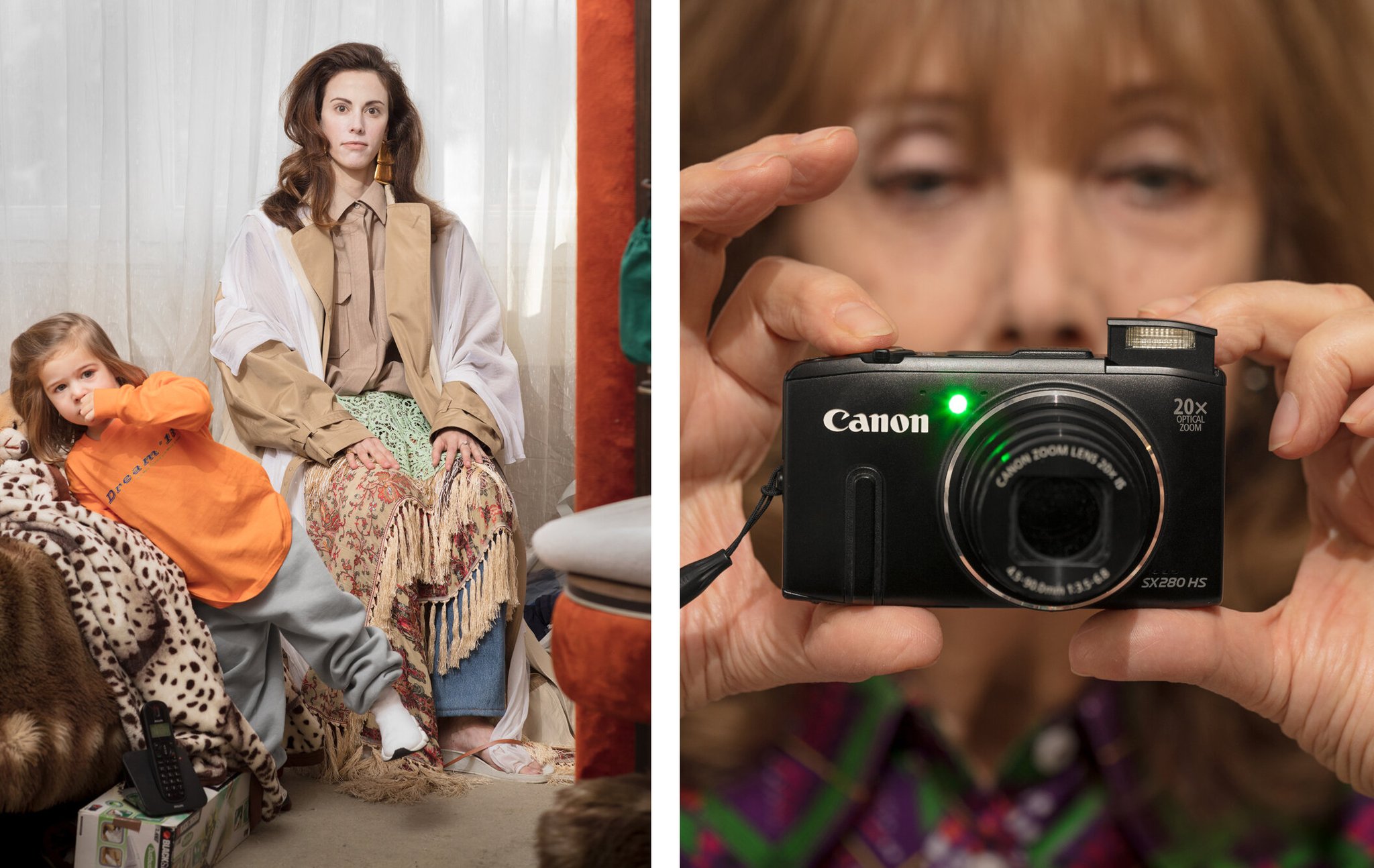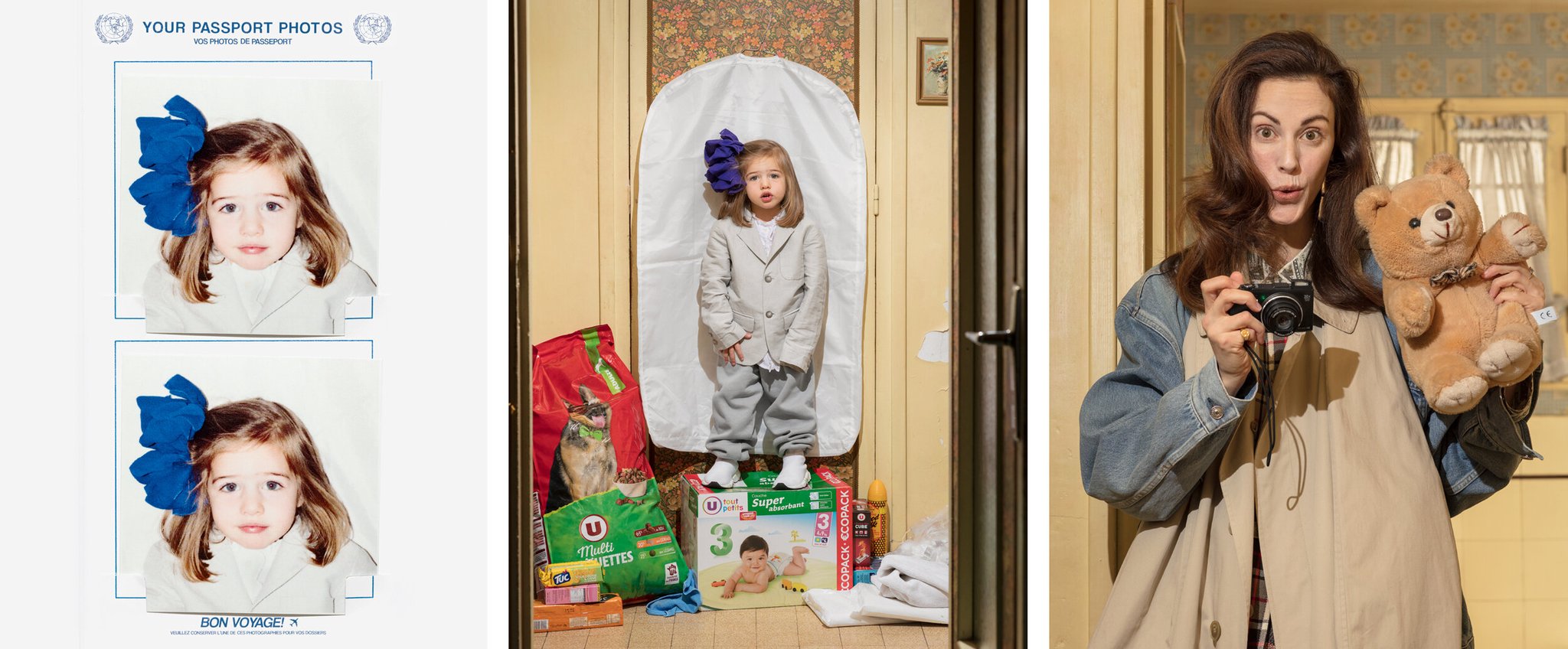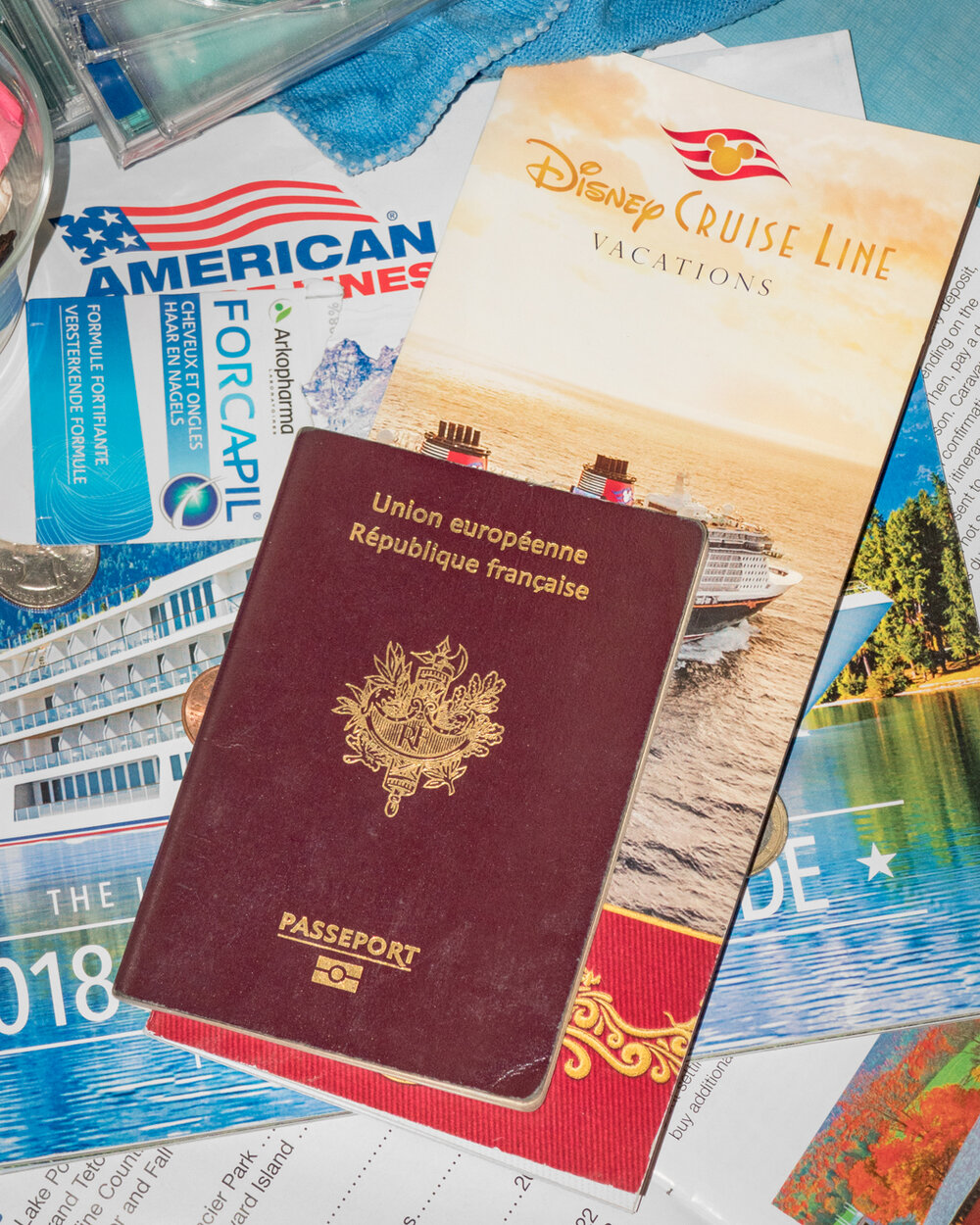 The little girl resembled the one in Balenciaga so much I thought it was her first, but I also found the style to be very similar. I went on lemagazinedouble website and couldn't find the issue. I found the whole shoot weird and that Disney Cruise Line reminded me of Epstein.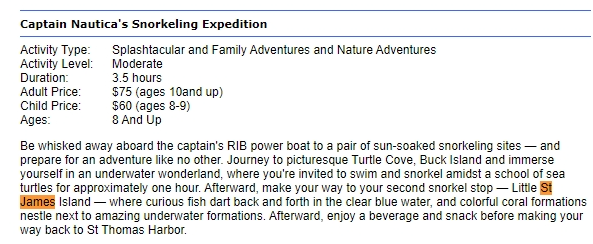 Captain Nautica's Snorkeling Expedition Splashtacular and Family Adventures and Nature Adventures Activity Type: Activity Level: Moderate Duration: 3.5 hours Adult Price: $75 (ages 10and up) $60 (ages 8-9) Child Price: Ages: 8 And Up Be whisked away aboard the captain's RIB power boat to a pair of sun-soaked snorkeling sites – and prepare for an adventure like no other. Journey to picturesque Turtle Cove, Buck Island and immerse yourself in an underwater wonderland, where you're invited to swim and snorkel amidst a school of sea turtles for approximately one hour. Afterward, make your way to your second snorkel stop – Little St James Island where curious fish dart back and forth in the clear blue water, and colorful coral formations nestle next to amazing underwater formations. Afterward, enjoy a beverage and snack before making your way back to St Thomas Harbor
This is actually true Disney Cruise Line used to travel to Epstein Island or St James island, however that could just be a coincidence what's important is this was styled by no other then Lotta Volkova. This is how she got my attention.
https://www.chrismaggio.biz/commissions#/passport-photos-double/
I have to thank the previous photographer for snitching on Maggio as it would've never led me to Lotta Volkova. Now when I found she styled it I thought who is this woman. She has become one of the most prominent stylist in the fashion industry.
She has worked with Vogue,Adidas,Balenciaga,Chanel, Jean Paul Gaultier amongst many others, Marc Jabos constantyl comment on her insta. Now lets focus on her insta and her relationship with a accused pedophile.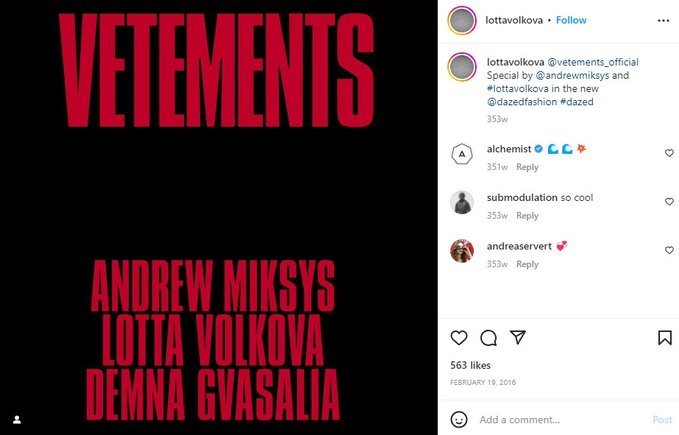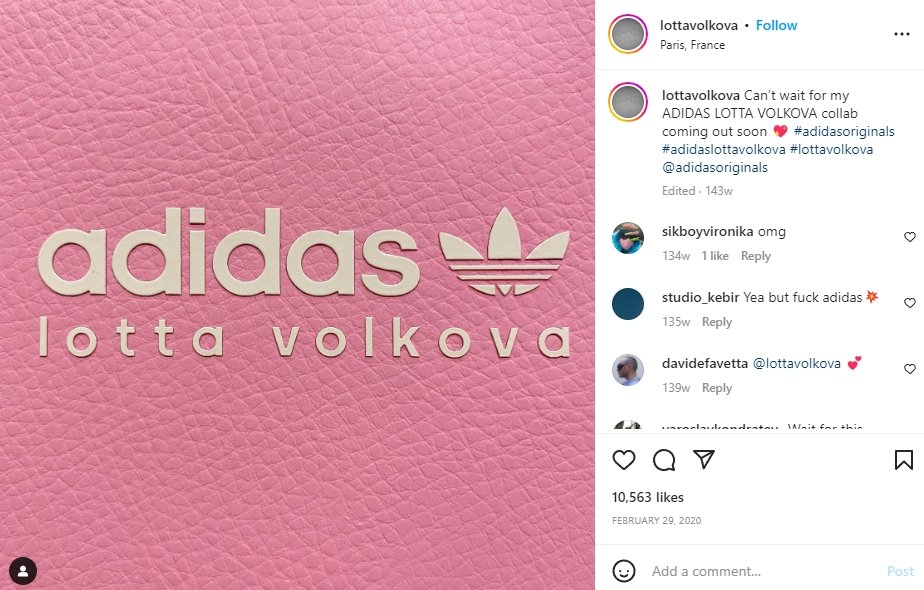 I found the pic on the right incredible disturbing what is she actually referring to when she tagged gosha and added a wink. Maybe it's just some weird goth humour but it is from the The Shining, which is about witches that what a young boys shining.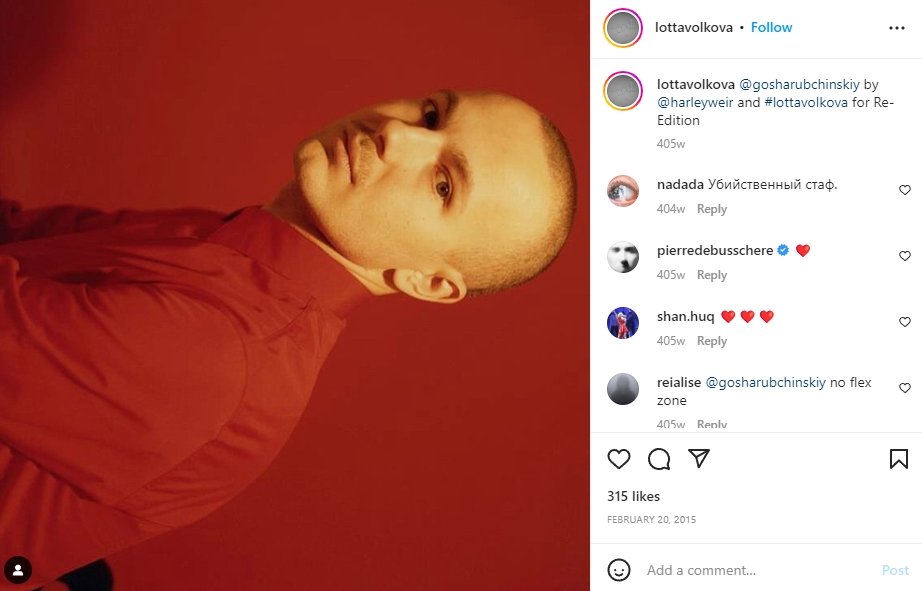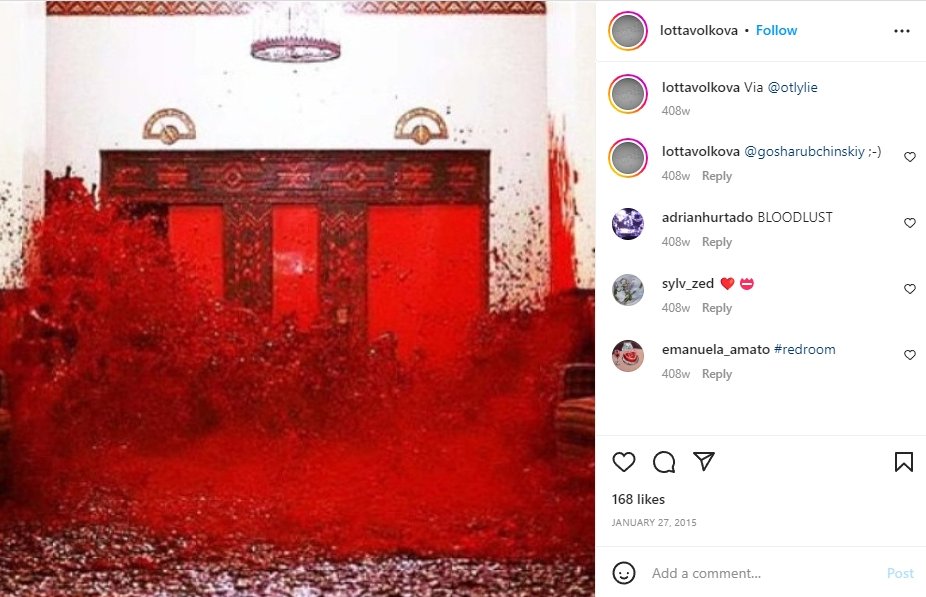 She has just like Gosha an interest to really young looking boys, it's really hard to guess their ages some I would say looked no more then 13. I could be wrong but have a look and at her insta and campaigns.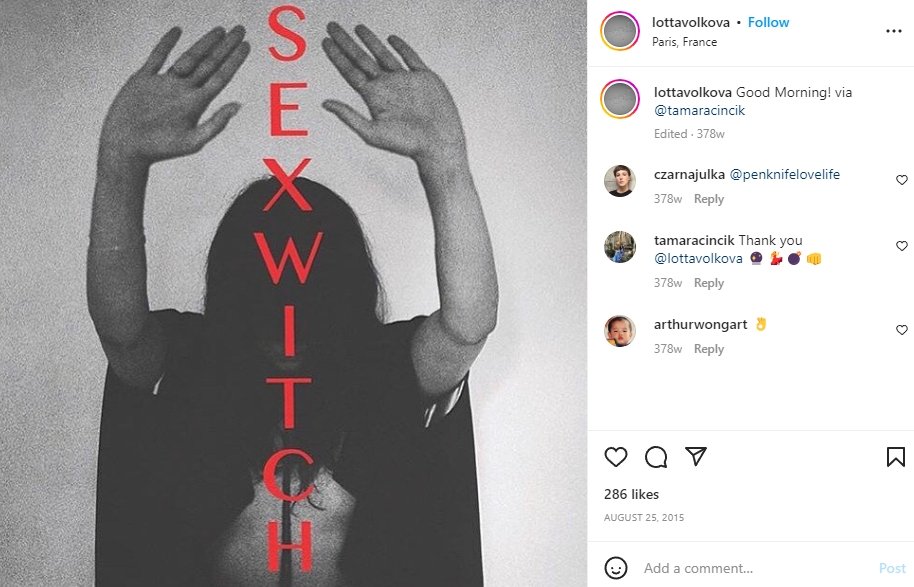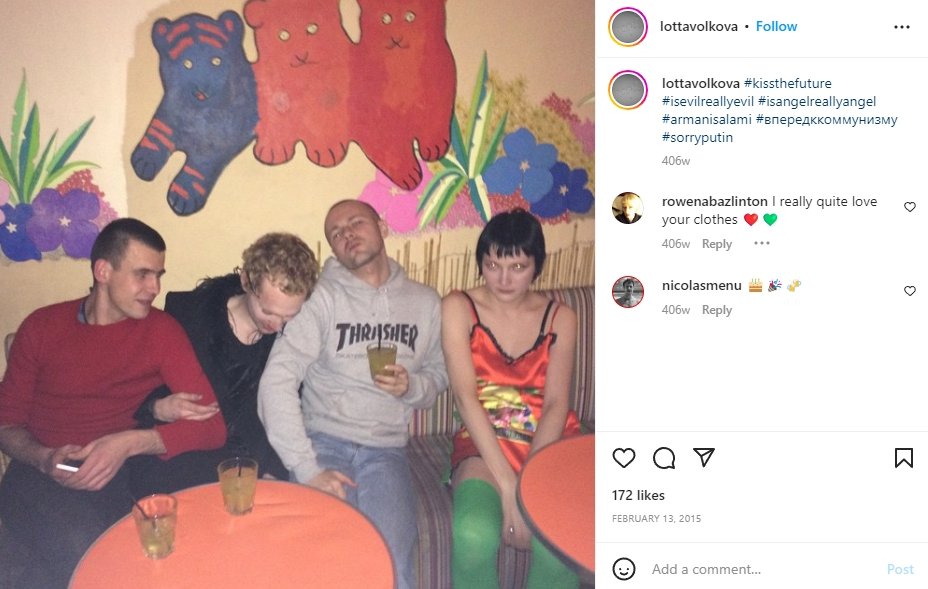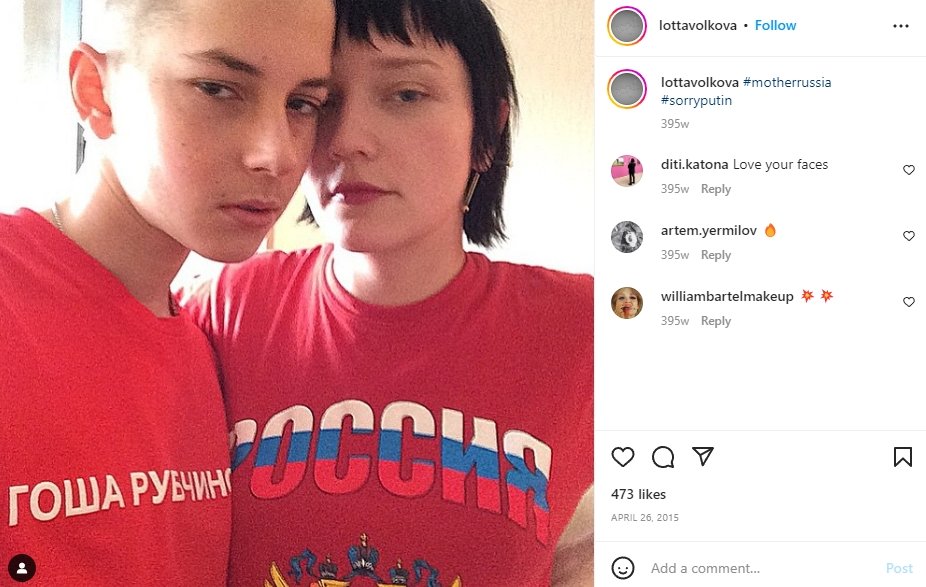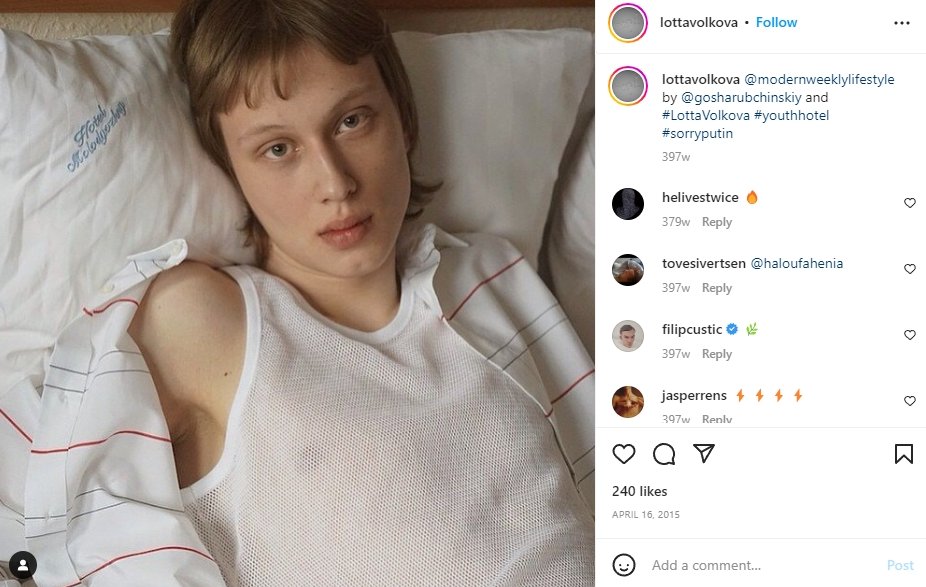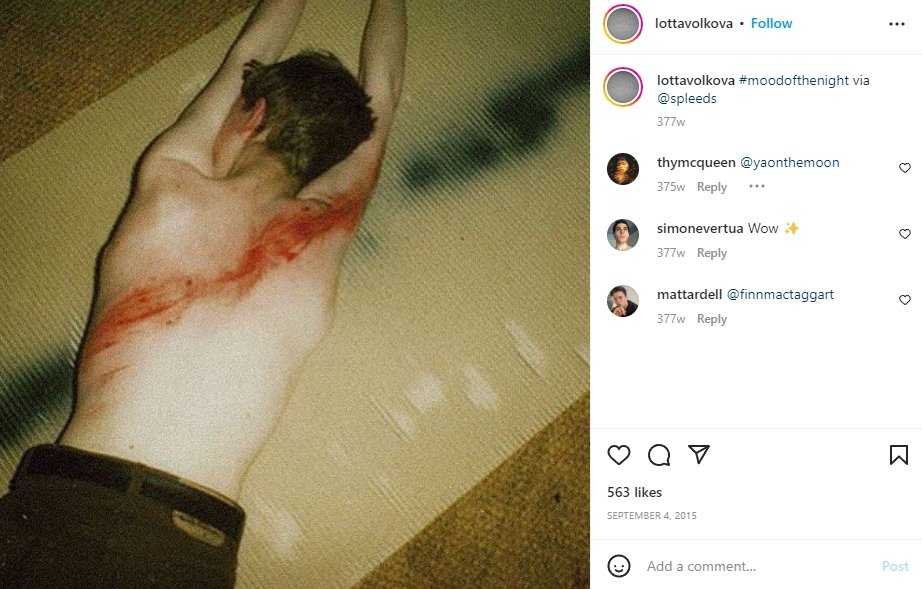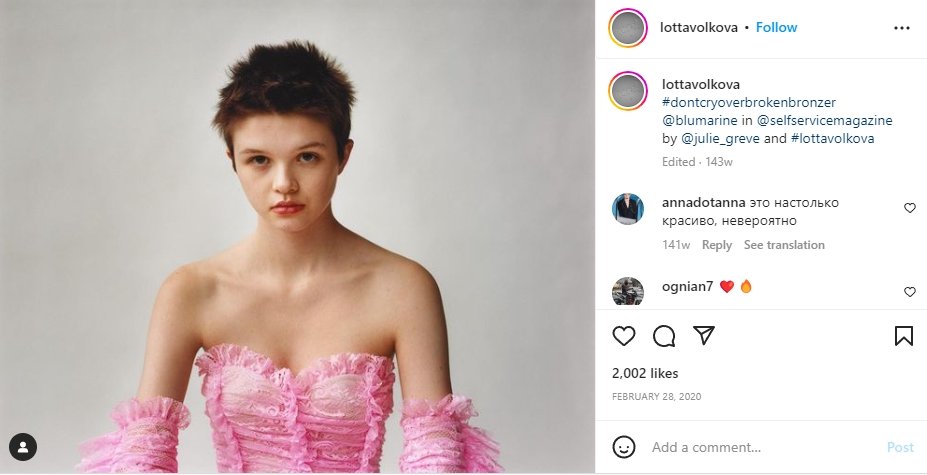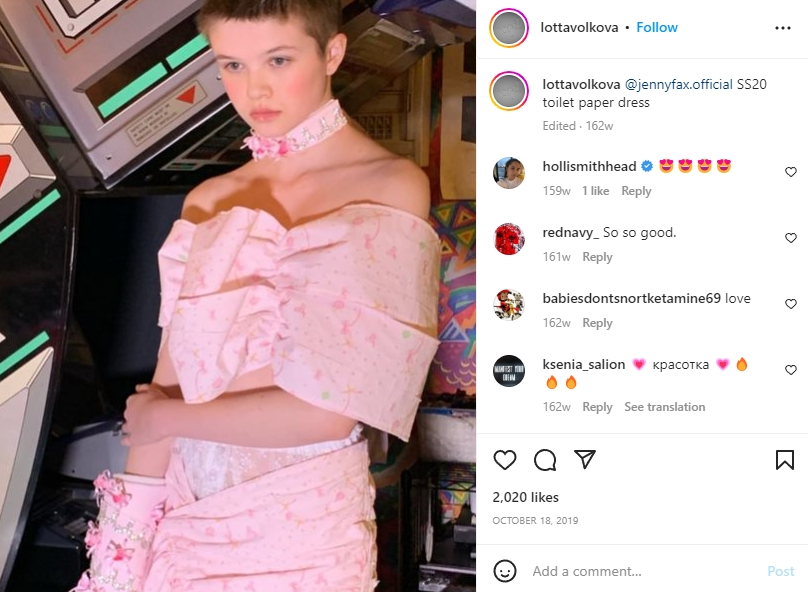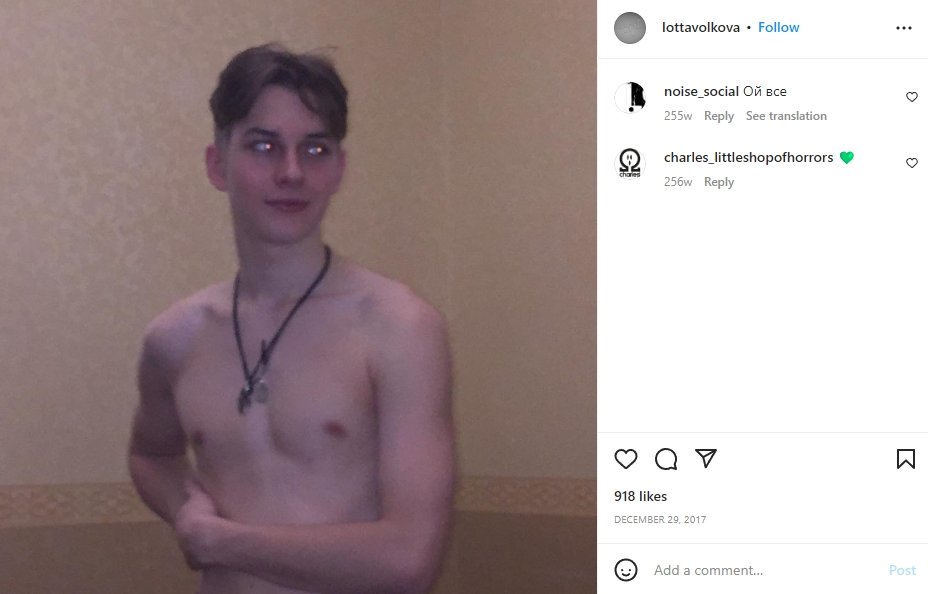 I also found this disturbing as she films a Juvenile Facility and then has that bloody floor which actually looks like real blood. Did anything happen there or was it just a set for Vetements campaign.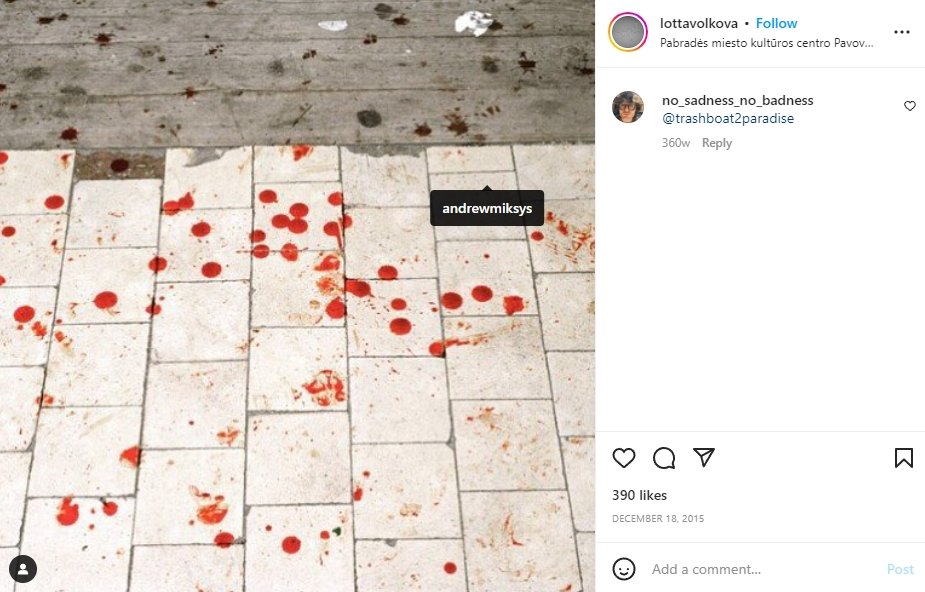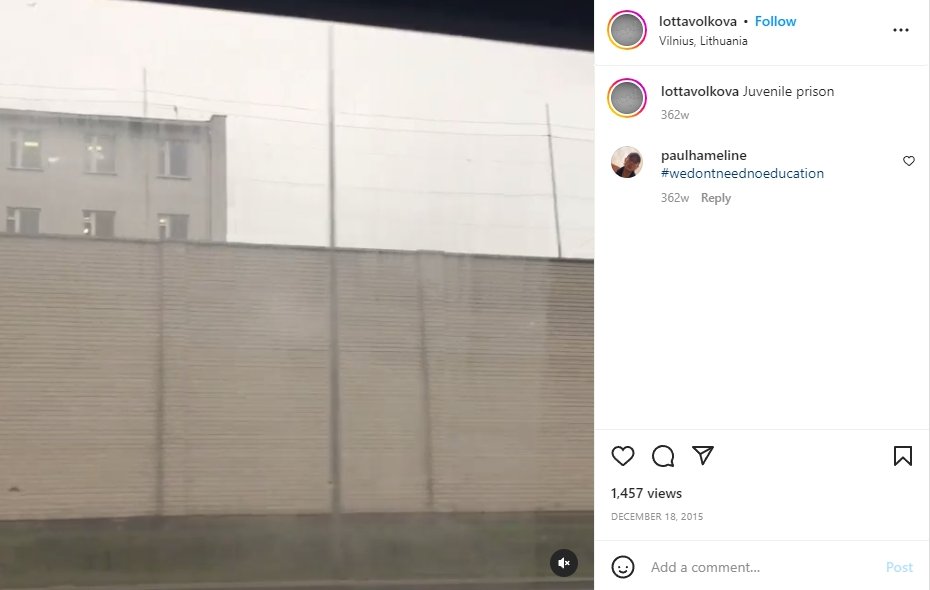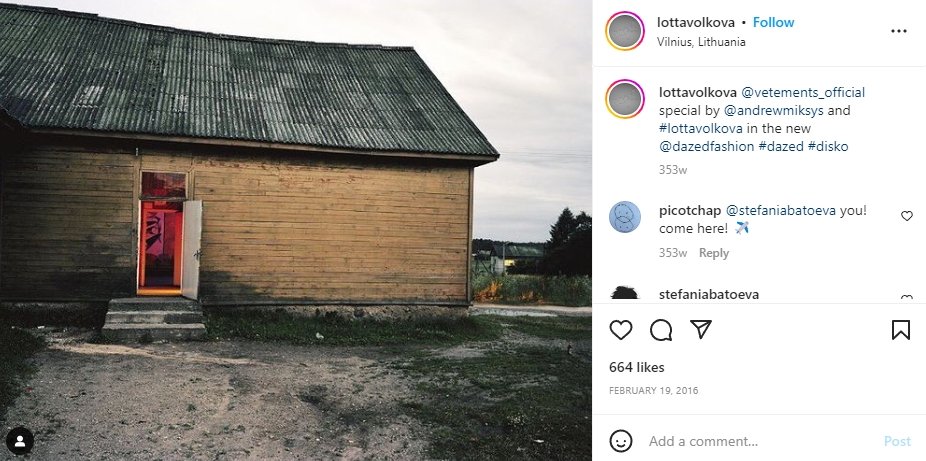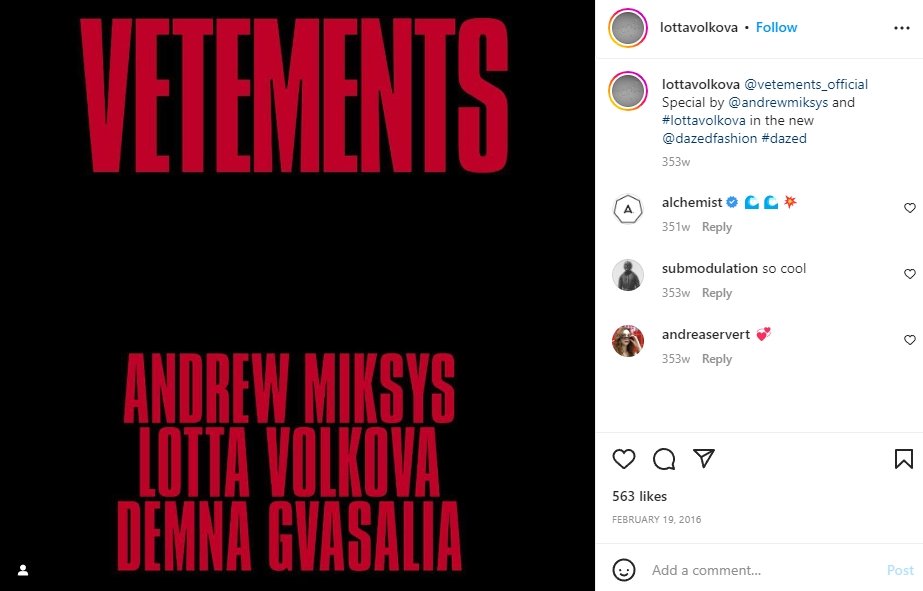 I also found this really disturbing and I will go int Alban Adam later but the next pictures are really something for not the faint hearted. She seems to enjoy art and pictures that depict children either in distress,bondage or something of that nature.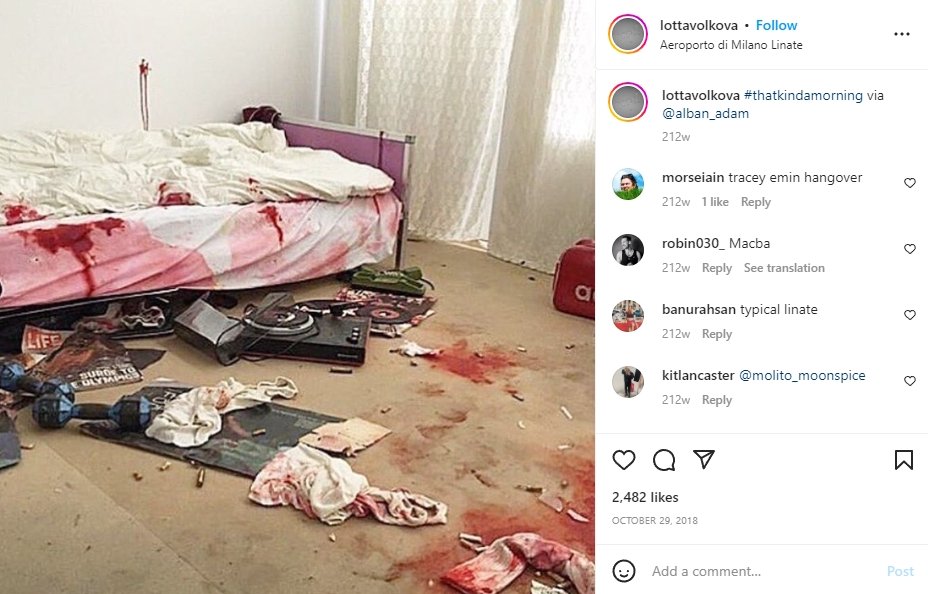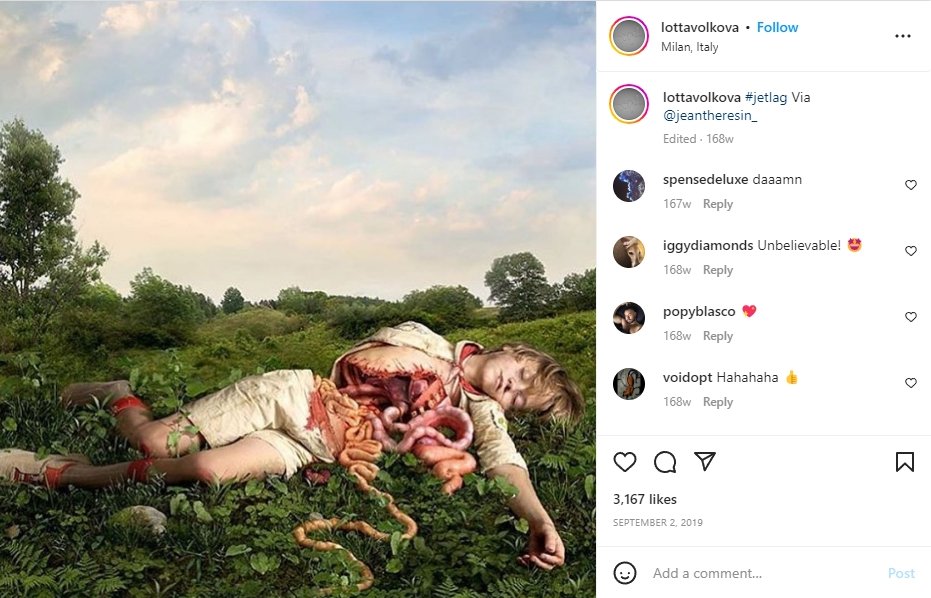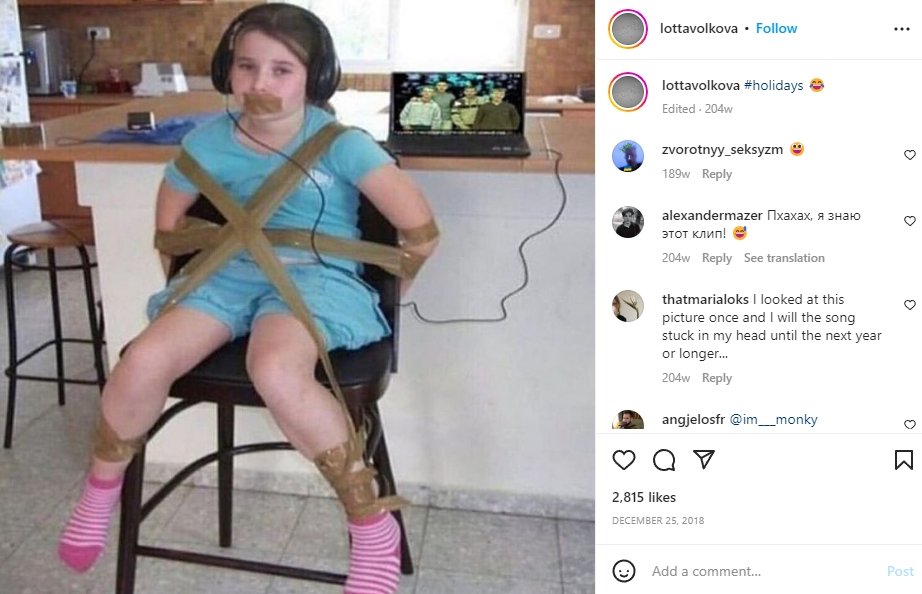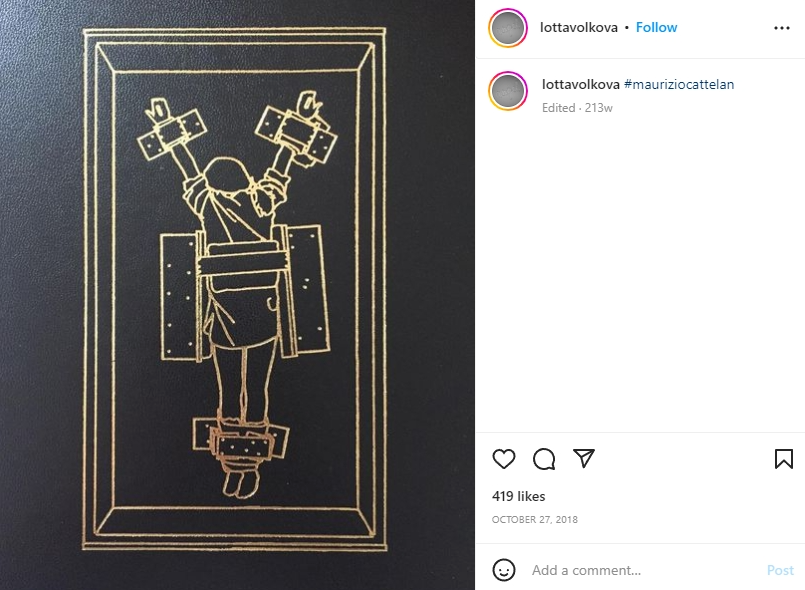 I also found this really disturbing and I will go int Alban Adam later but the next pictures are really something for not the faint hearted. She seems to enjoy art and pictures that depict children either in distress,bondage or something of that nature.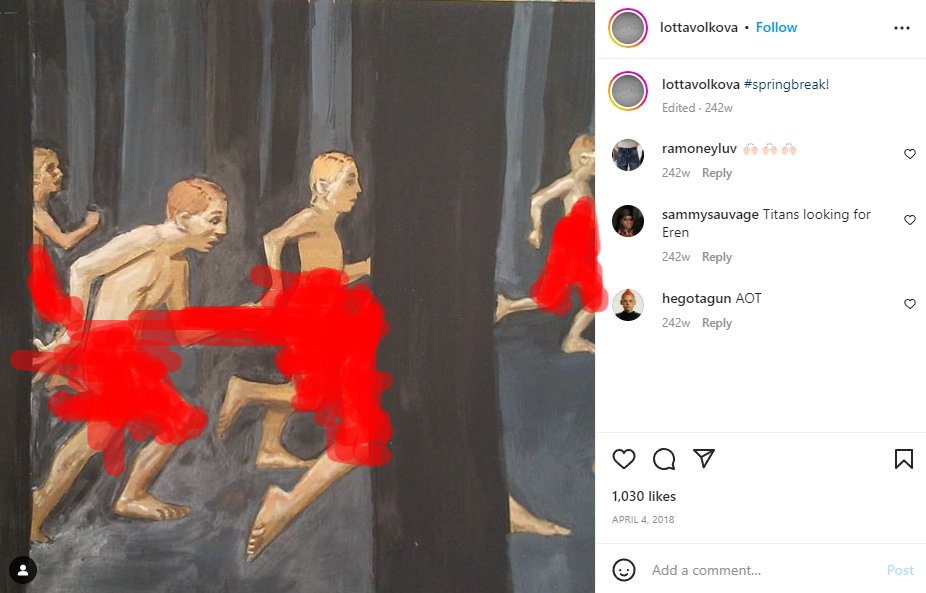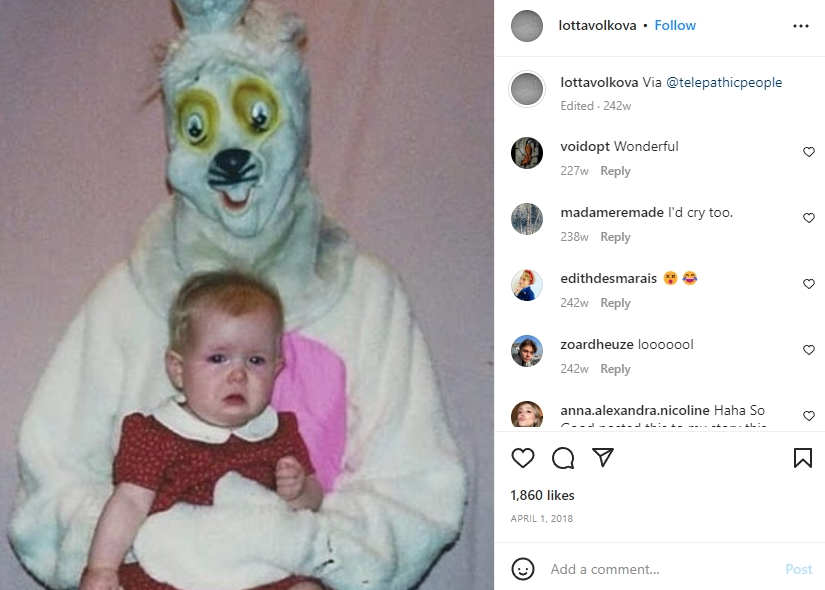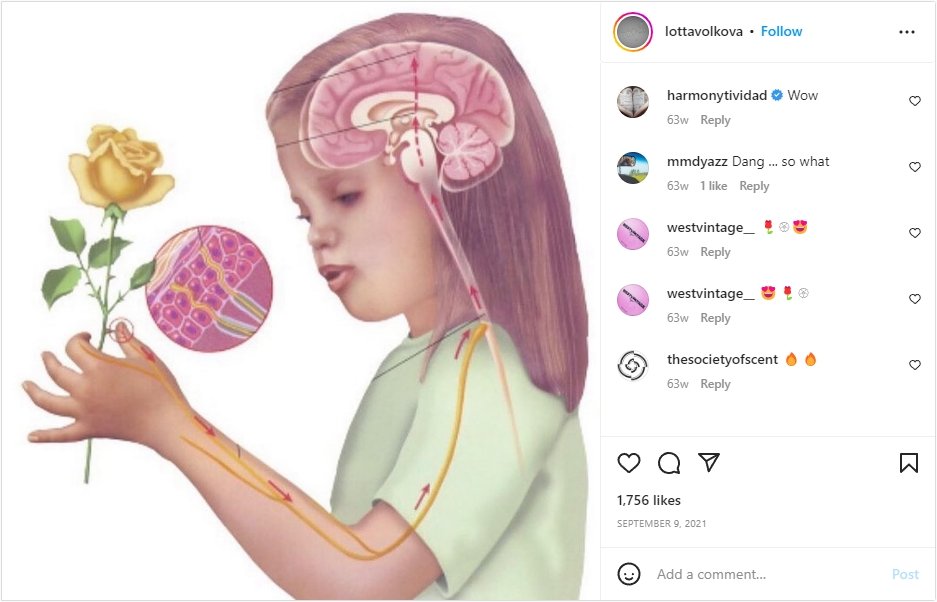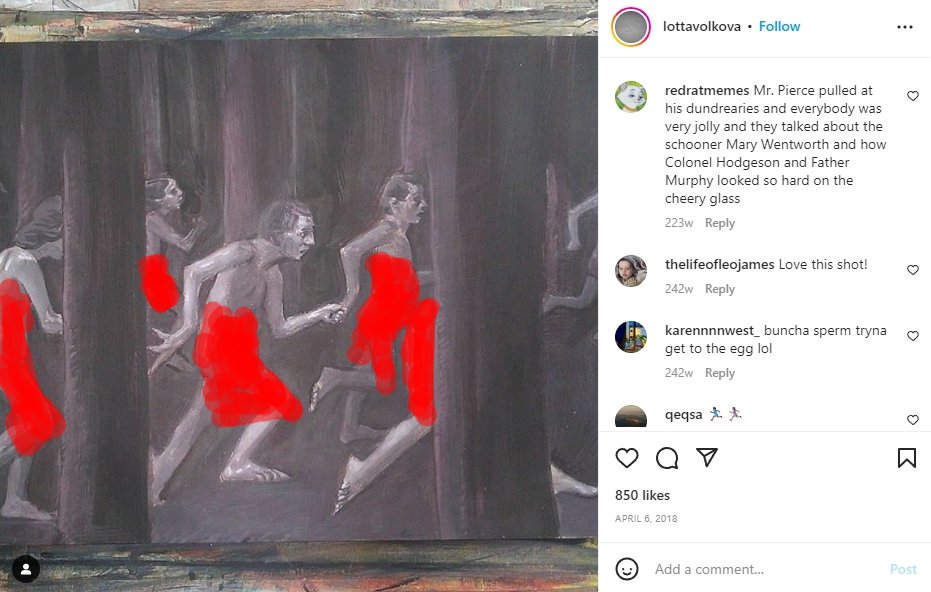 I found these below incredible disturbing and look who's commenting on the girl that is laying down. Marc Jacobs himself. This rabbit hole I went on took me from a #BalenciagaGate to #FashionGate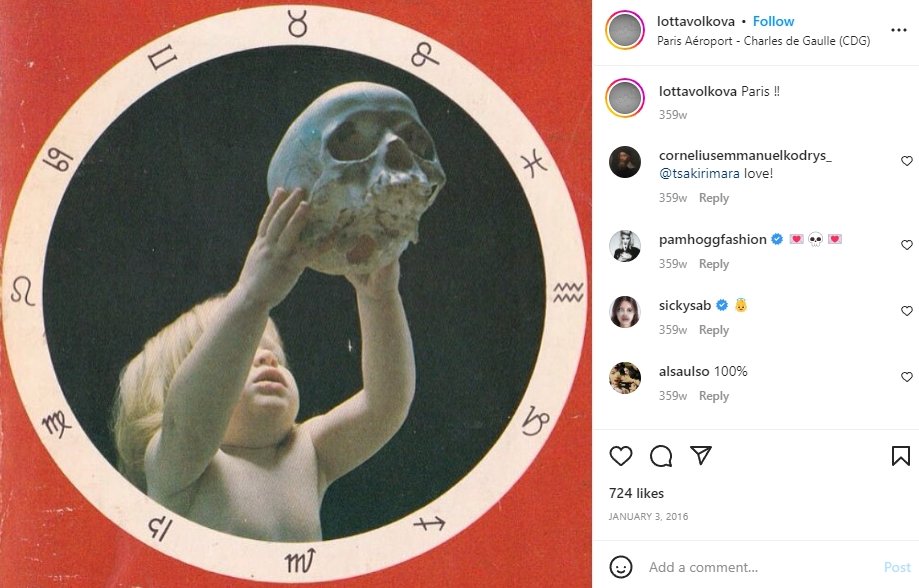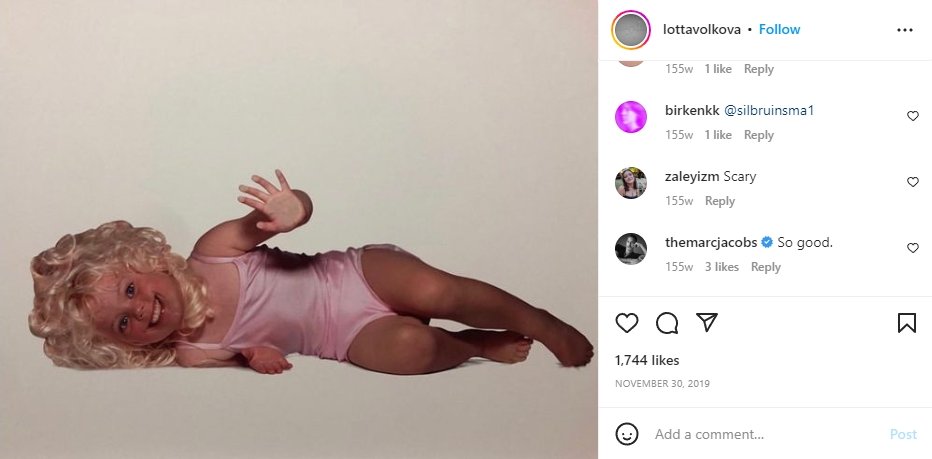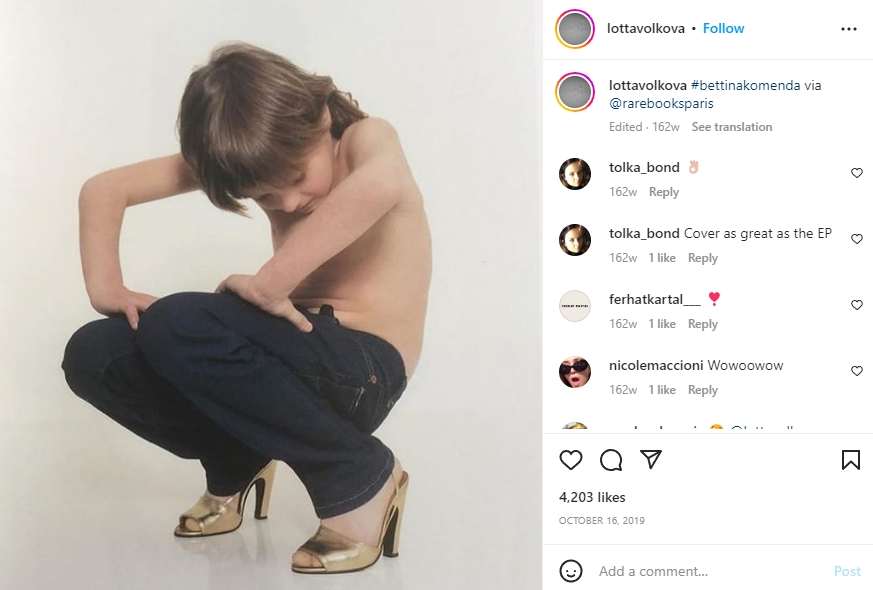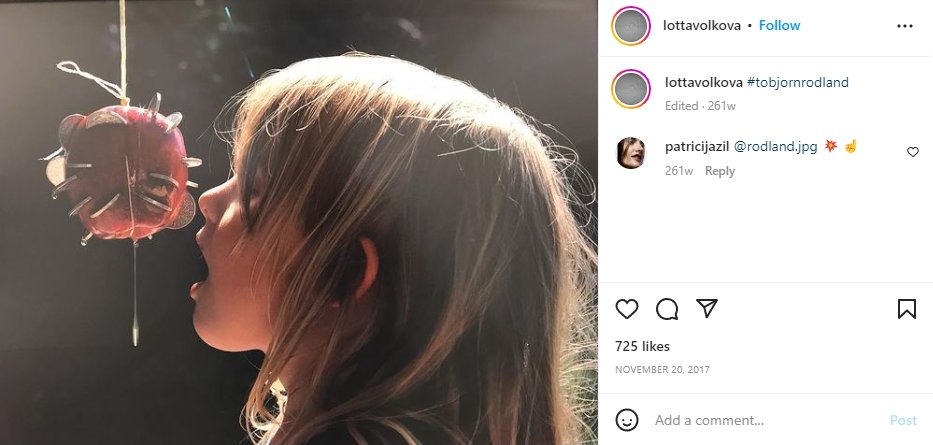 Now lets go into what leads to me think Lotta Volkova was behind the #Balenciaga ads. She has a weird fetish for teddy bears I don't know why but have a look and see for yourself.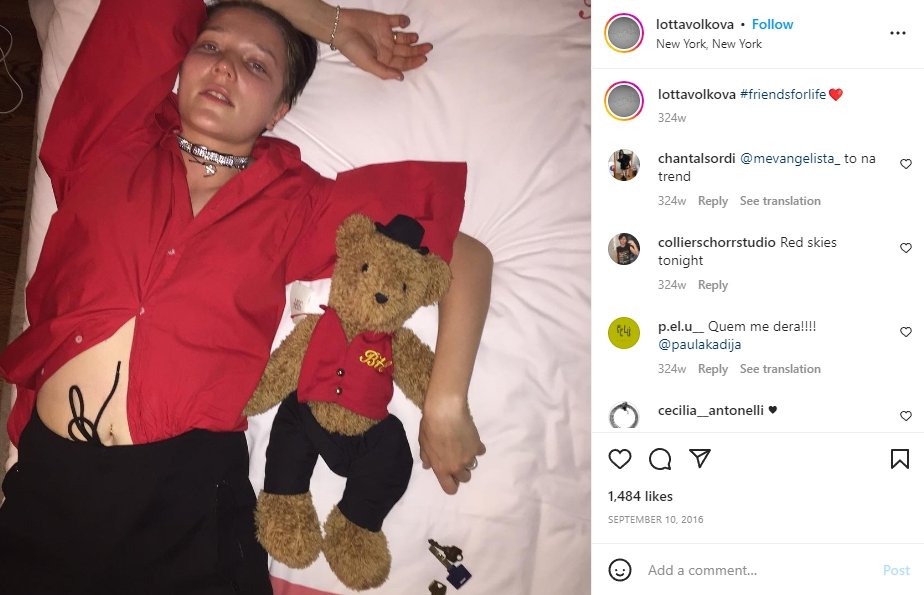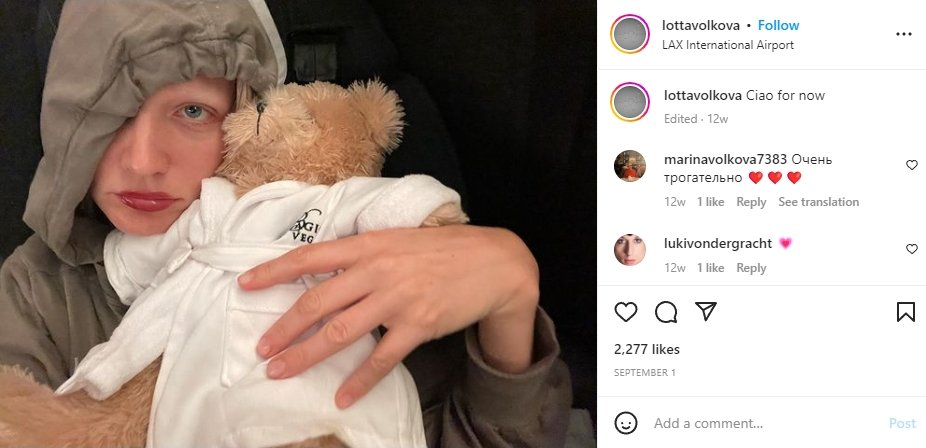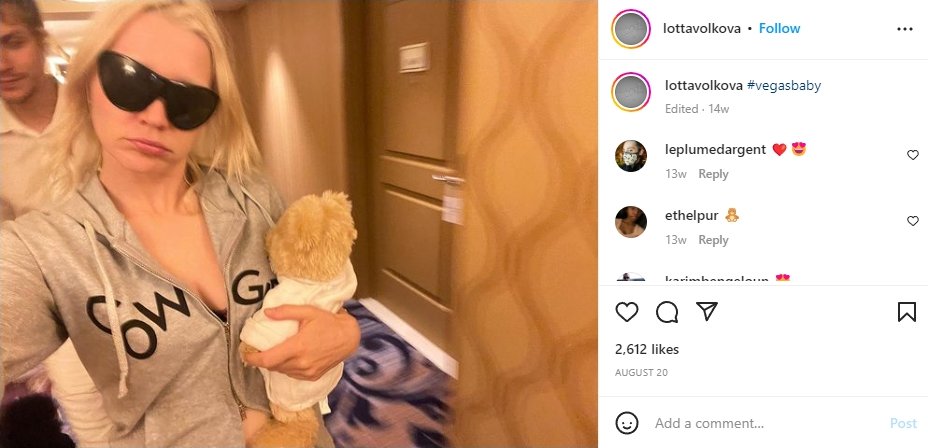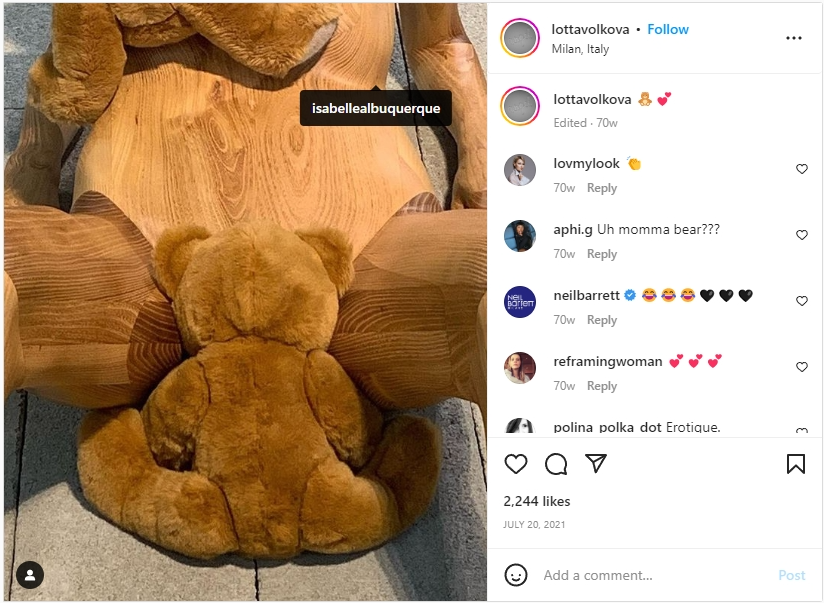 There is this meme pedobear which went around but also interestingly that's how pedos recognize other pedos. Fun fact prince Andrew is Obsessed with Teddy Bears he got 72 to be exactly.https://vanityfair.com/style/2022/01/prince-andrew-maid-teddy-bear-collection-arranged-very-particular… I mean she could just like teddy bears because they are cute who knows.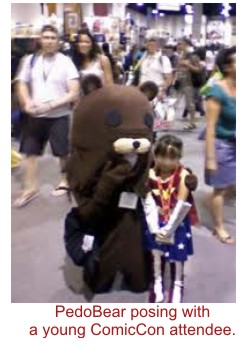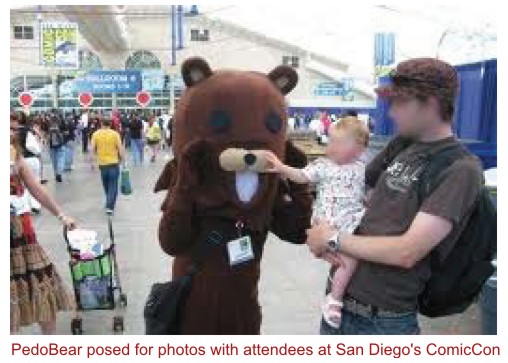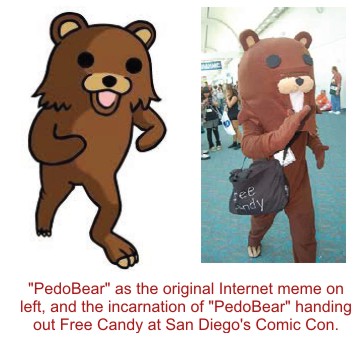 Notice the bondage on the Teddy Bear and Gosha seems to winked to her on that pic not sure what exactly is going on there, I don't want to know either. She likes Teddy Bears, She seems to like BDSM and bondage. This explains the styling in the Balenciaga ads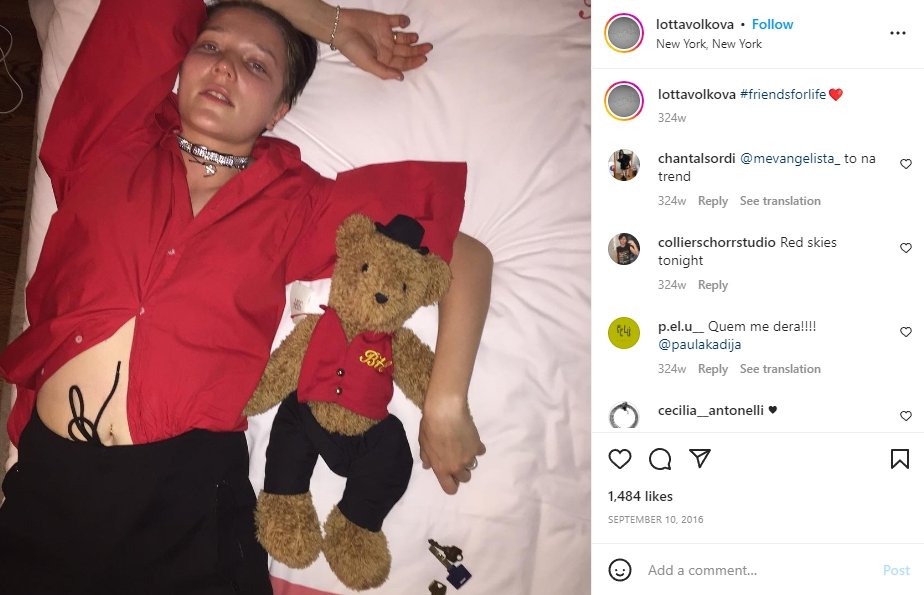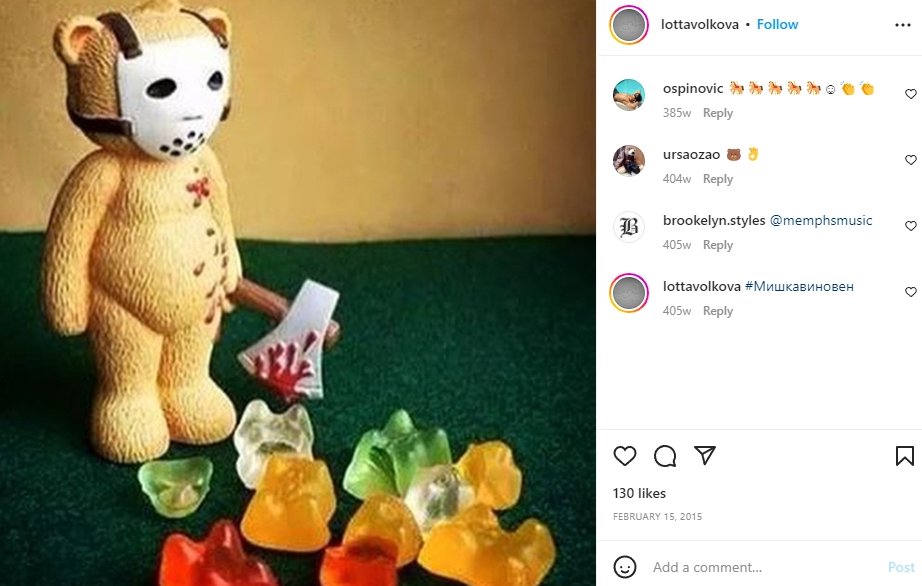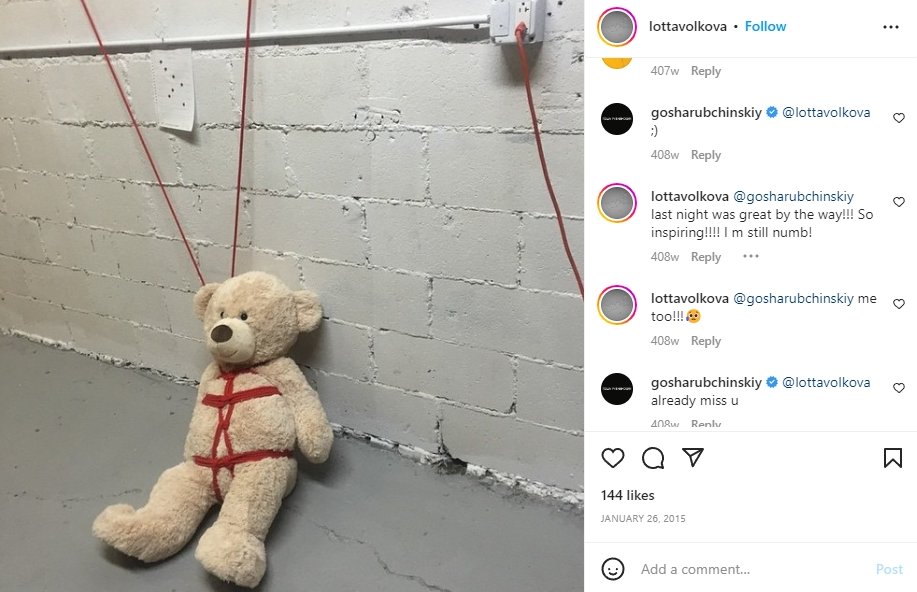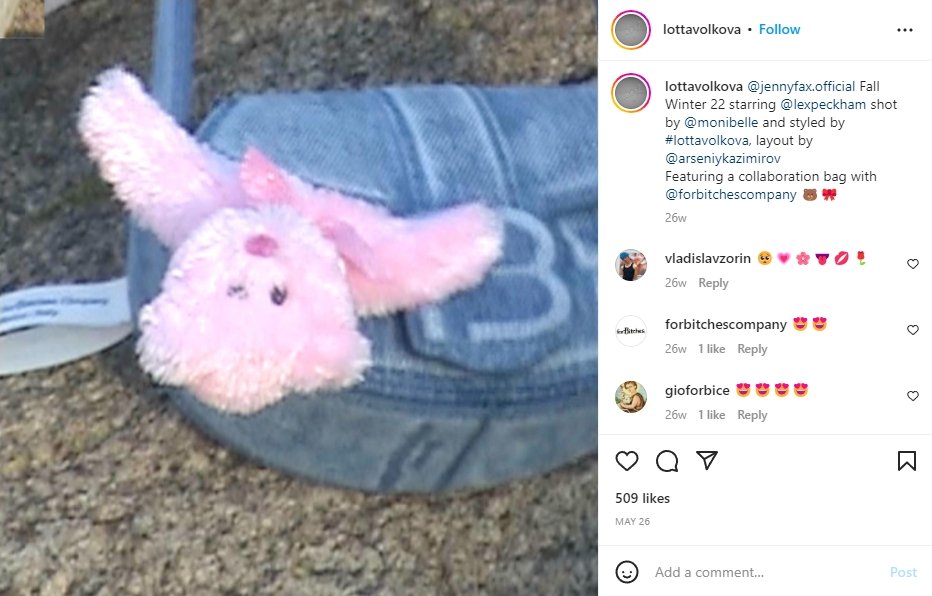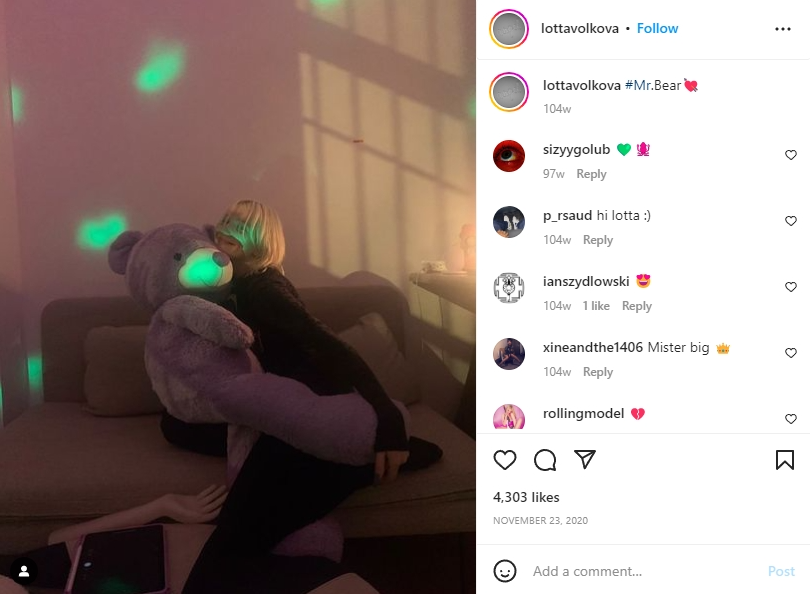 I personally started realizing that she's behind this weird bondage,BDSM that starts to enter the fashion world like in Adidas collab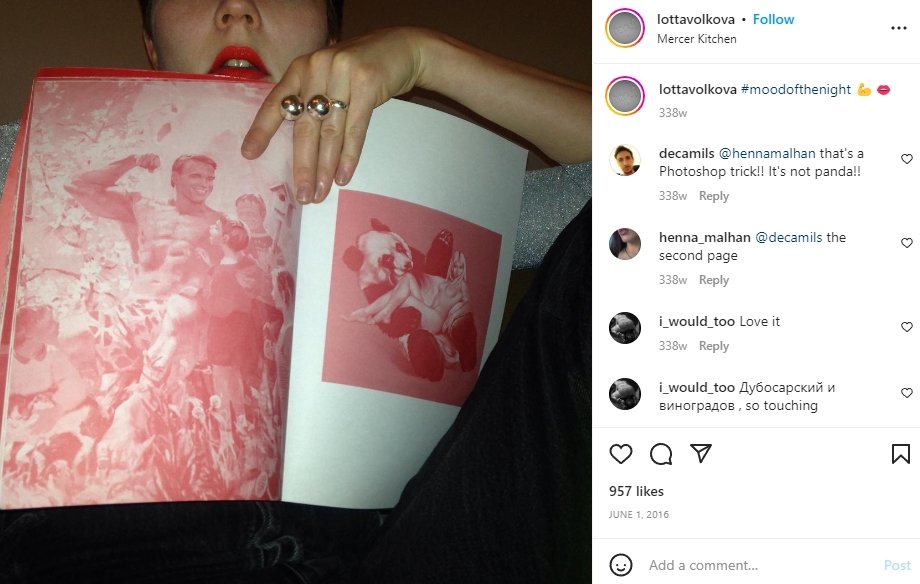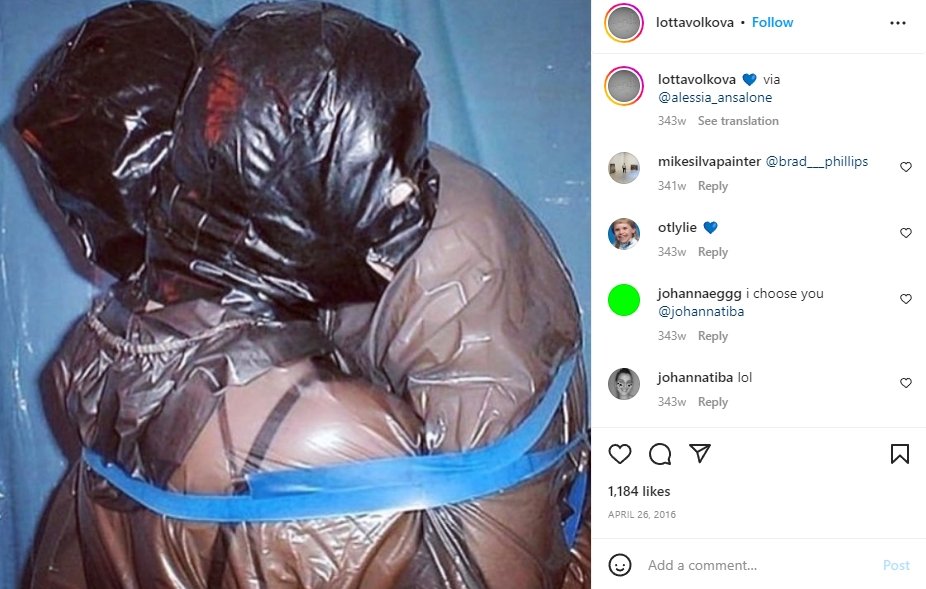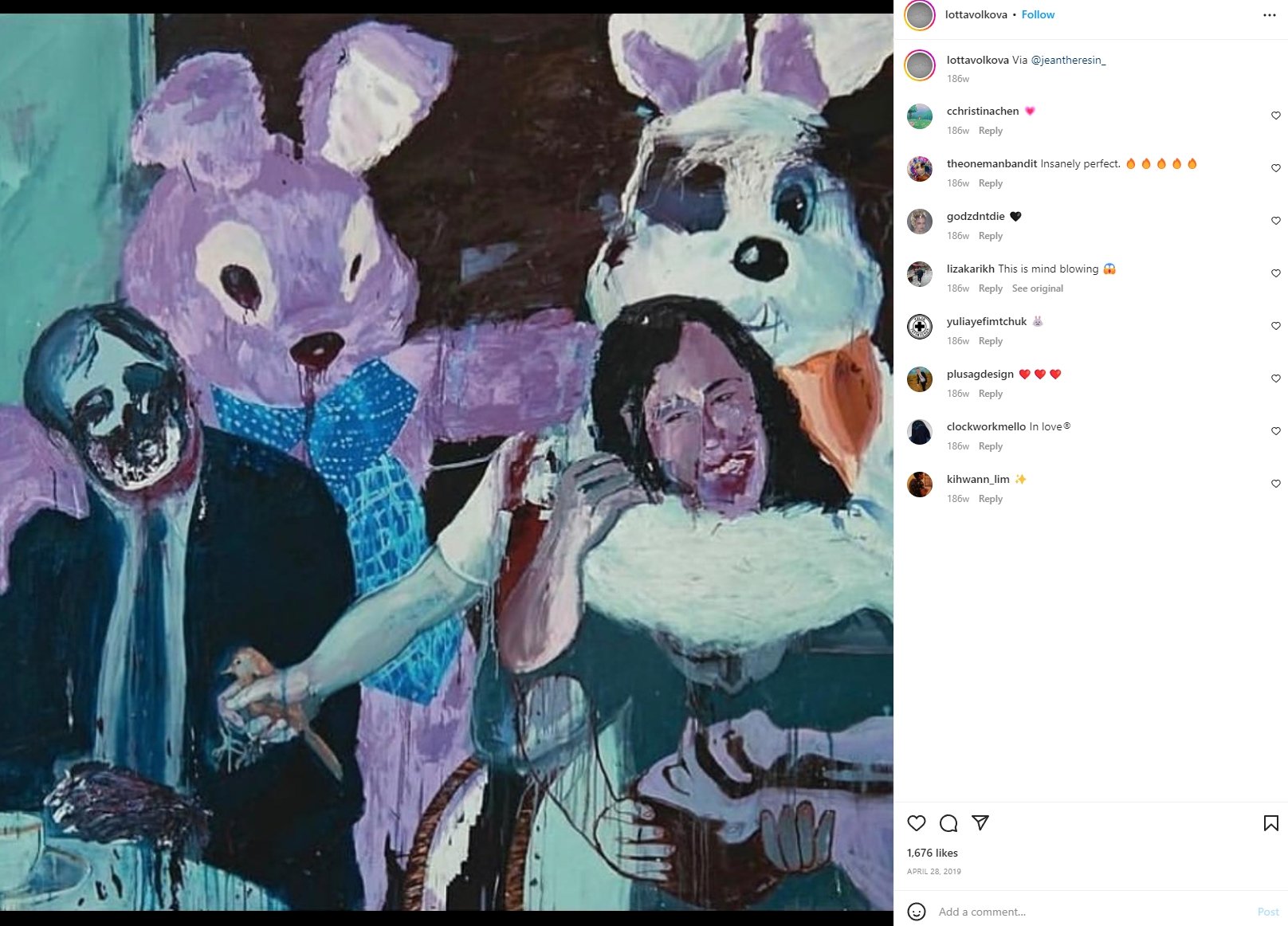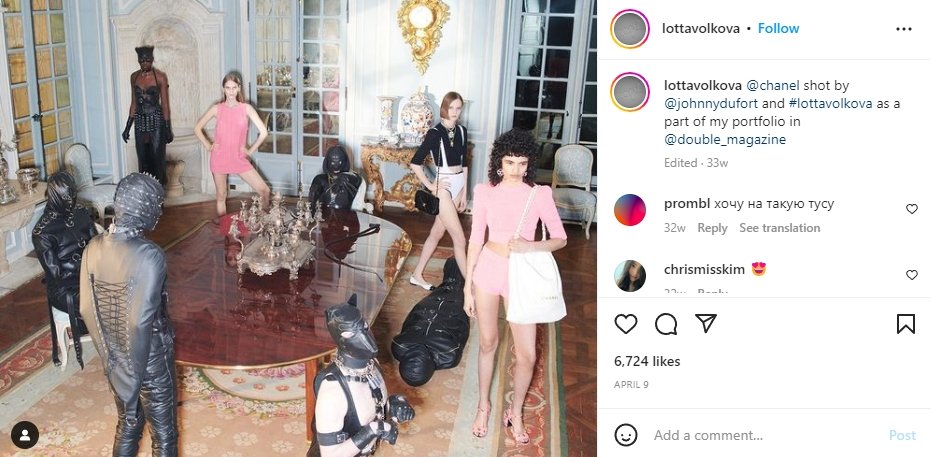 Adidas not only needs to take down that whole page but distance itself from this group of designers. They sexualize children in their ads and have some sinister people working on this.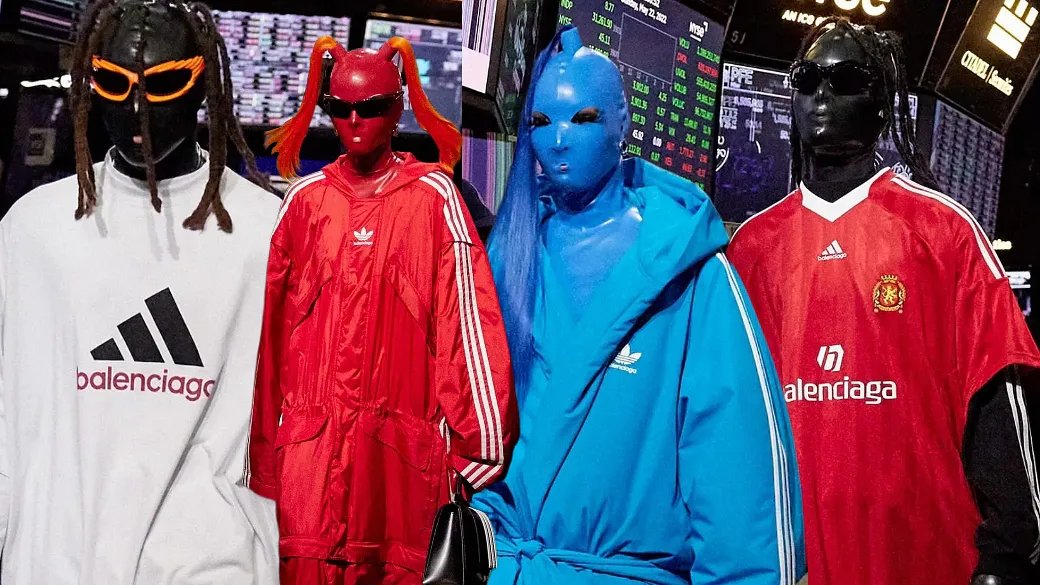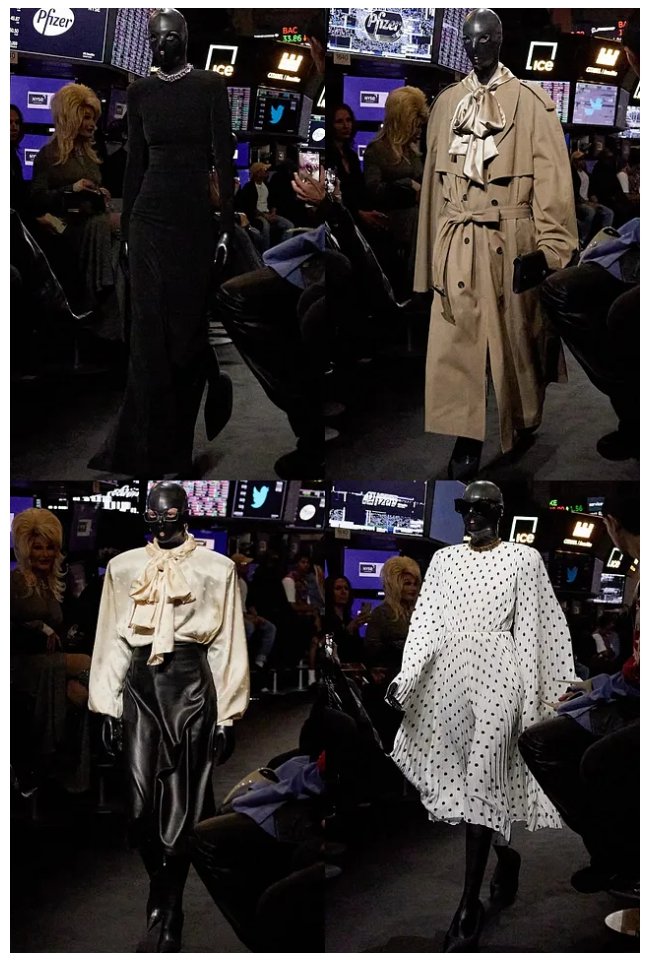 recently uploaded a disturbing video with bags that had babies in blood. This is not by coincidence. Lotta Volkova uploaded this picture on her instagram with the hashtag #Moloch which is an ancient Pagan god where they sacrificied children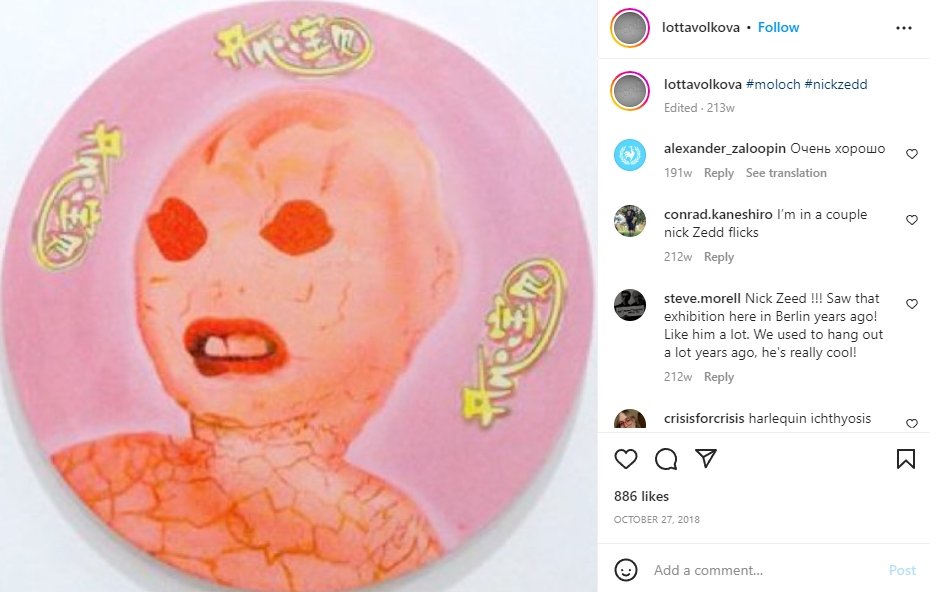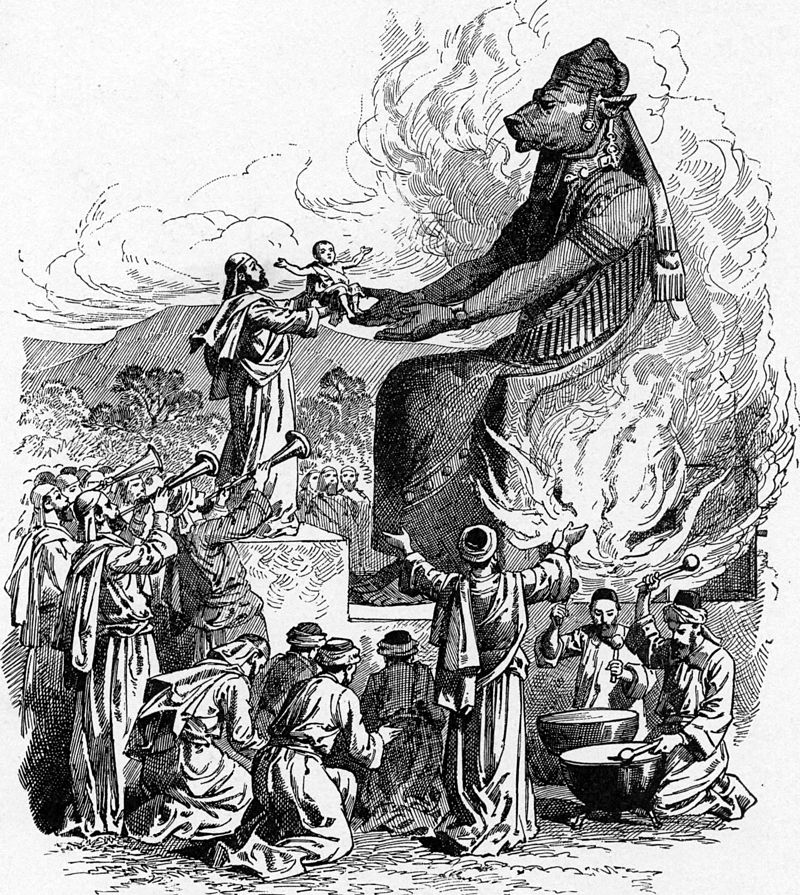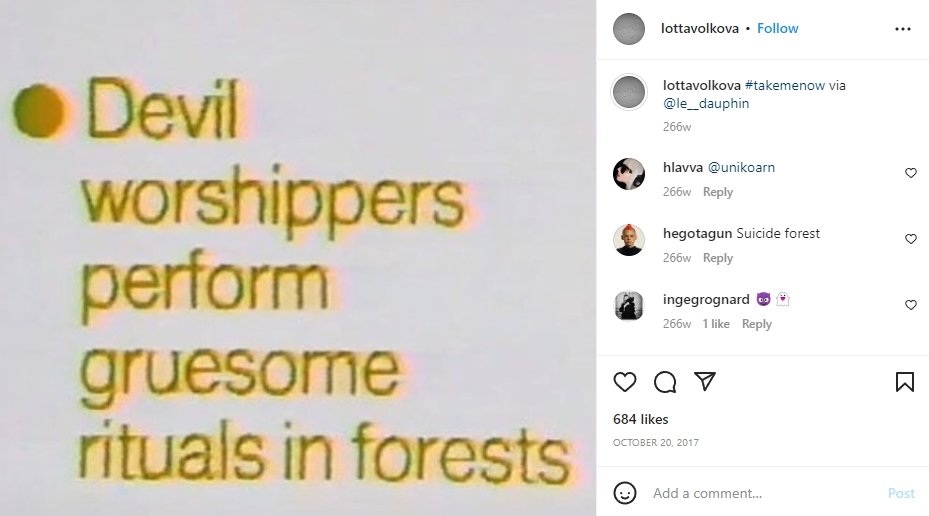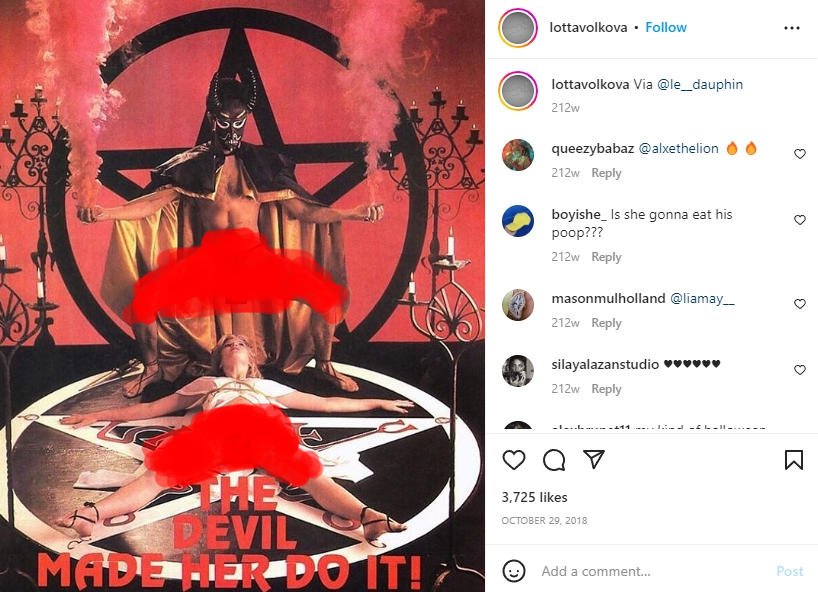 Balenciaga selling fake babies with accessories that are covered in blood
Let's talk about Alban Adam, he is a good friend of Lotta Volkova and seems to be cherished by her as she doesn't show affection to many people on her instagram. I found something interesting that is related to the ad campaign.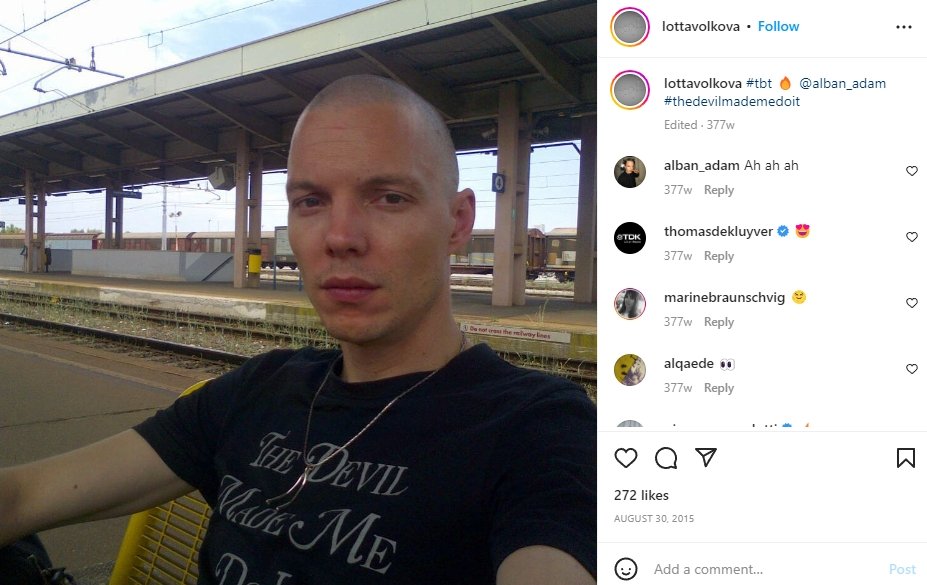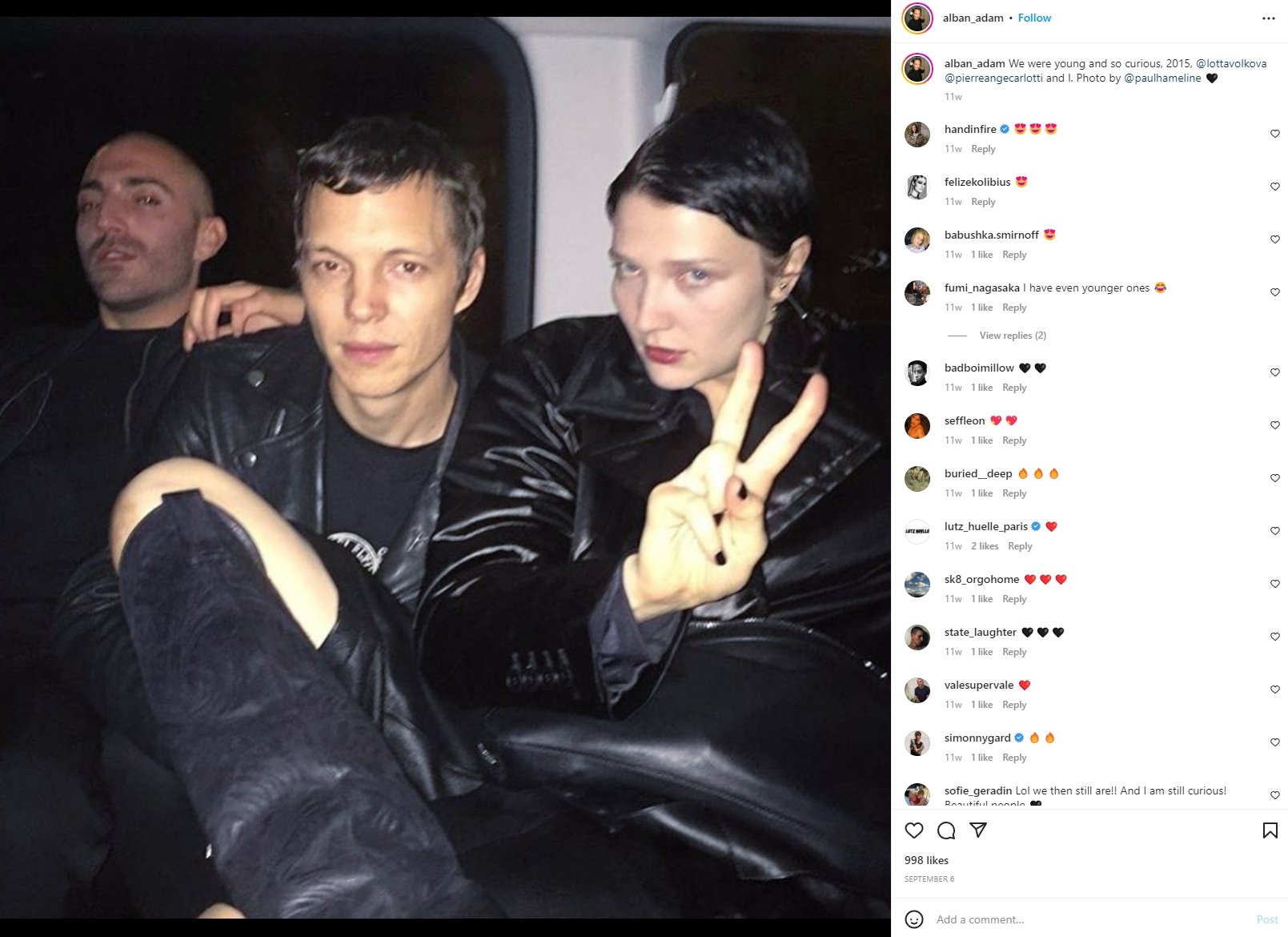 This became one of the talking points that was disturbing with the ad one of them being Matthew Barnes Cremaster Cycle. Well The third picture is from Adams Instagram page.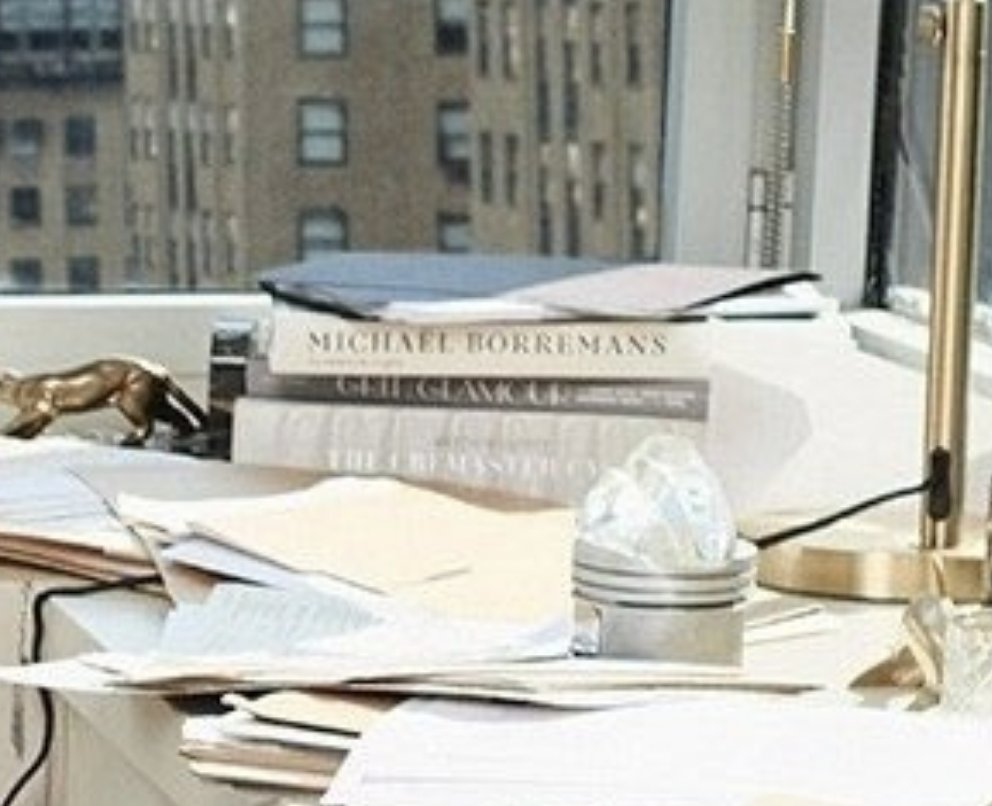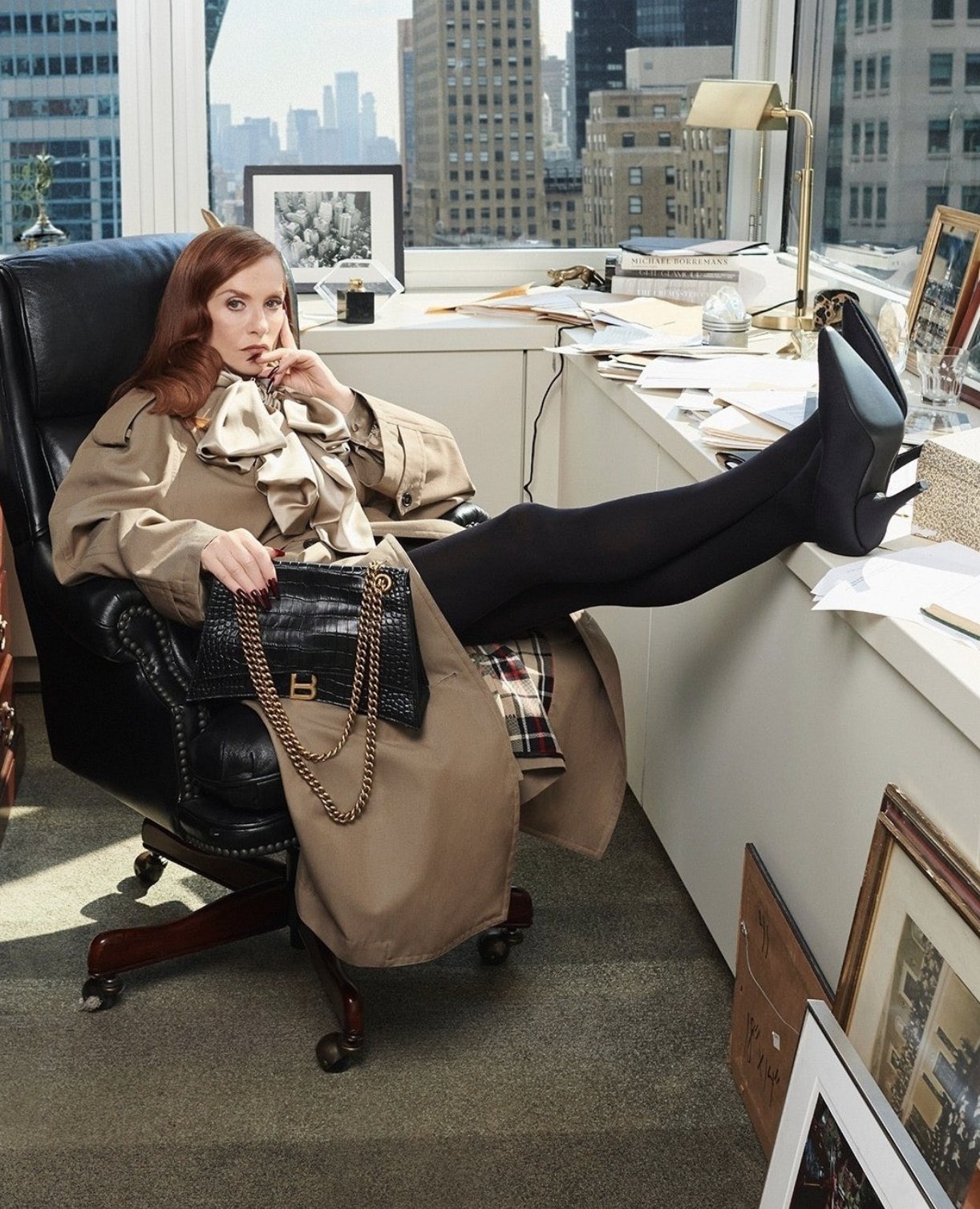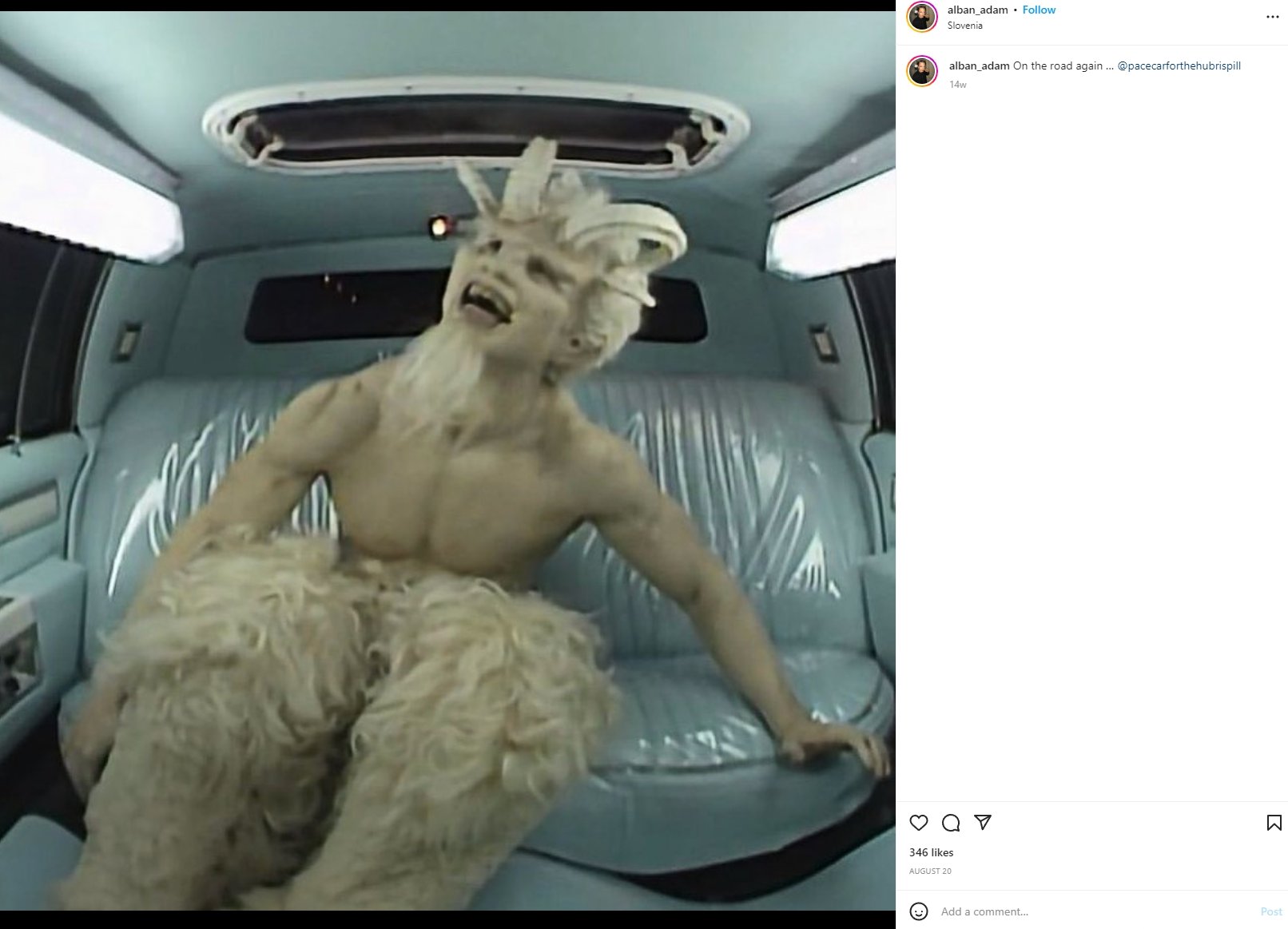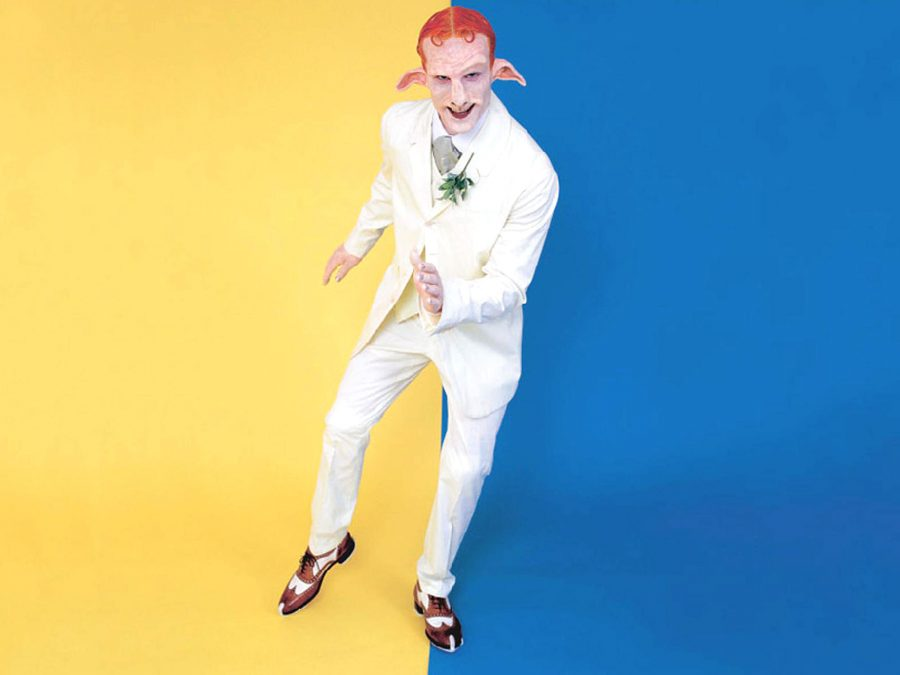 I mean sure Adam maybe found that pic random or he's watched the cremaster movies maybe even with CannibalLotta ? Either way I think since its so called "contemperary art" and it's on the photoshoot Lotta was fully aware of this.
Weird random stuff I found Chris Maggio: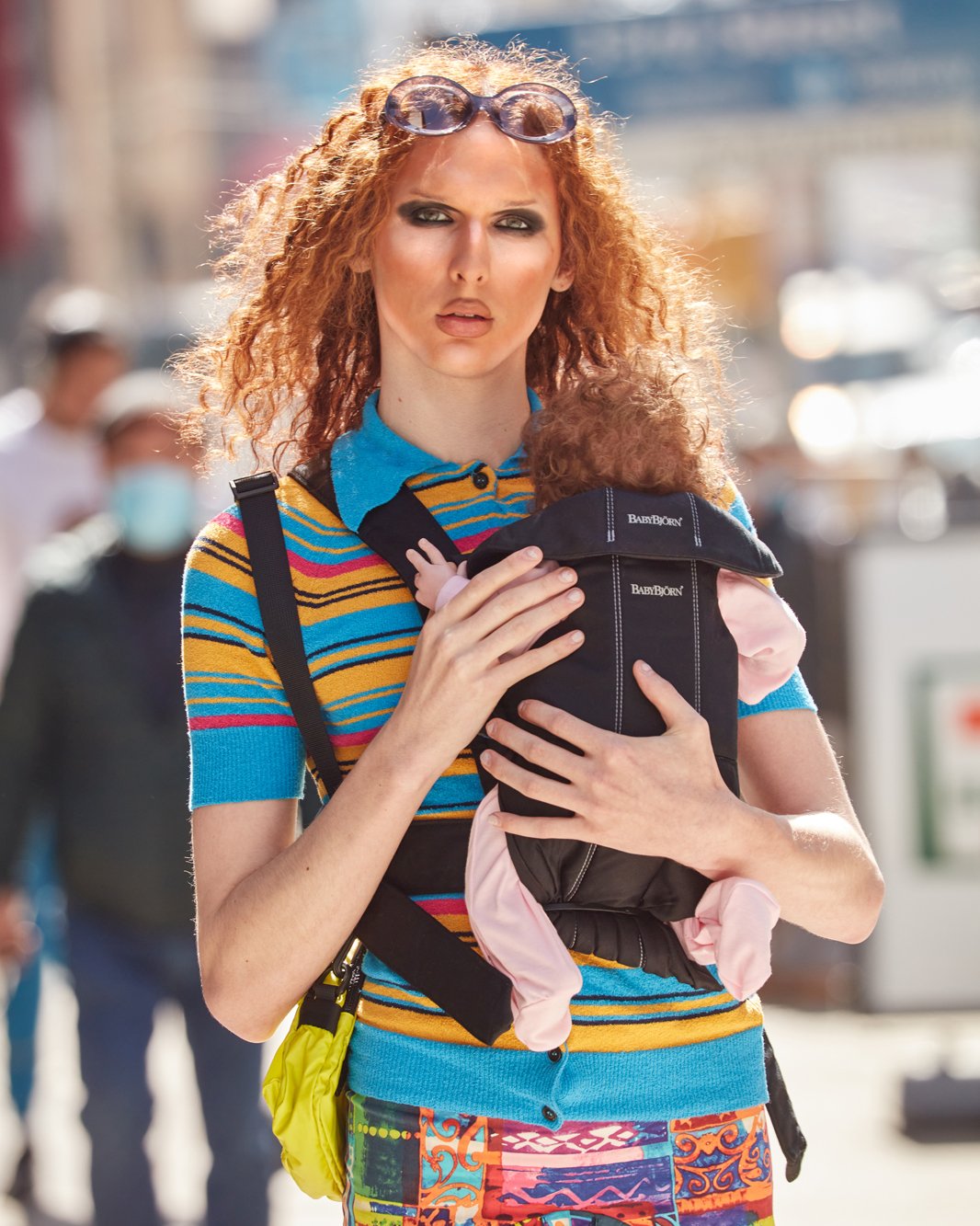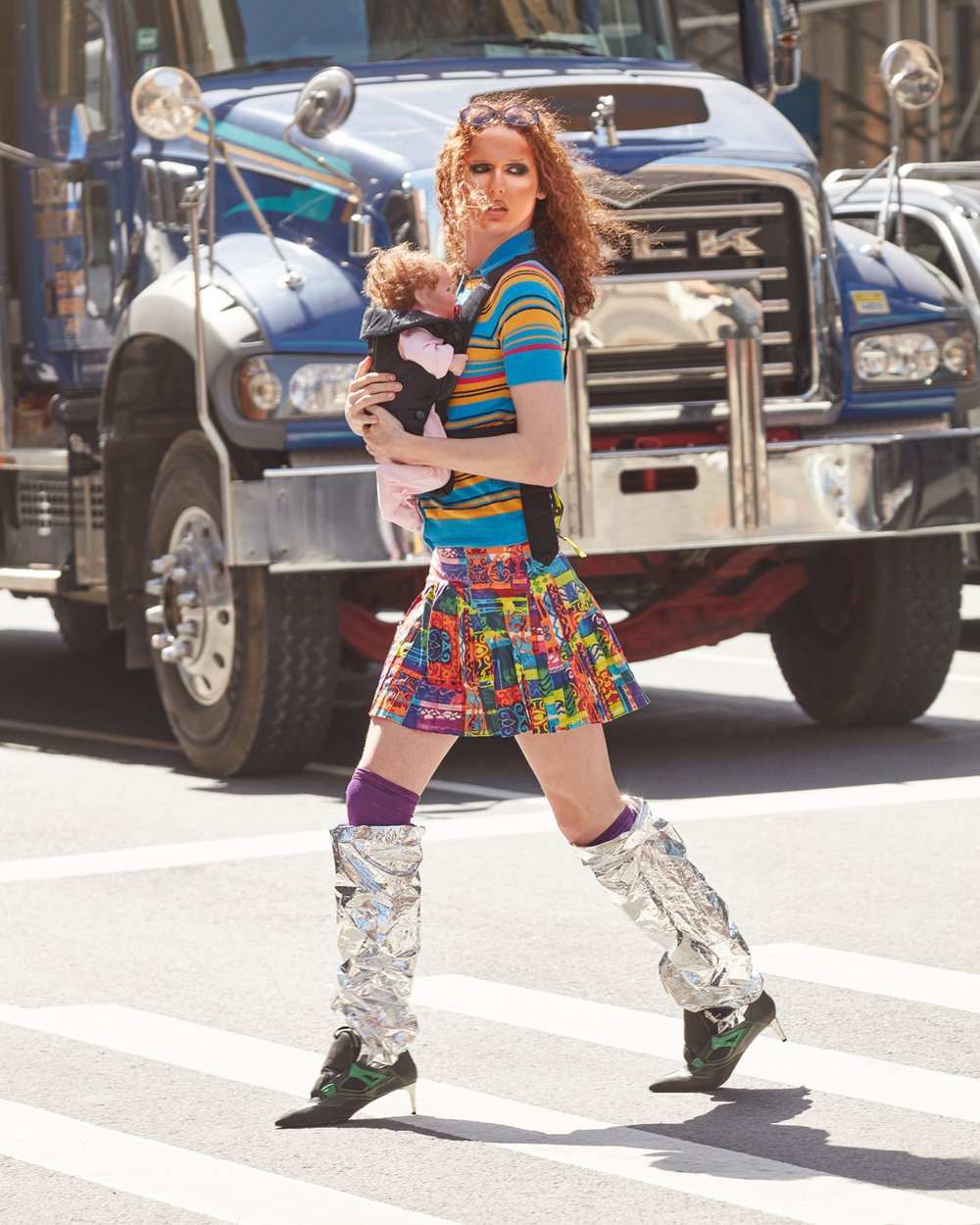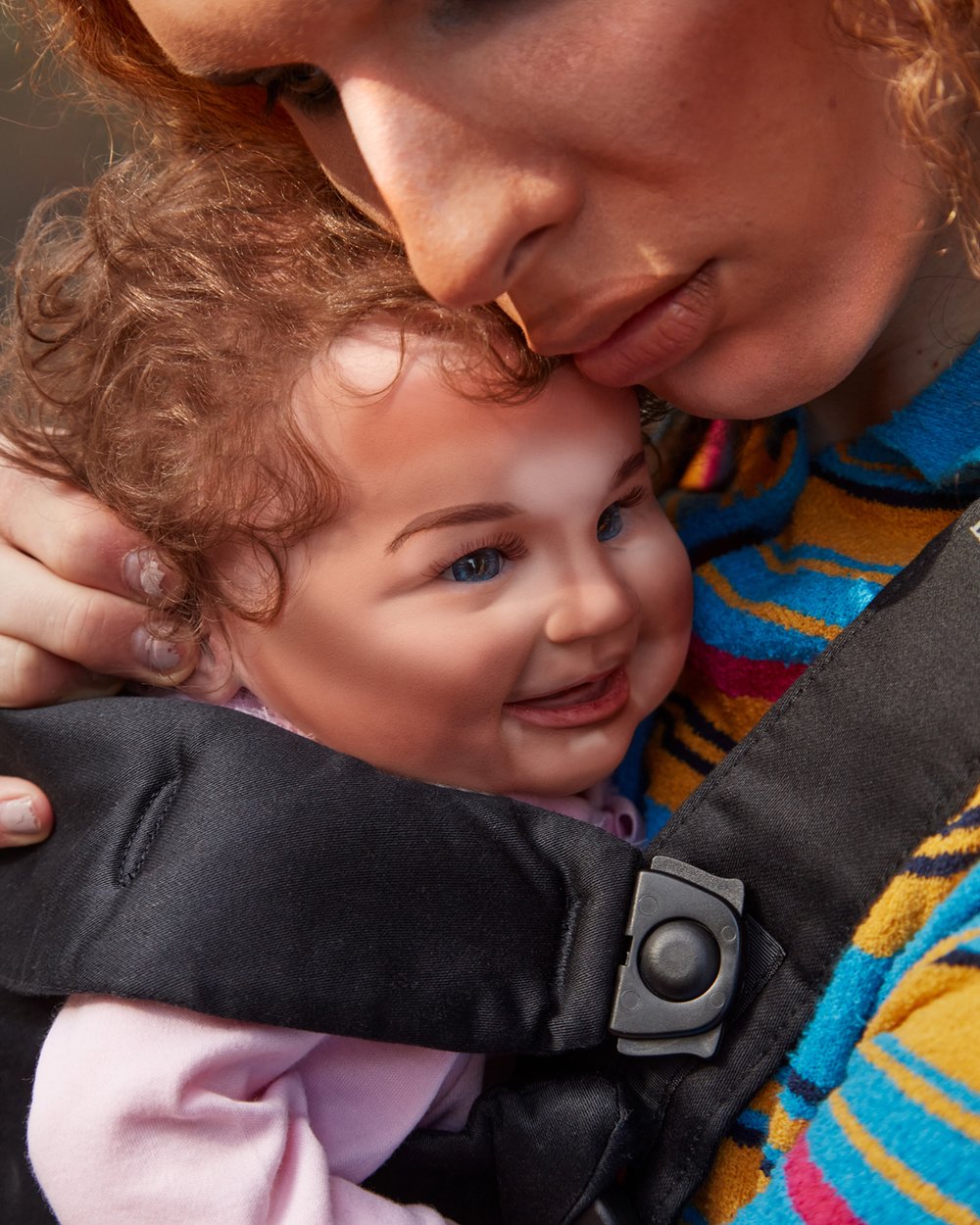 This is really disturbing, cannibal corpse is some metal band but nevertheless the same theme is going here. She also really likes an artist called Claudia Mate more on that artist.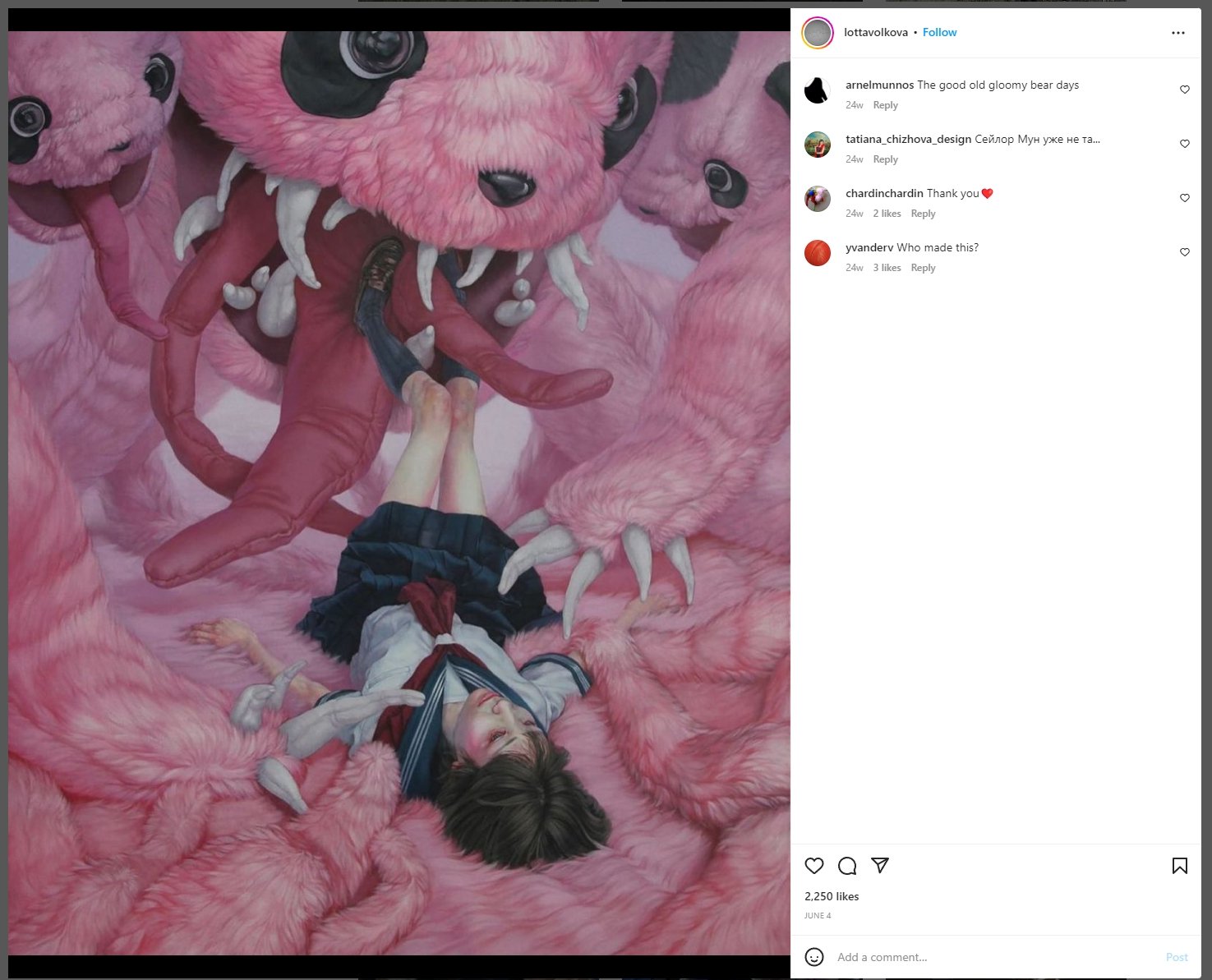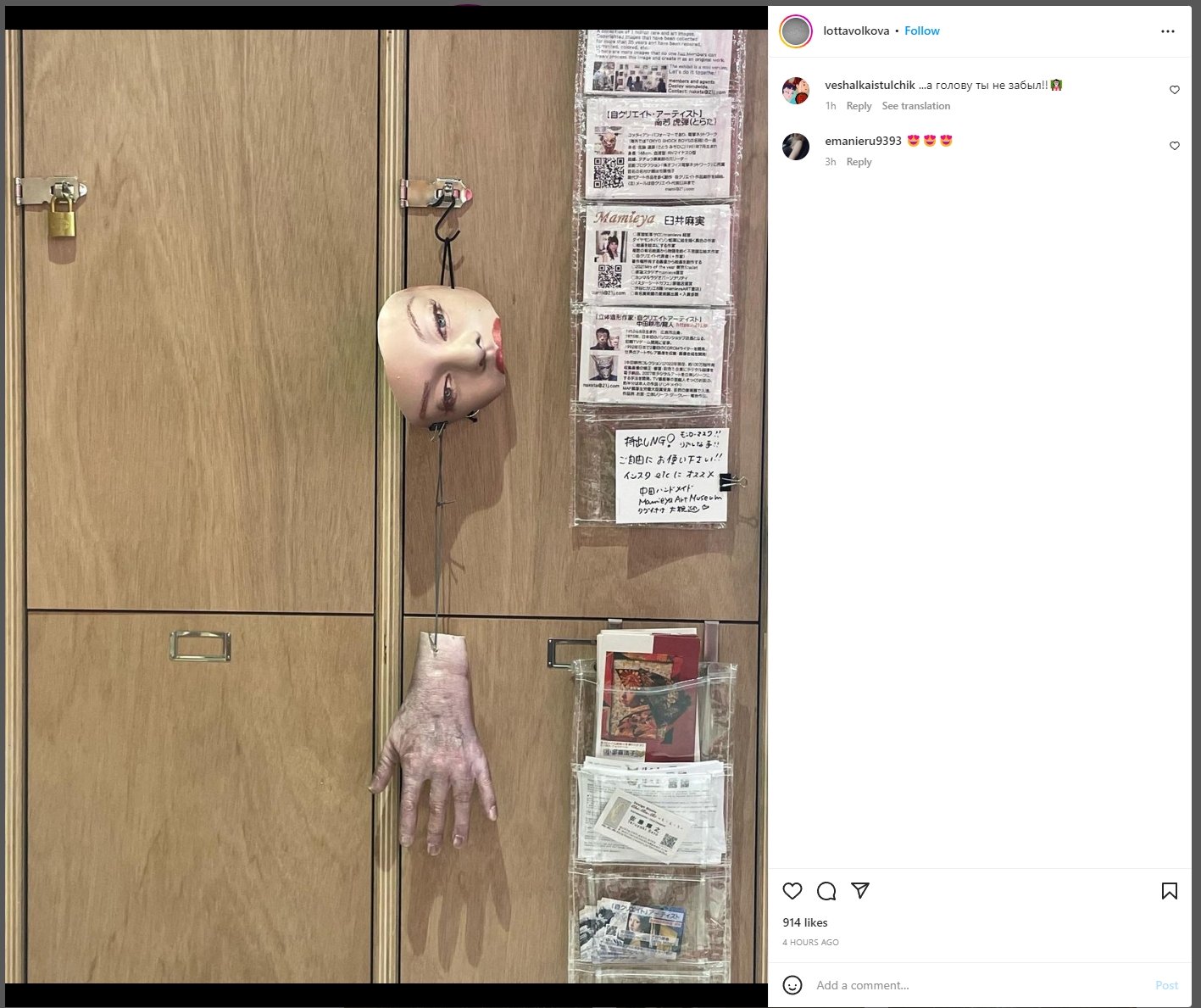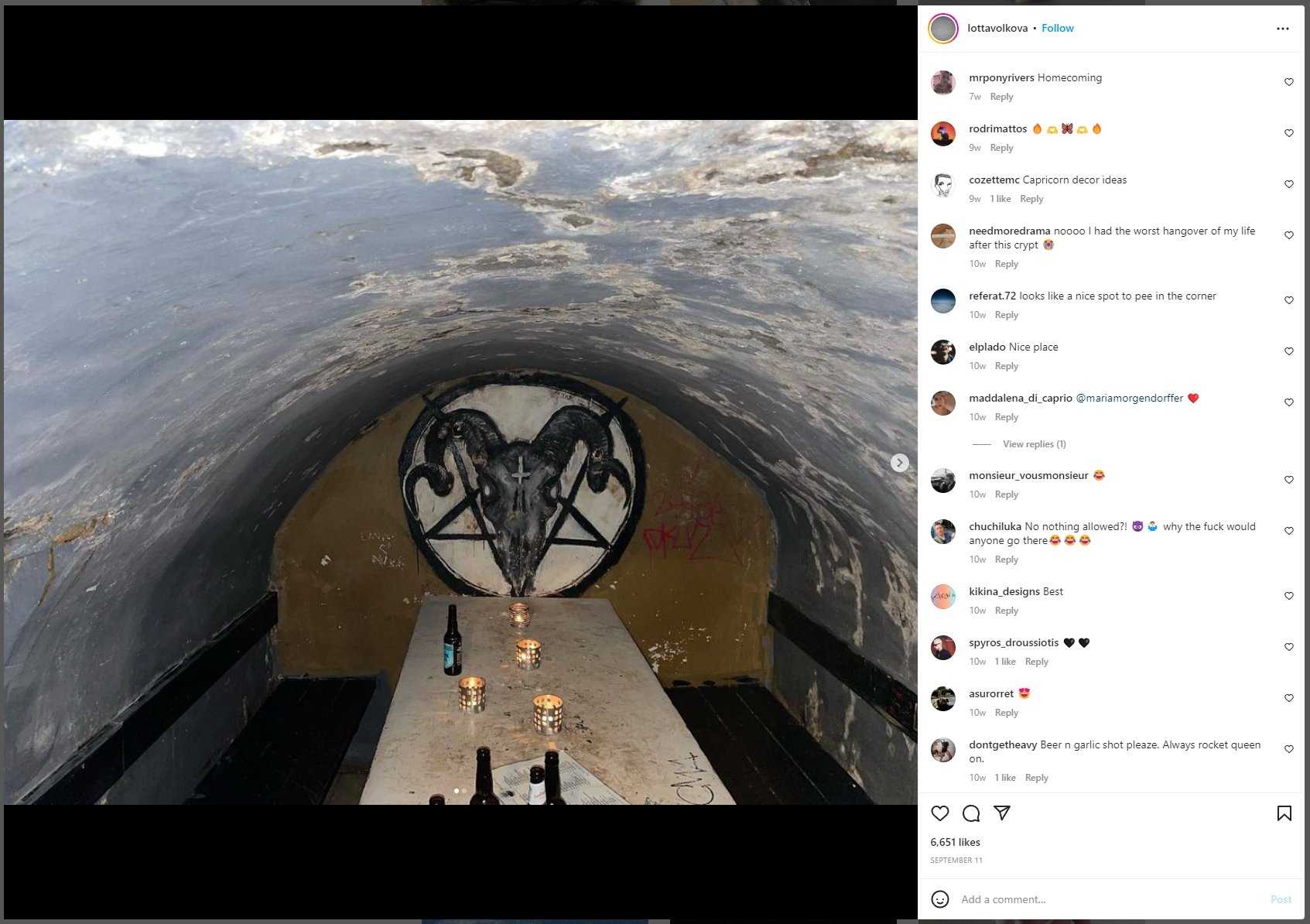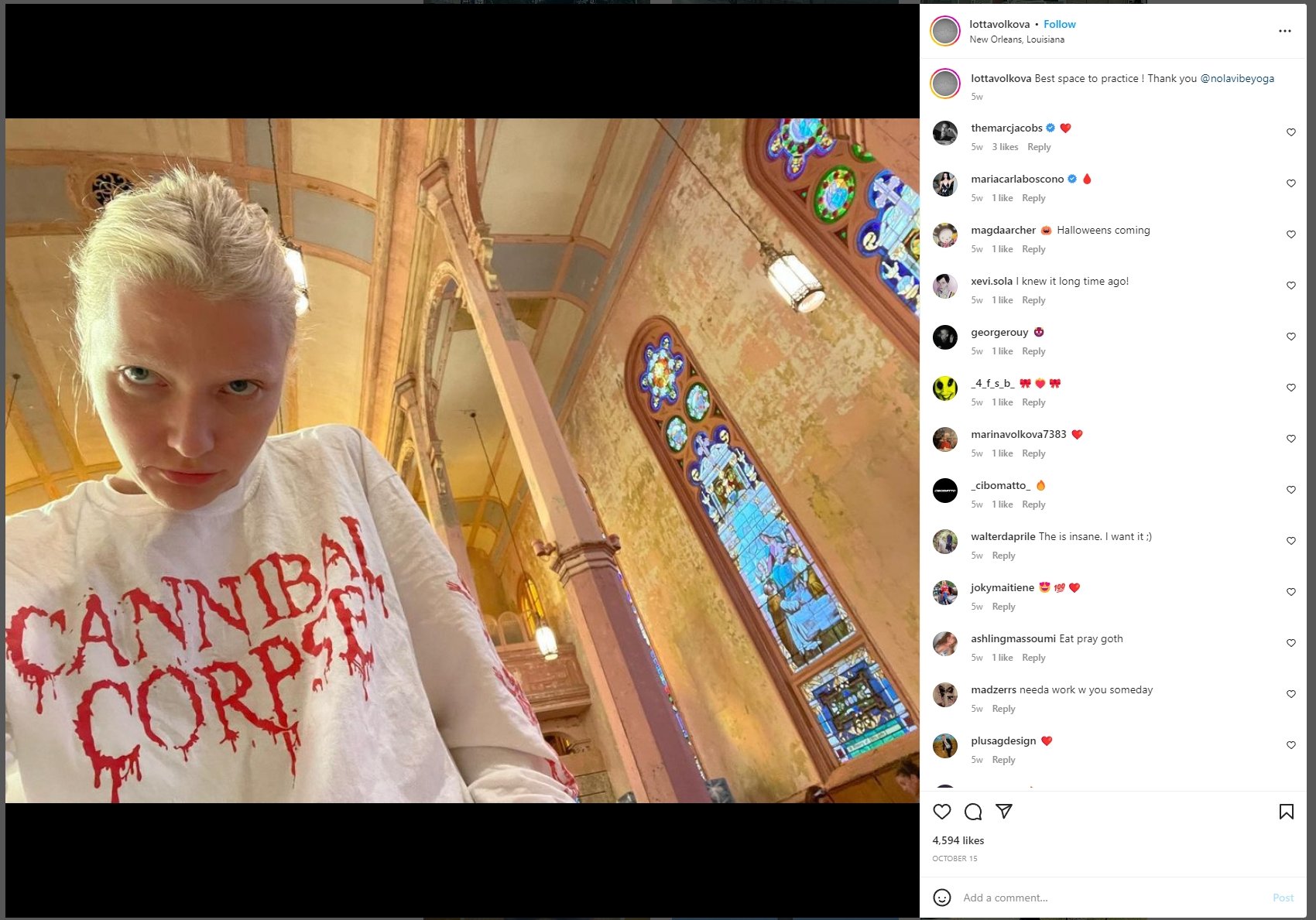 The theme is always kids in some kind of a distress or something sinister. It makes one wonder.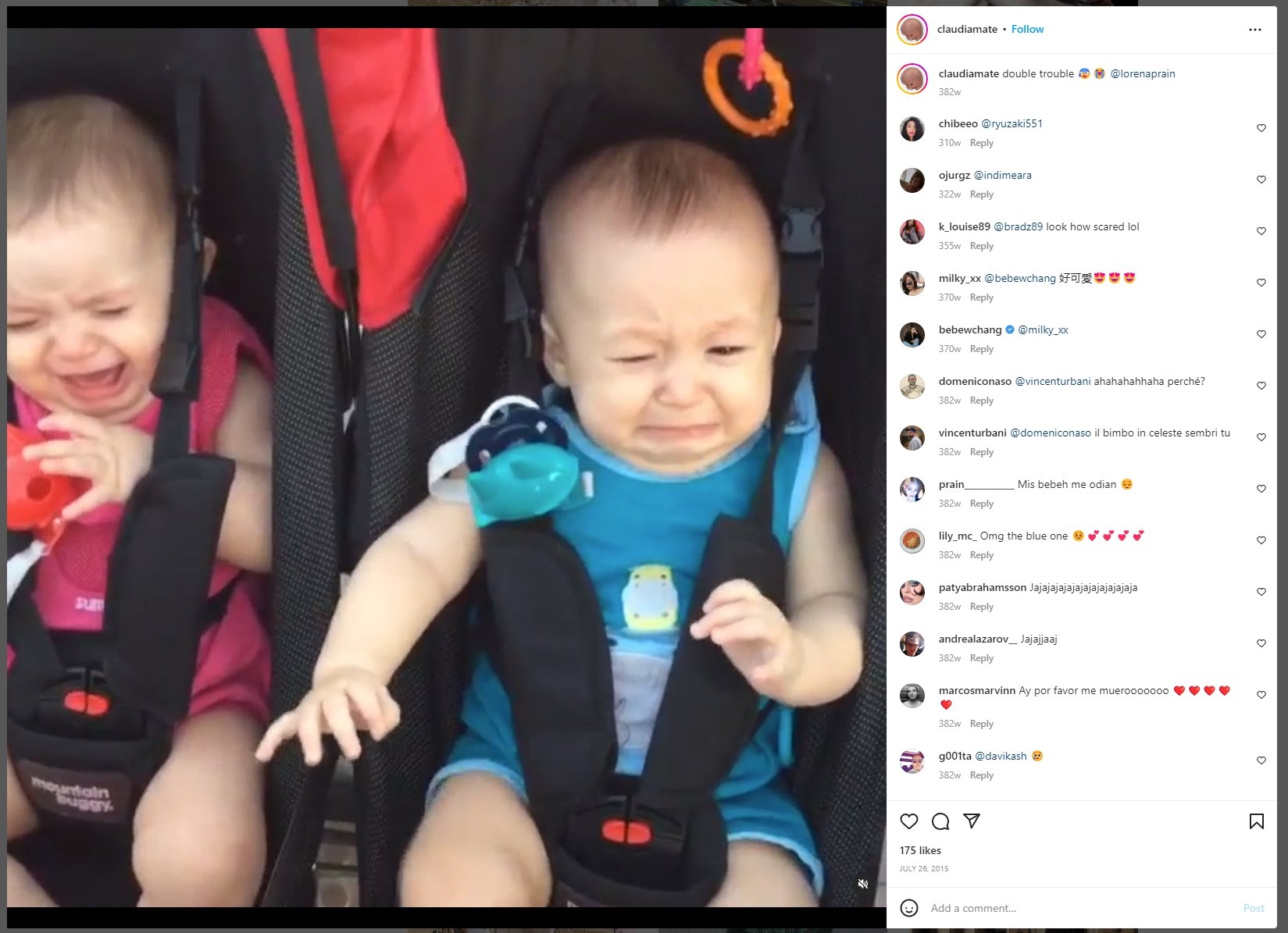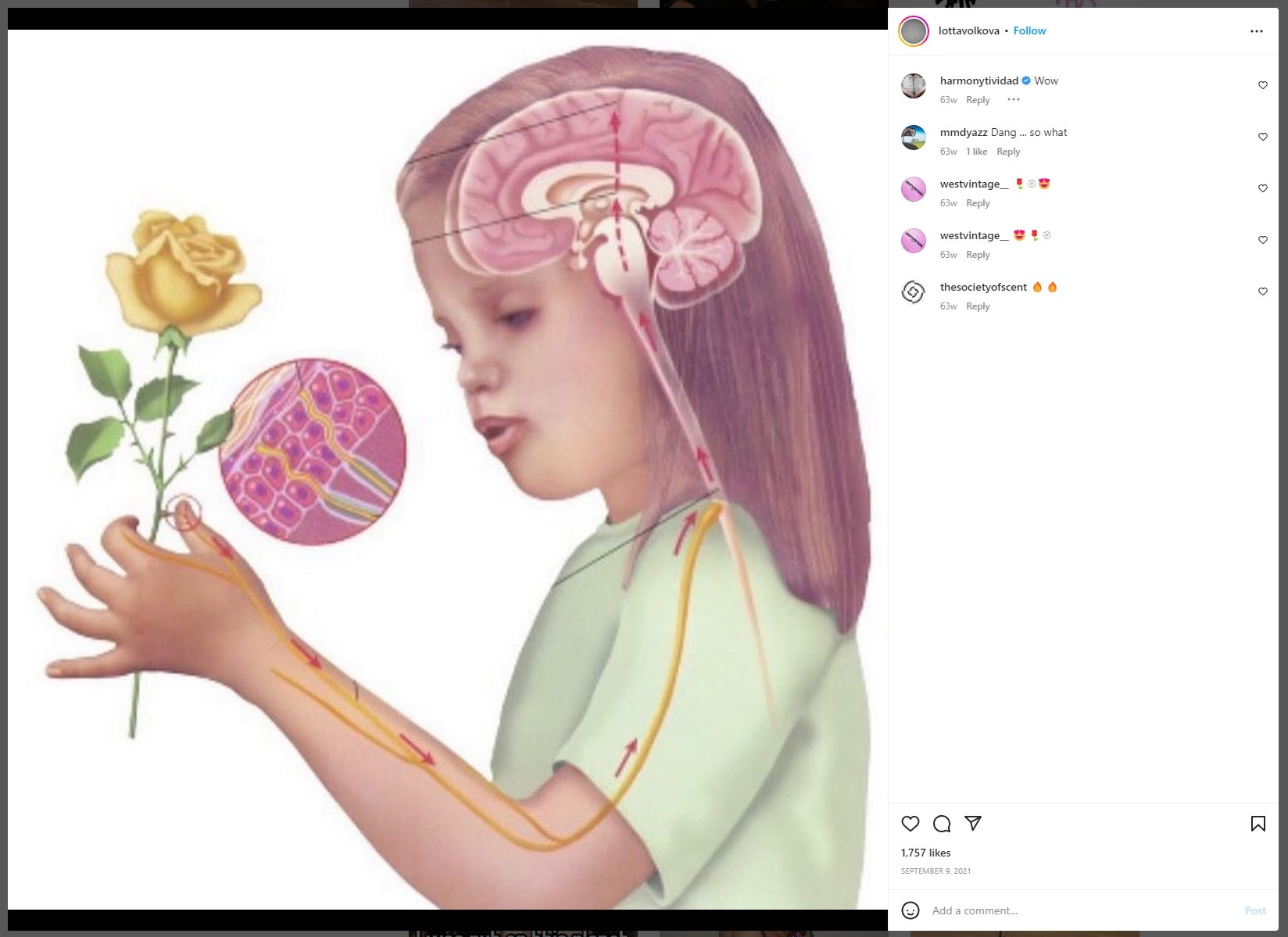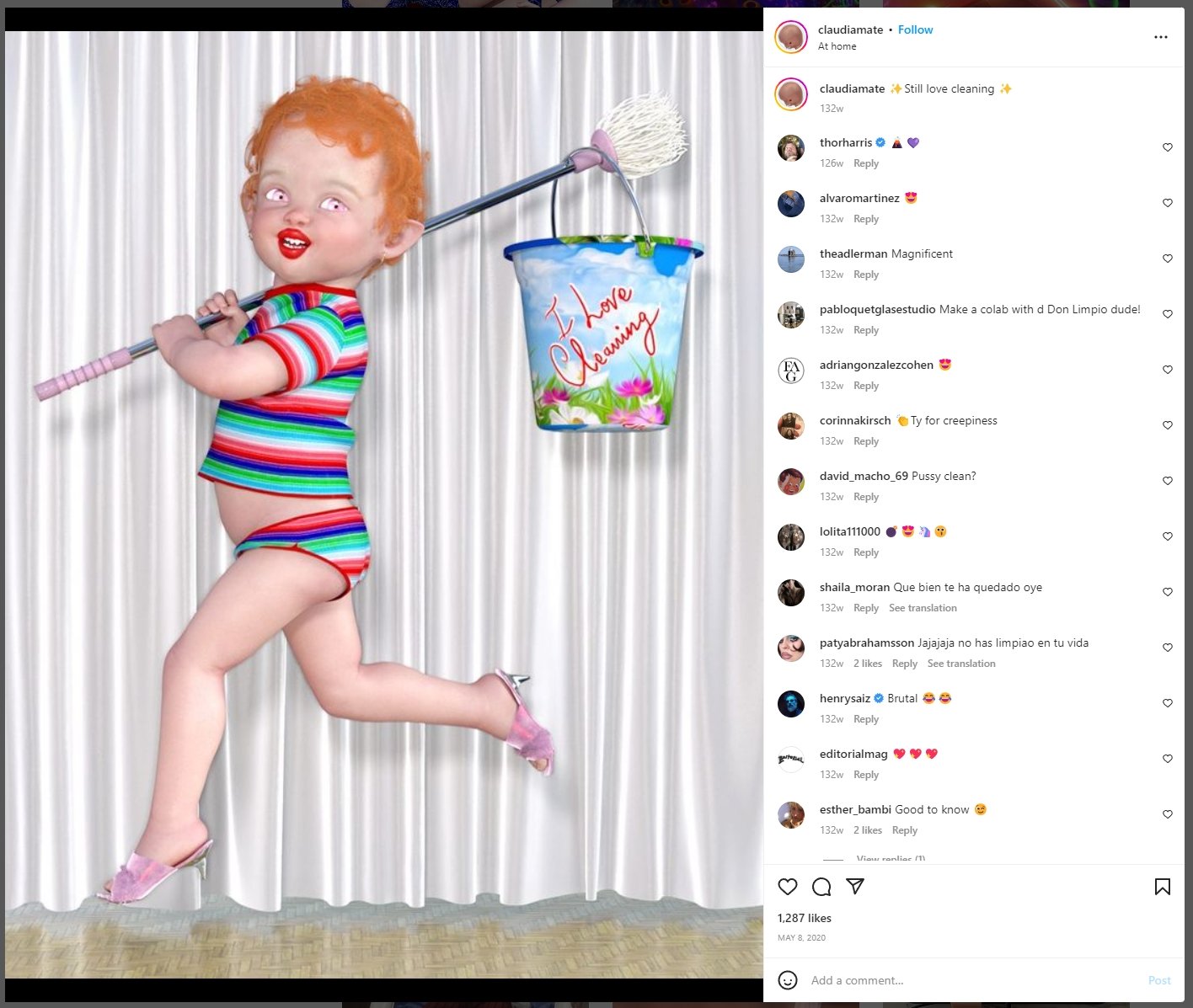 Claudia Mate Led me to Maisonsocks who sent a message to her now look at these symbols: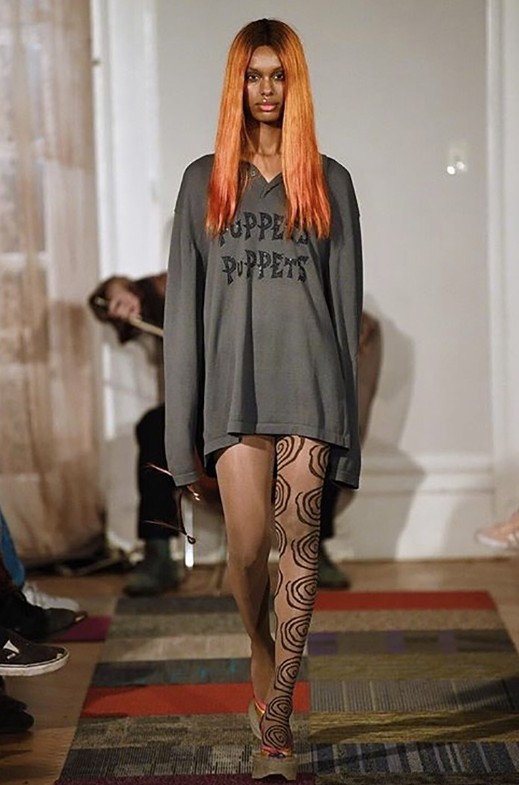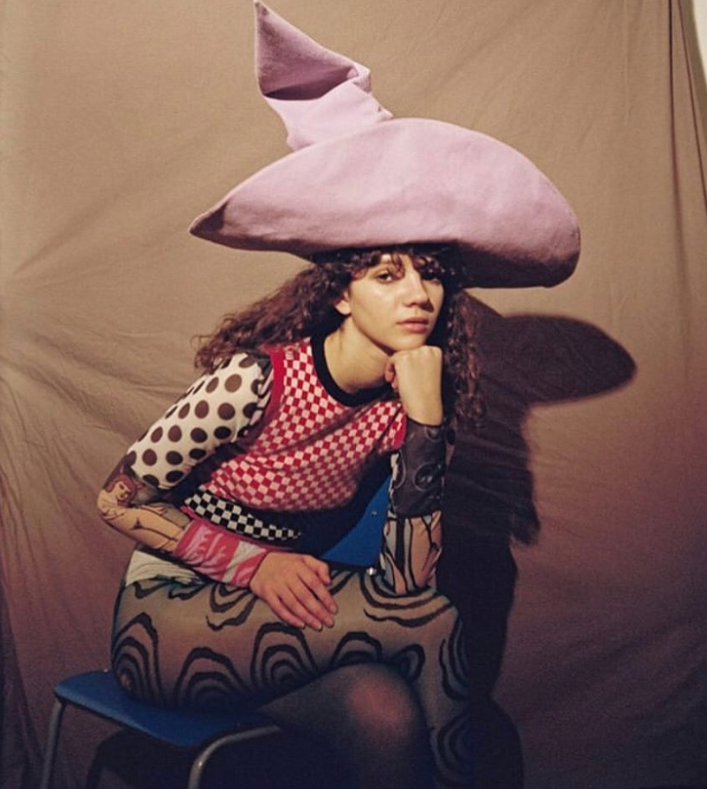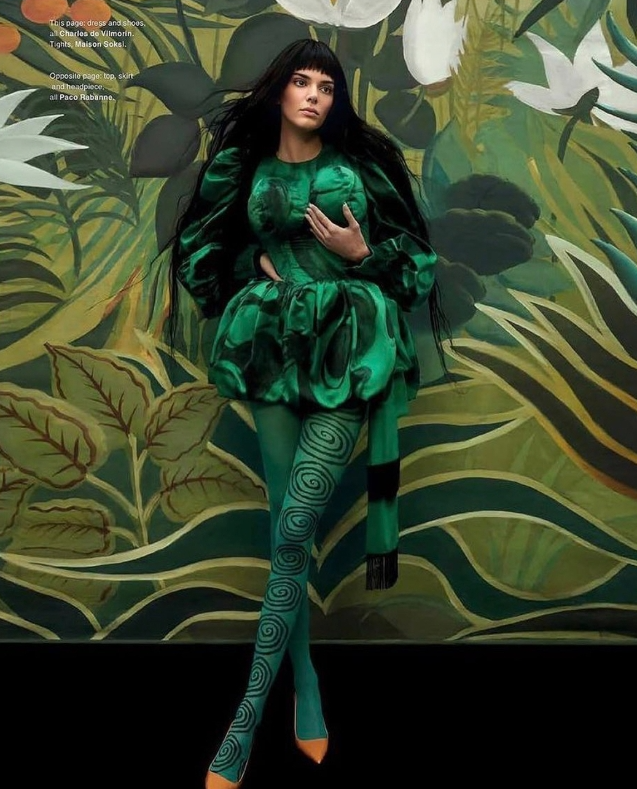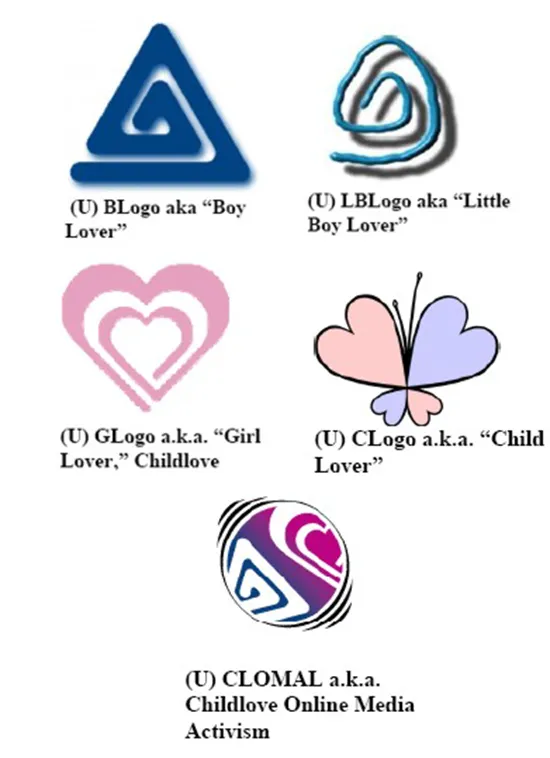 It could be far fetched sure but then here is one Claudia Mate fan aswell on the pic on the left, to the right is Claudia tagging Abrahmsson that also have been liking and commenting on Lotta Volkovas page.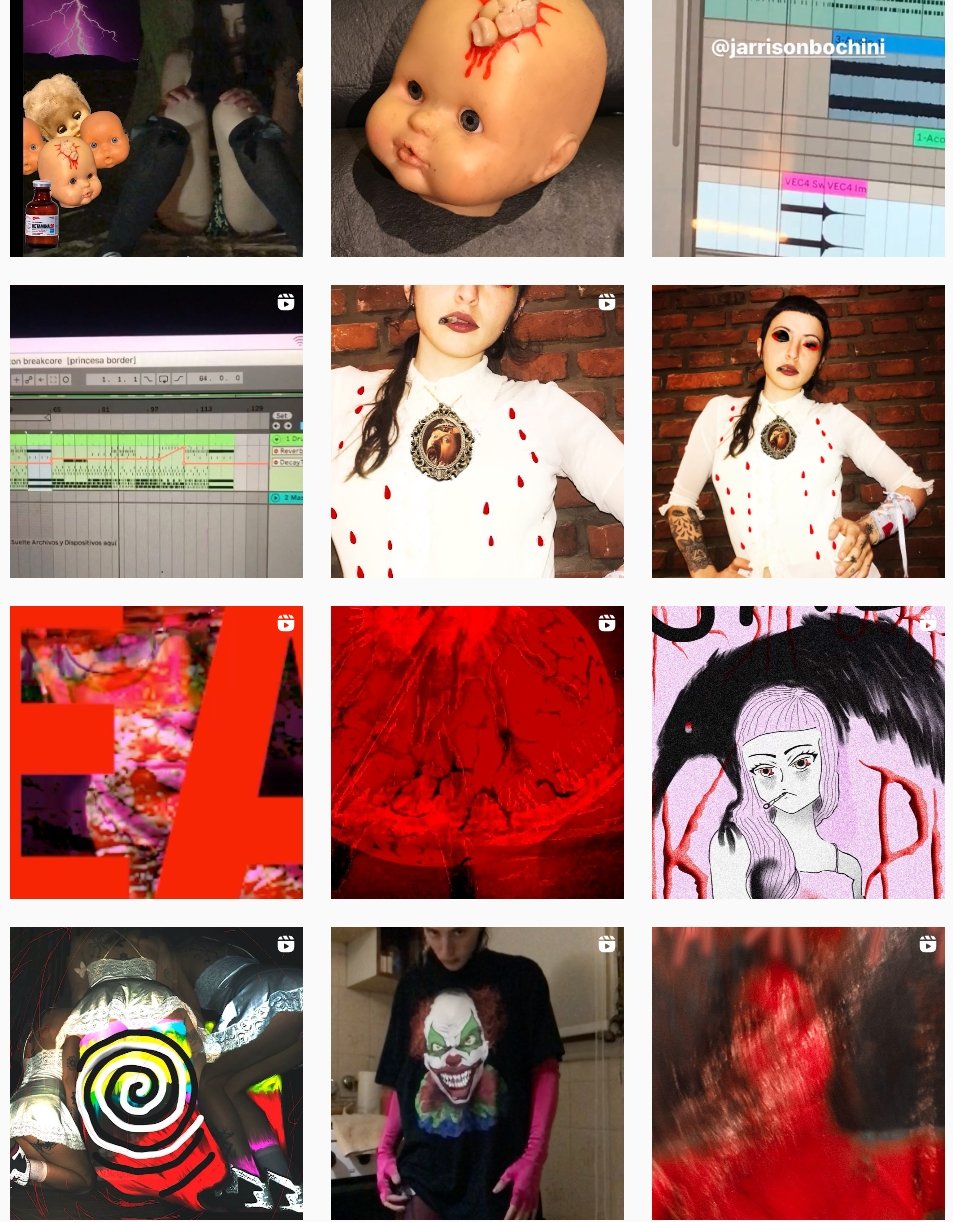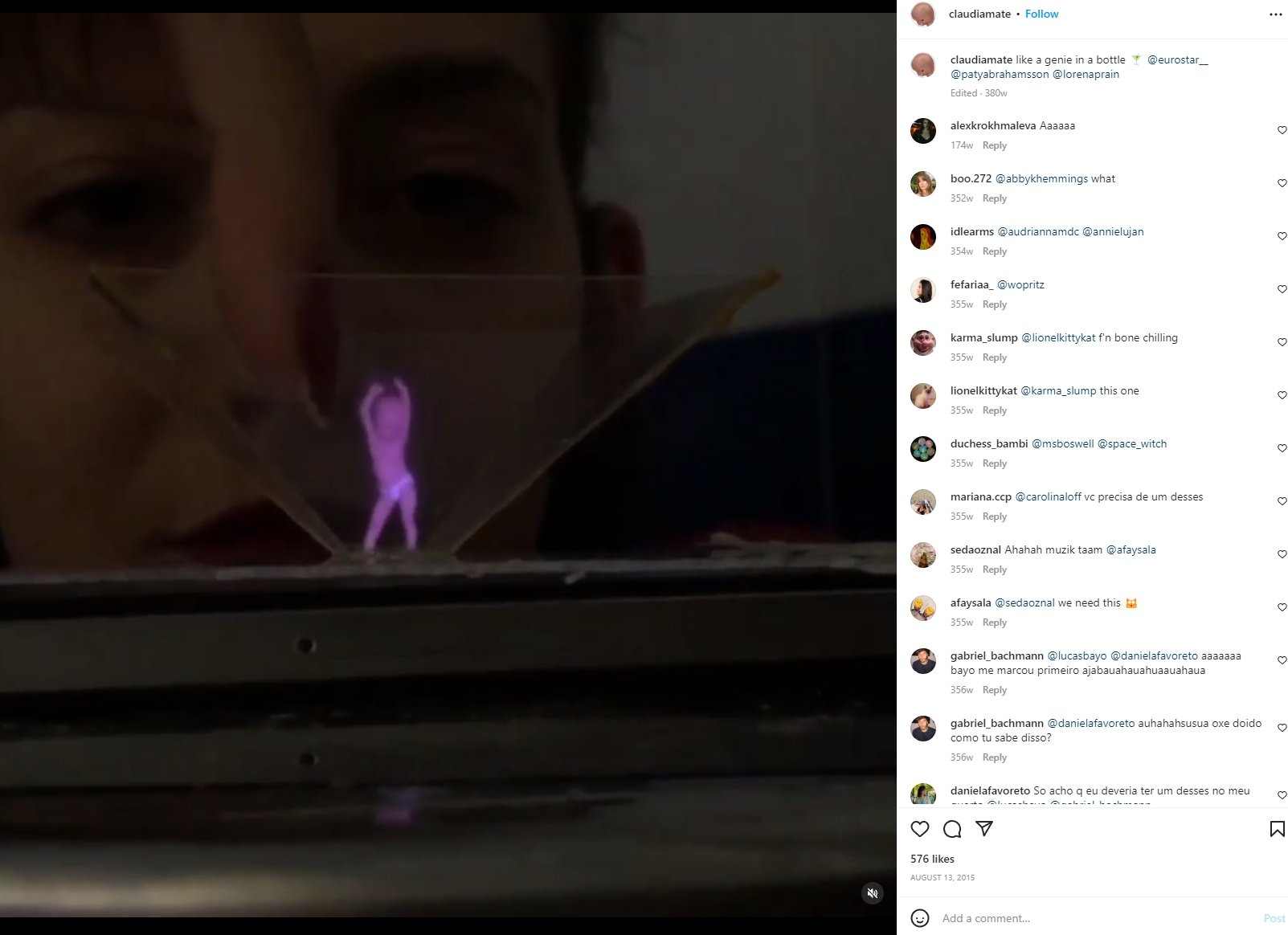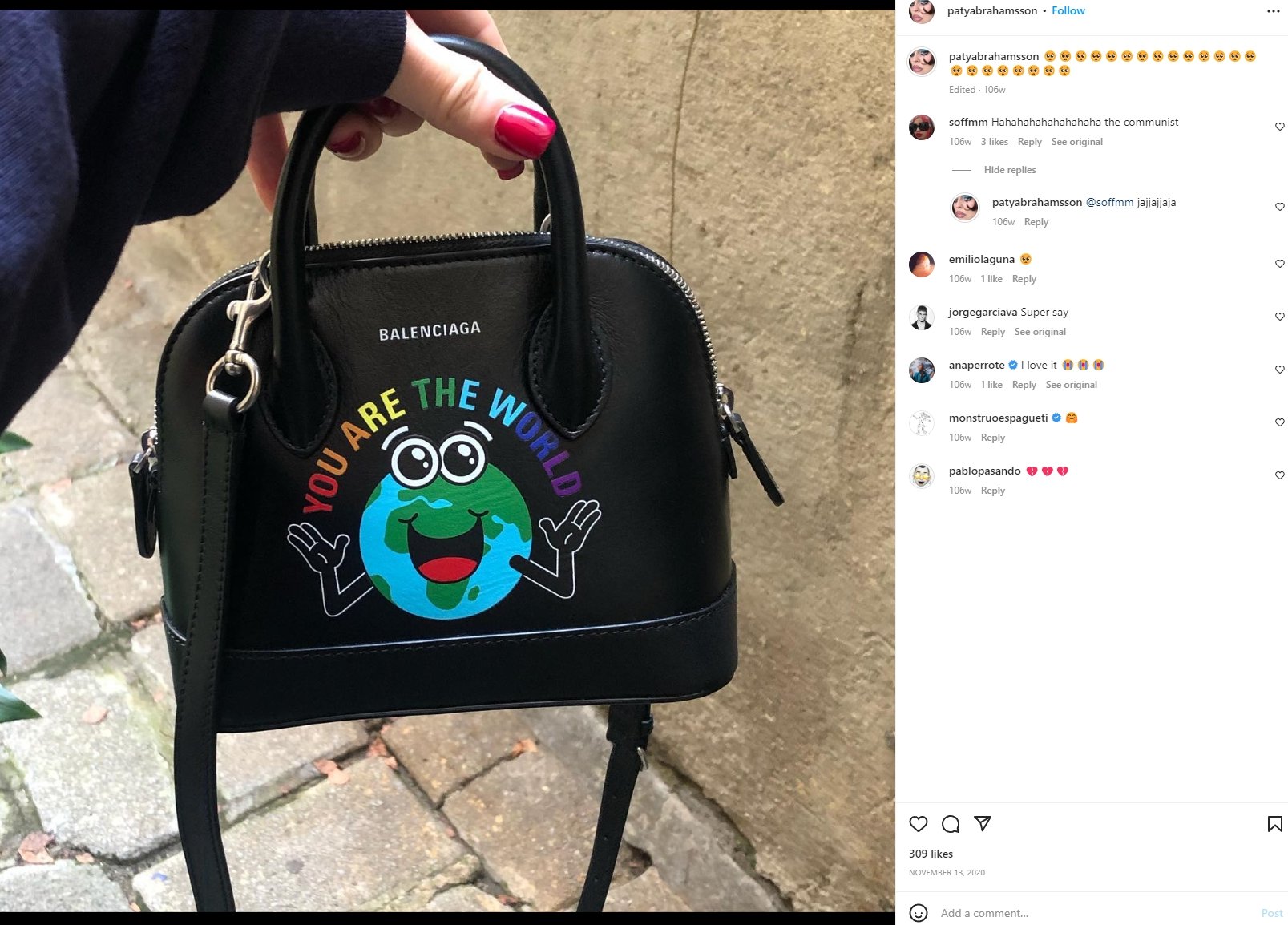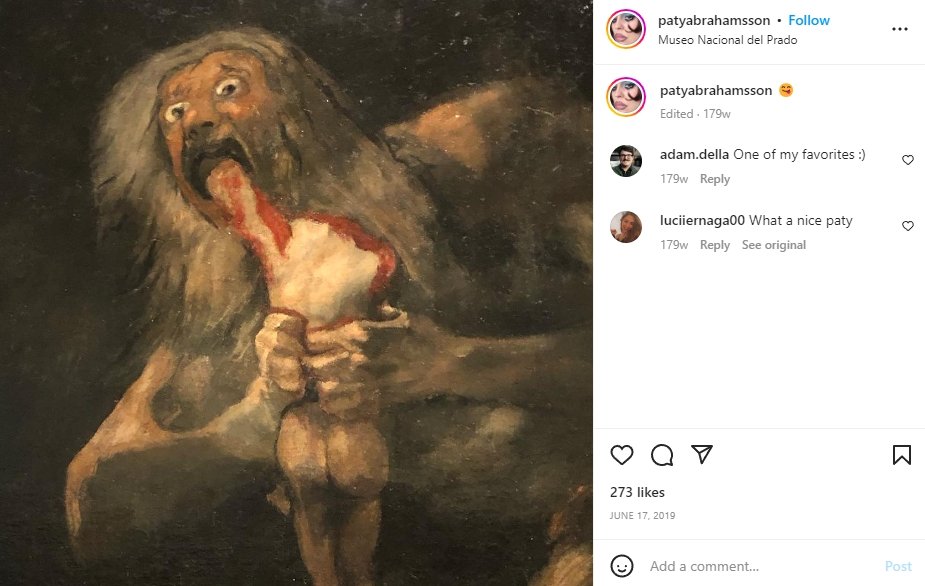 The strangely reoccurring themes of teddy bears is interesting in the fashion world. Do they just think teddy bears are cute or do is there something more sinister behind it, I won't focus to much on it as there isn't concrete except CannibaLottas Balenciaga Ads that started this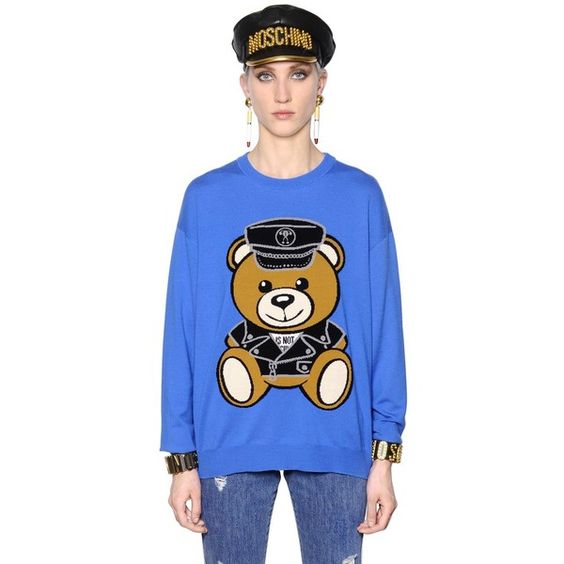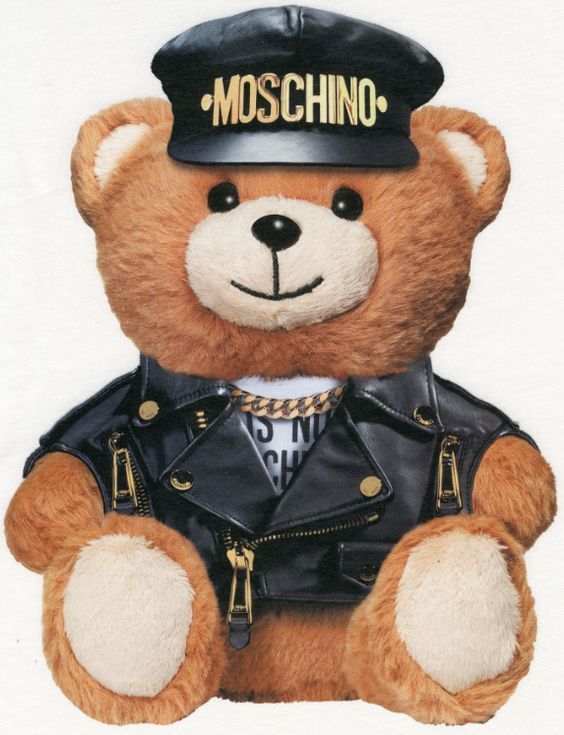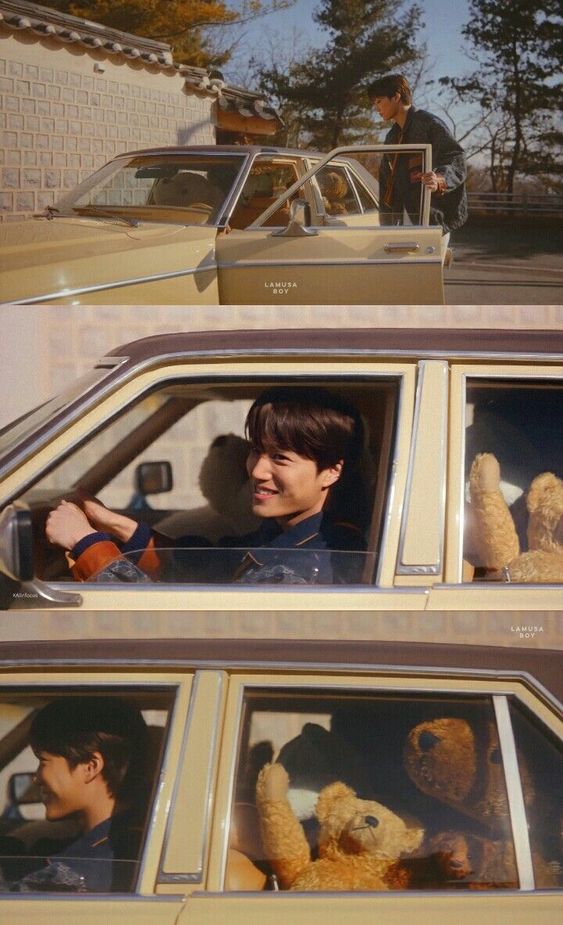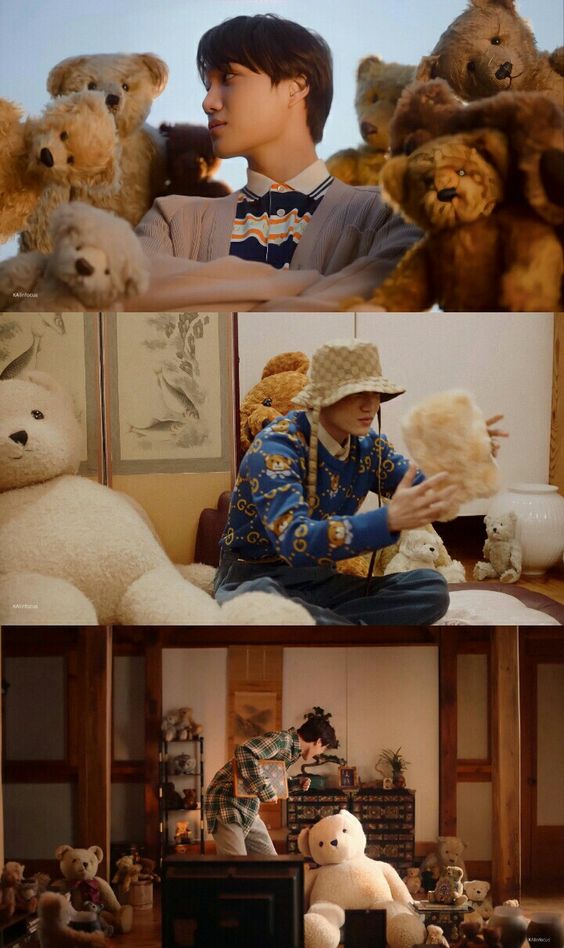 Gucci is owned by the same group that owns Balenciaga, they launched a campaign that theme was a"Kubrick" and they used The shining, if anyone knows about the shining its witches that take the "shine" of children. Coincidence or deliberate?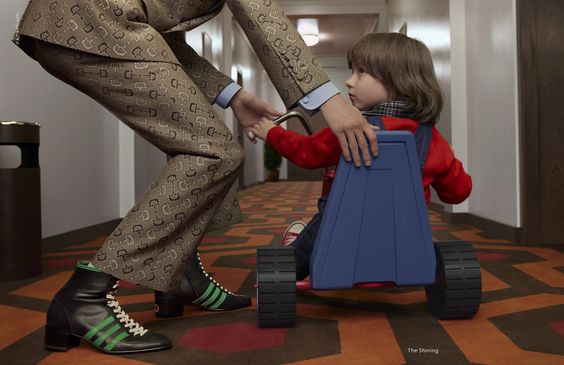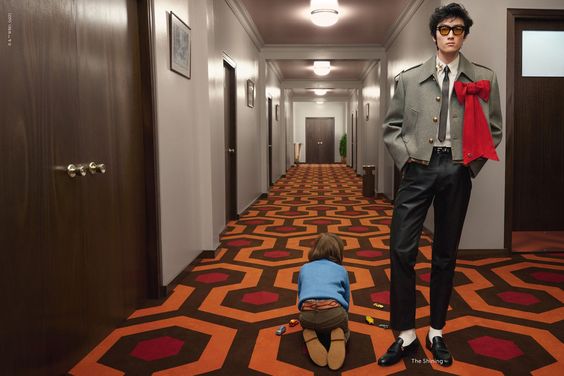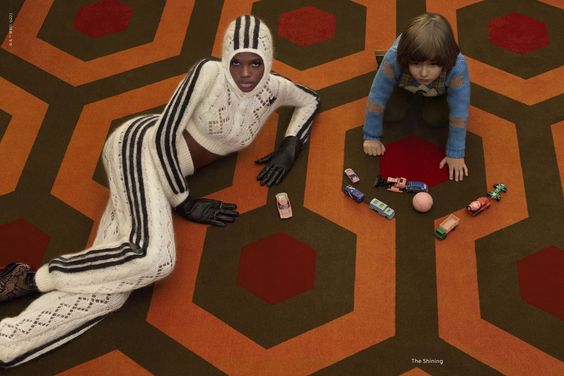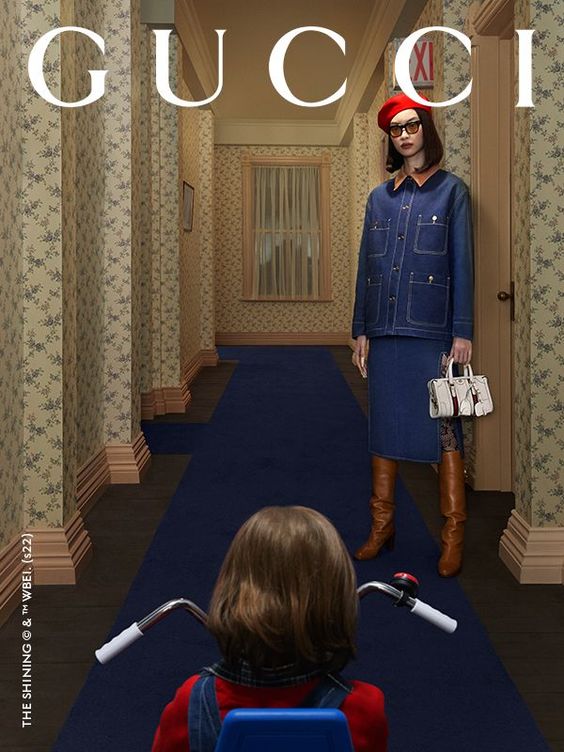 Remember she had this and then tagged Gosh ? Also look at the comment below saying Bloodlust…She has worked with Terry Richardson a known pedo and perv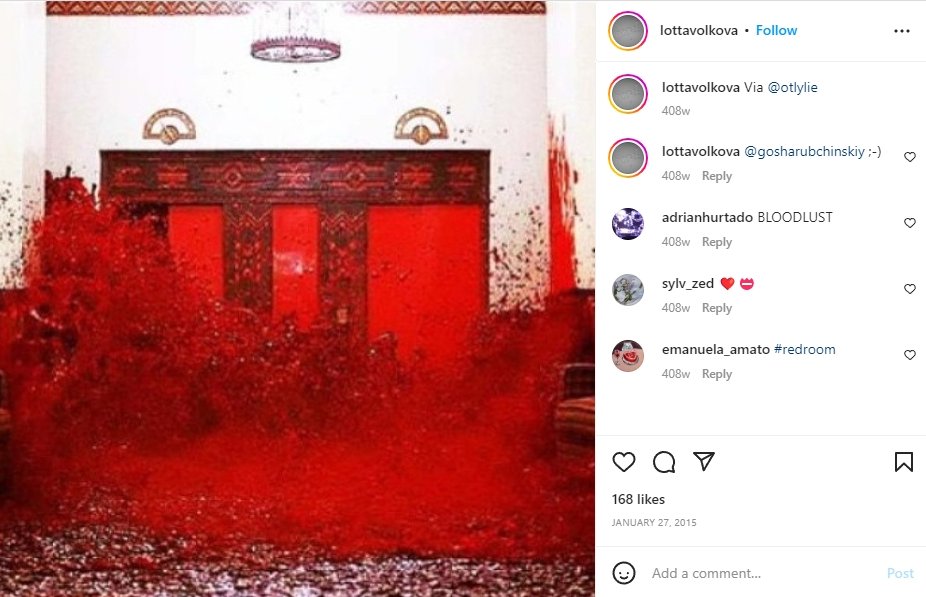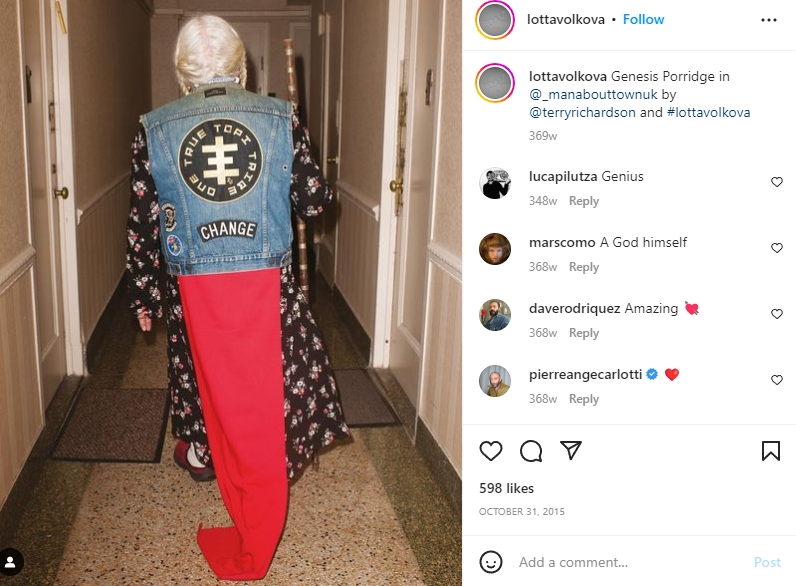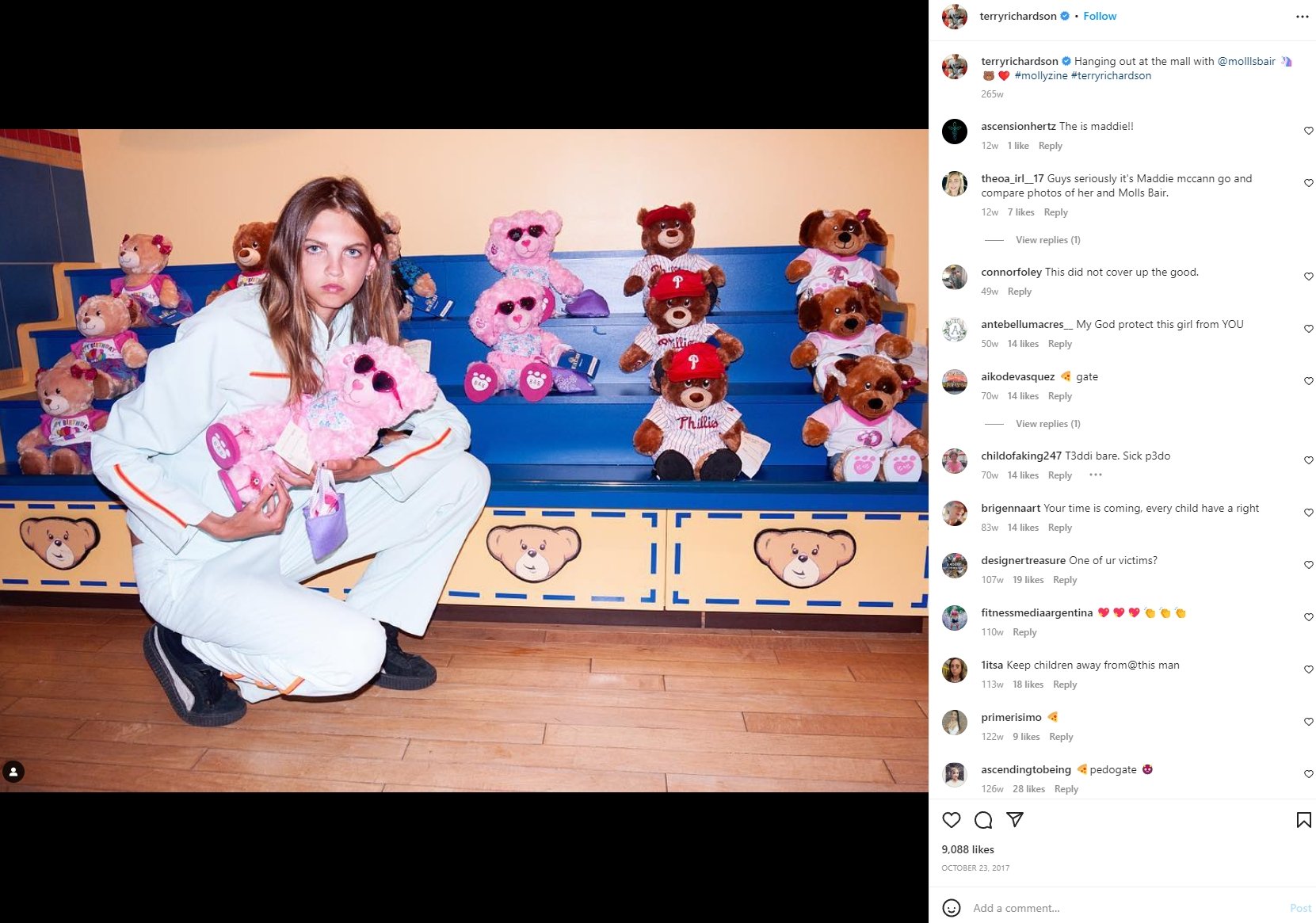 UPDATE SHE MADE HER INSTA TO PRIVATE:I knew it was going to happen, but within 2 hours of my little thread that was QUICK! Trust me these peoples arrogance will be their downfall.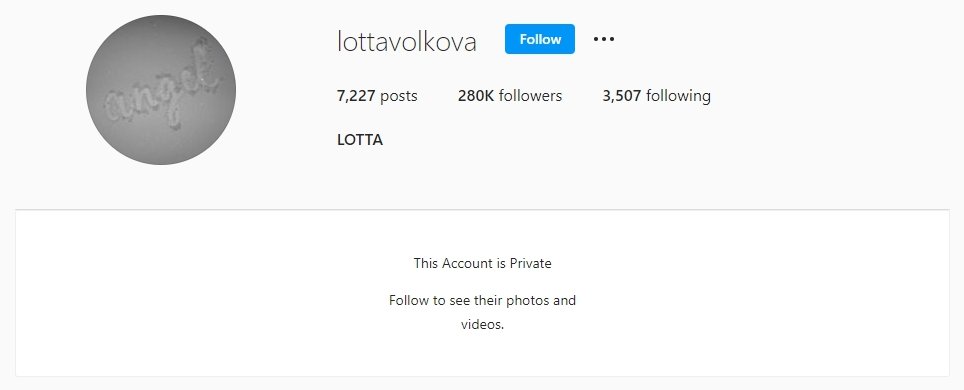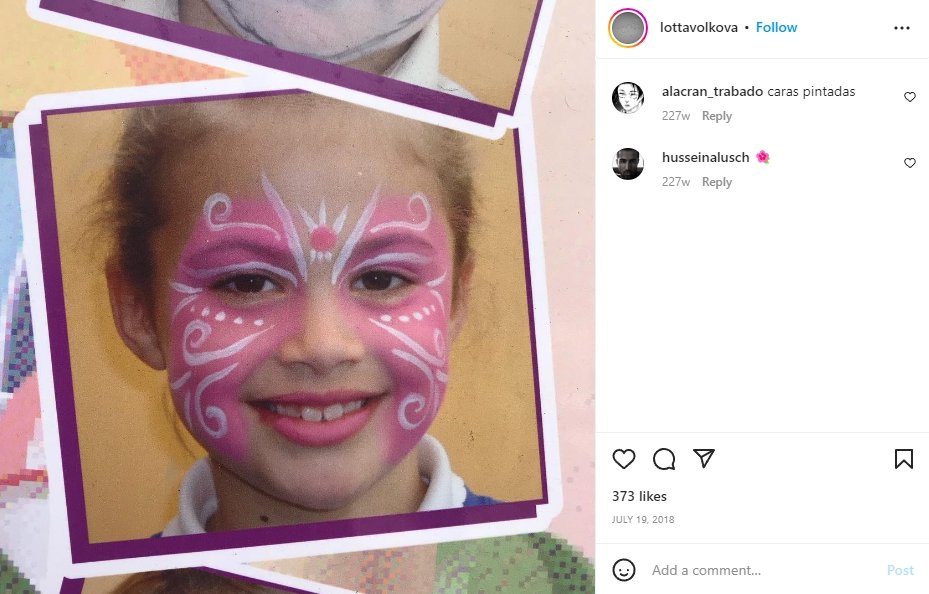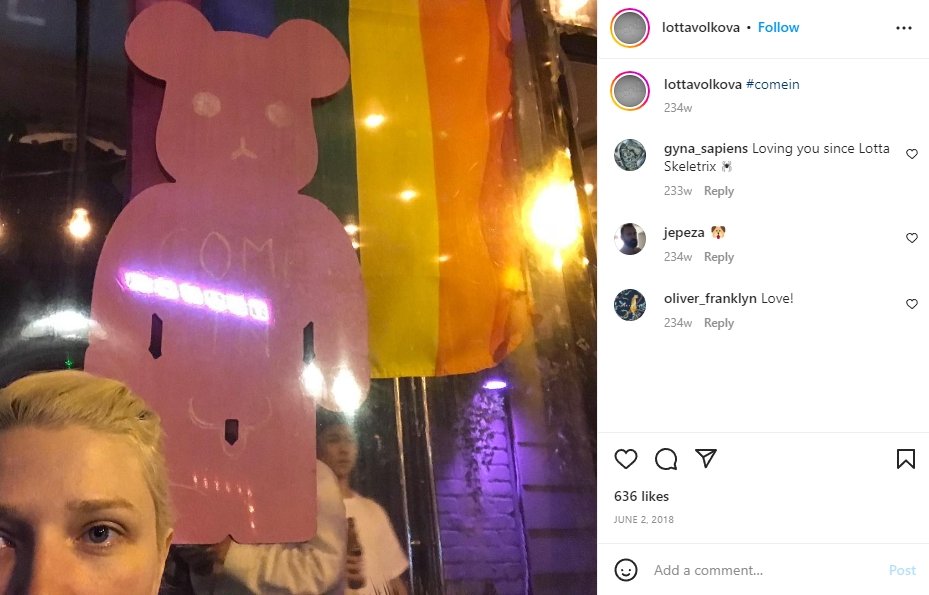 WHY AM I DOING THIS ? I'm doing this for the speechless children that get sexualized by pedophiles in the #Fashiongate industry, I also want brands and celebs to distance themselves from the stylists https://adidas.com/us/balenciaga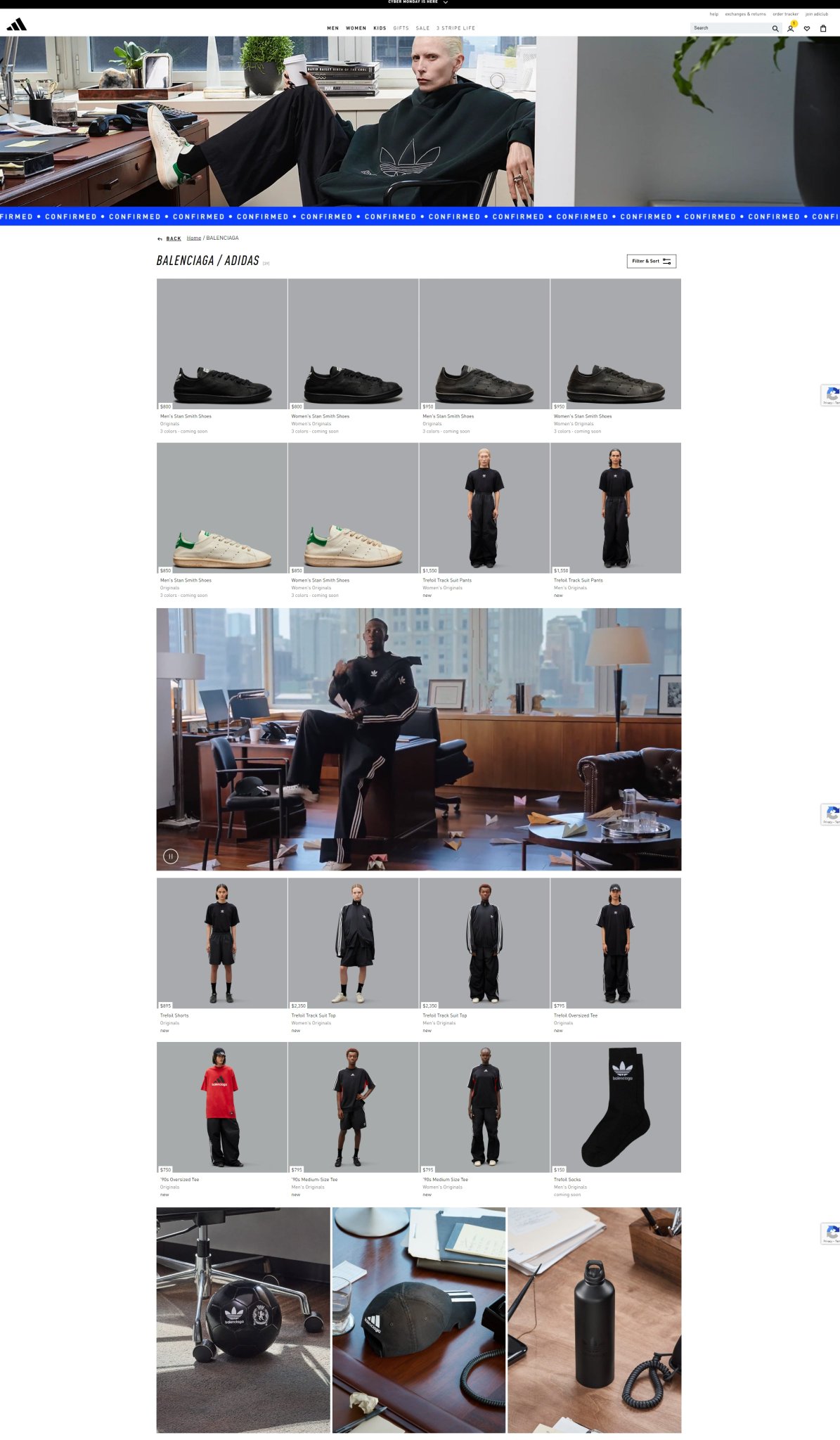 We Also need to Ban and boycott #Vetements which is run by this little clicque of Lotta Vankolova,Demna and Gosh It's not only #Balenciaga but all of the #BalenciagaGroomers
None of these sits well with me and it's sexualizing our children in some sly way in the name of "Art" "Photography" #GUCCI is not innocent It's owned by the same company that owns #Balenciaga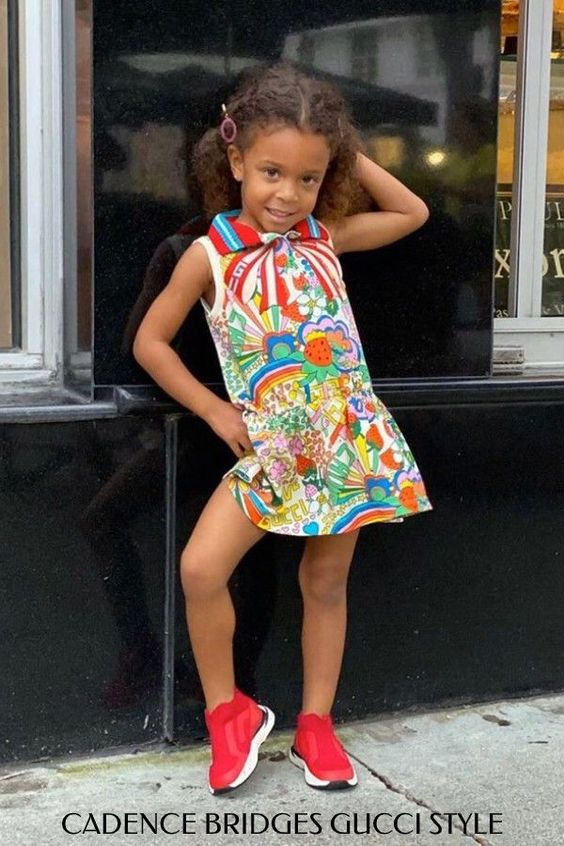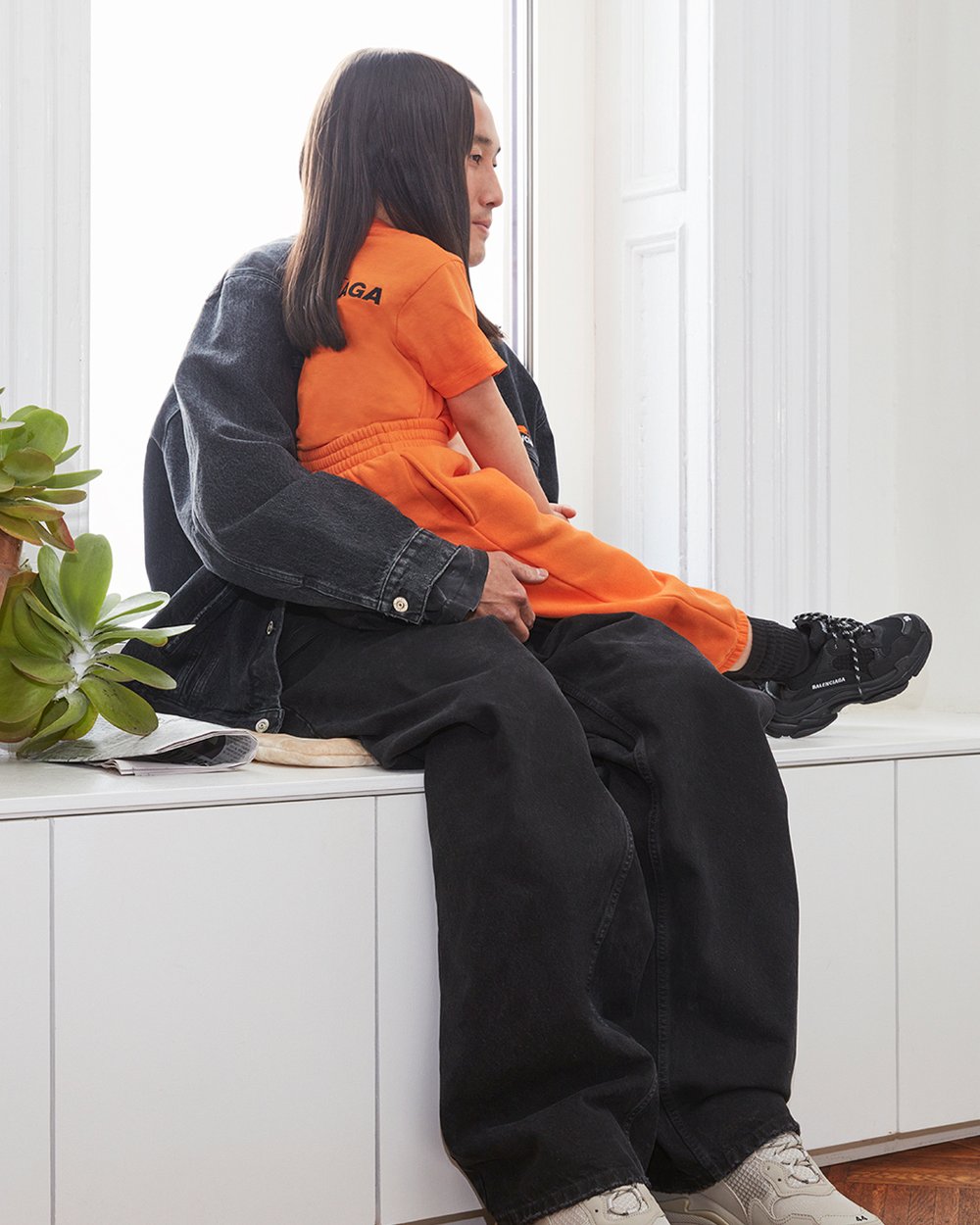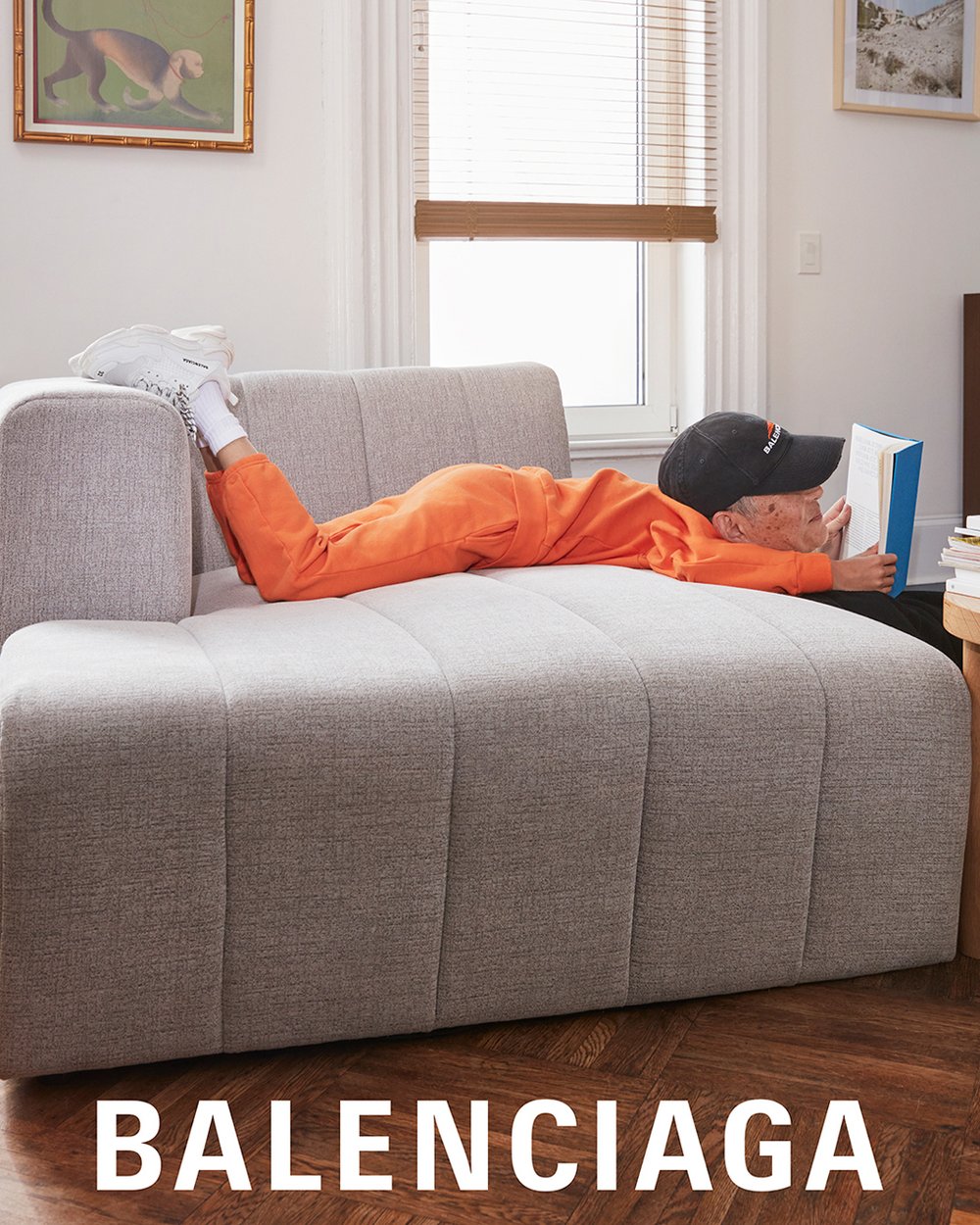 Gosha Her Close Pedo Friend Standing next to his Idol and the untouchable Karl Lagerfeld who himself there's been rumors that he likes little boys. However look at these messages and Goshas response was I was recruiting them for a fashion shoot. That's their cover.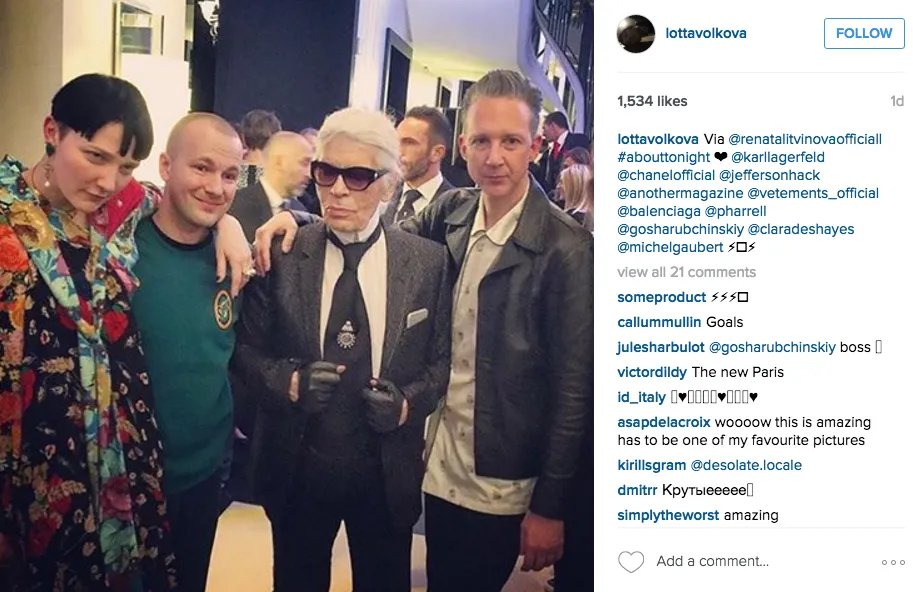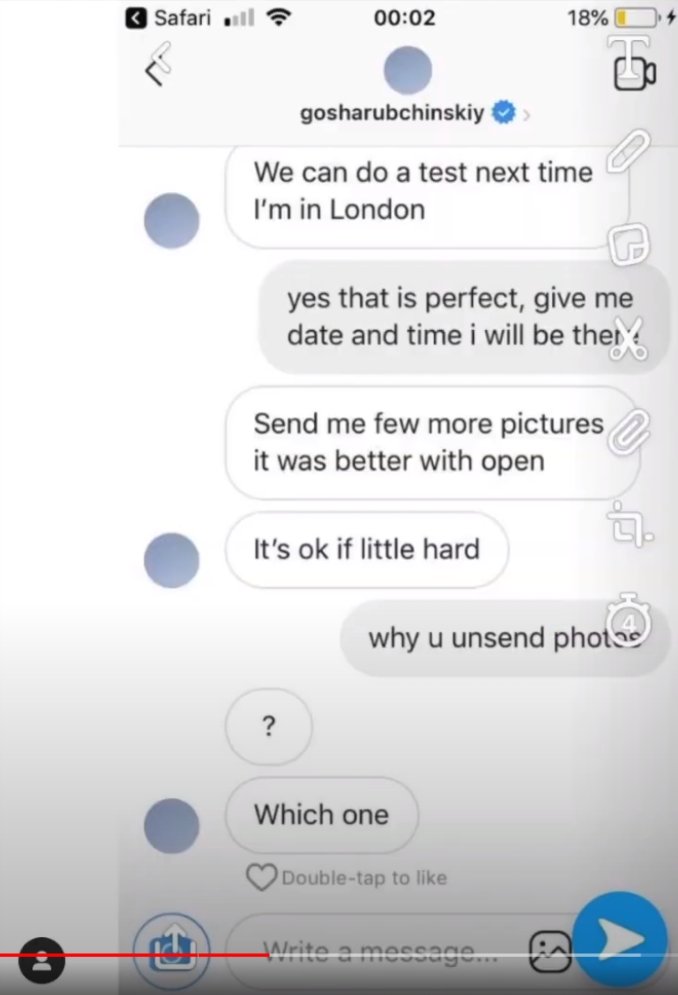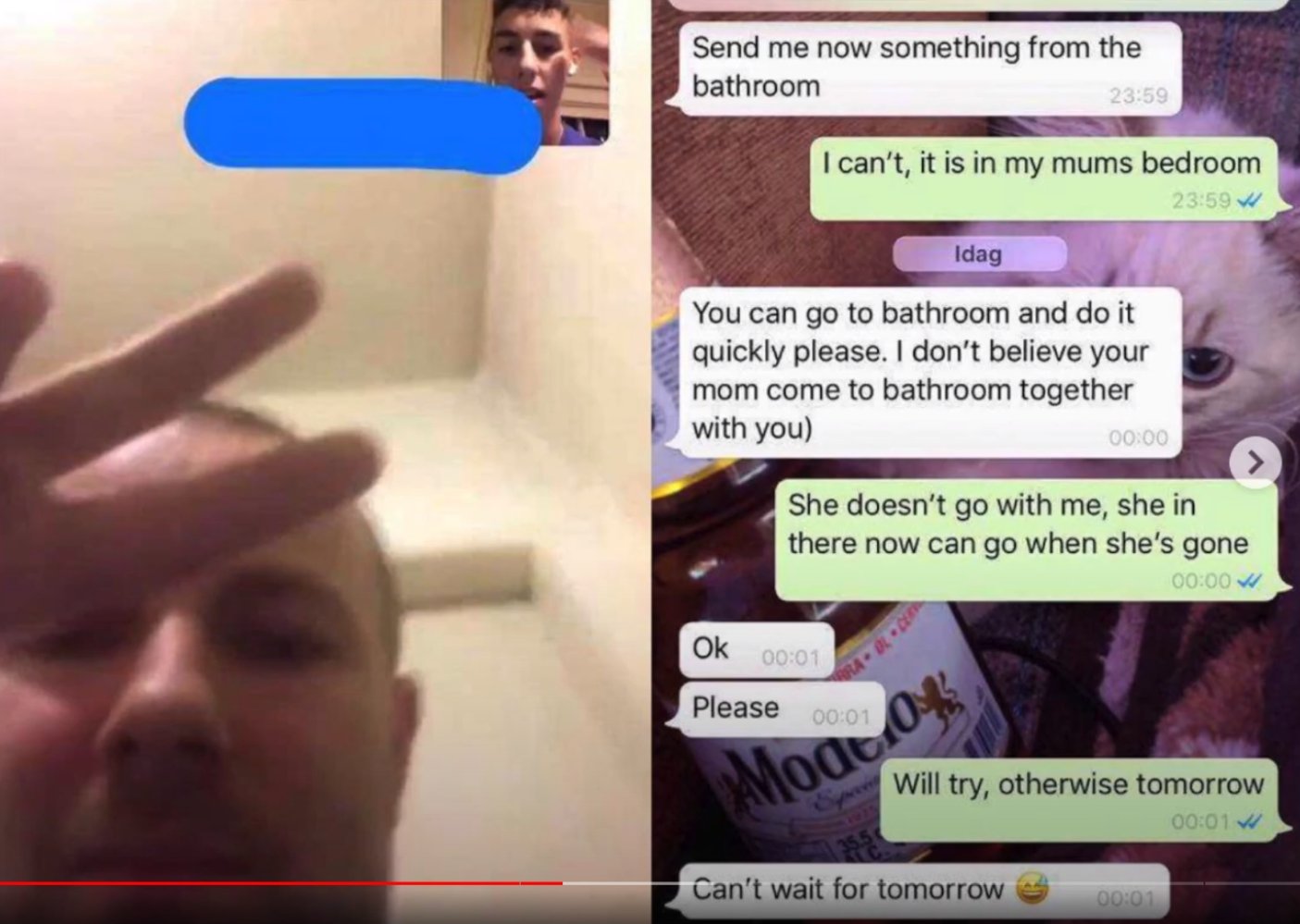 Update she did an opening on
Don't BUY this collection and contact
To Condemn And Stop Selling Her Merch:
Here she is at a Burberry party thinking she's on top of the world: Get in touch with
and make sure they stay away and #CancelLottaVolkova the stylist behind #BalenciagaGate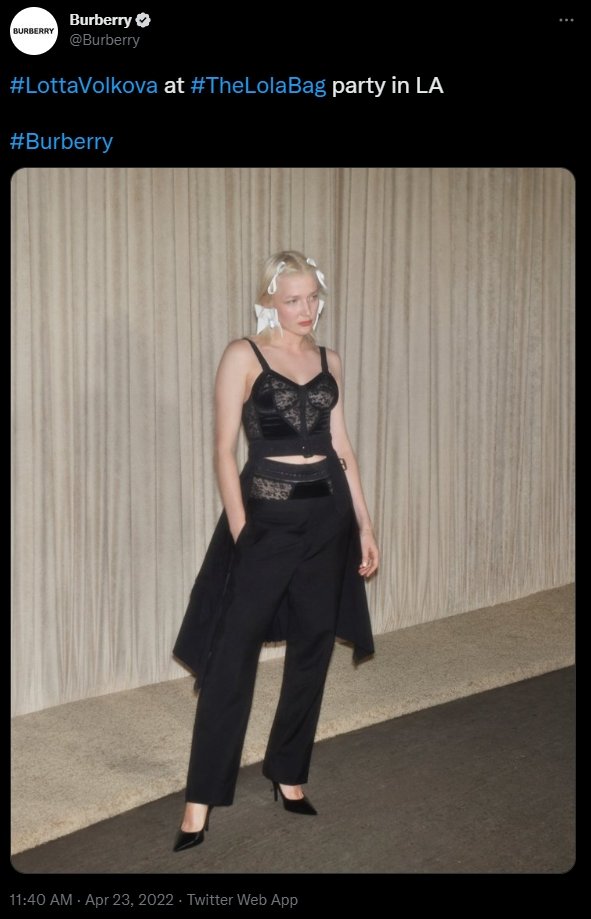 Below are bath houses she would take young boys and have orgies, this boy(left pic) looks like she has brought him with her to the U.S. The 2nd picture is why is the hashtag sorryputin, why and sorry for what ? Taking the youth from Russia or doing something bad to the youth ?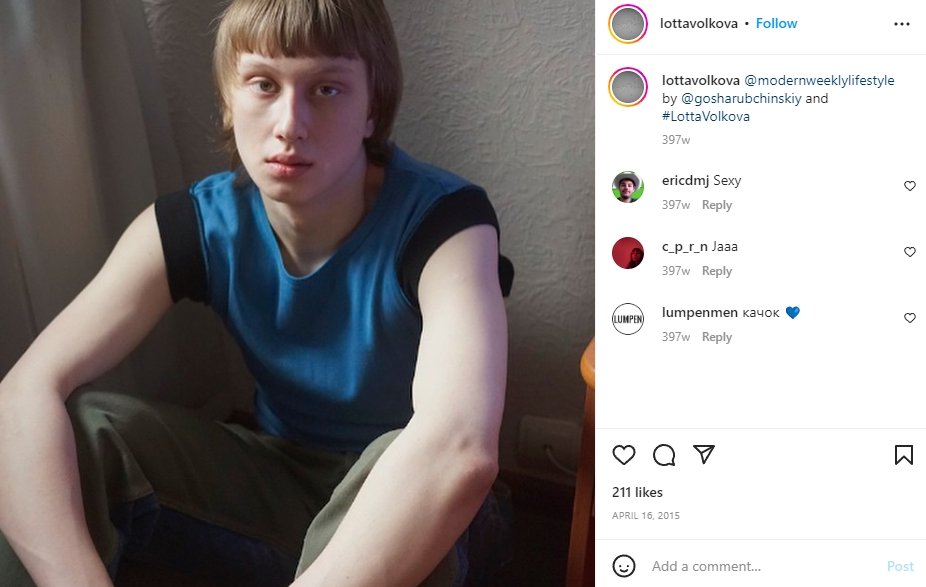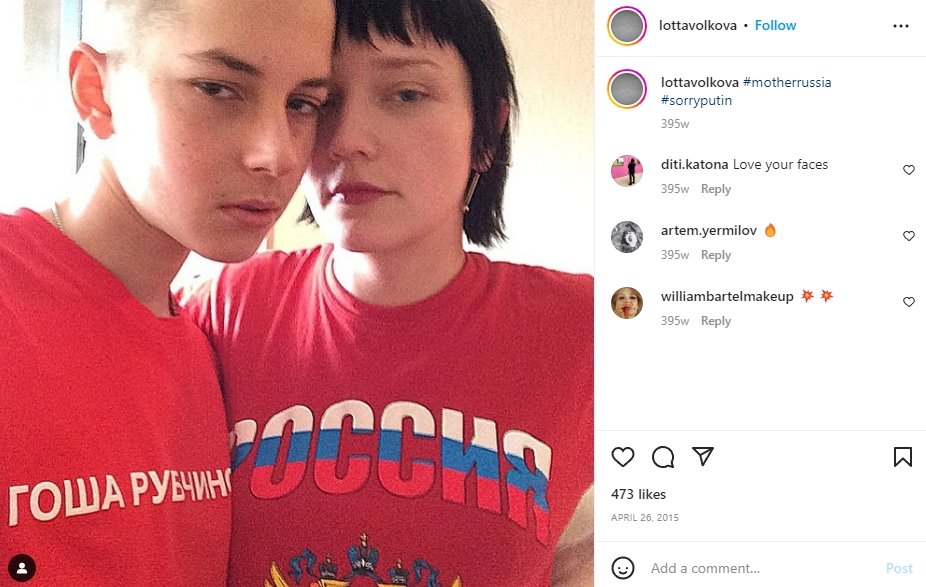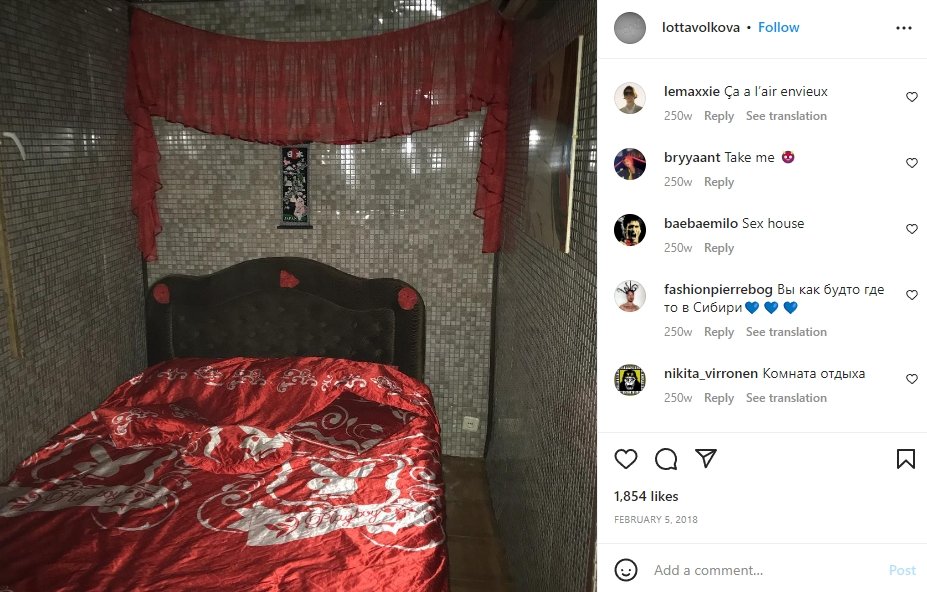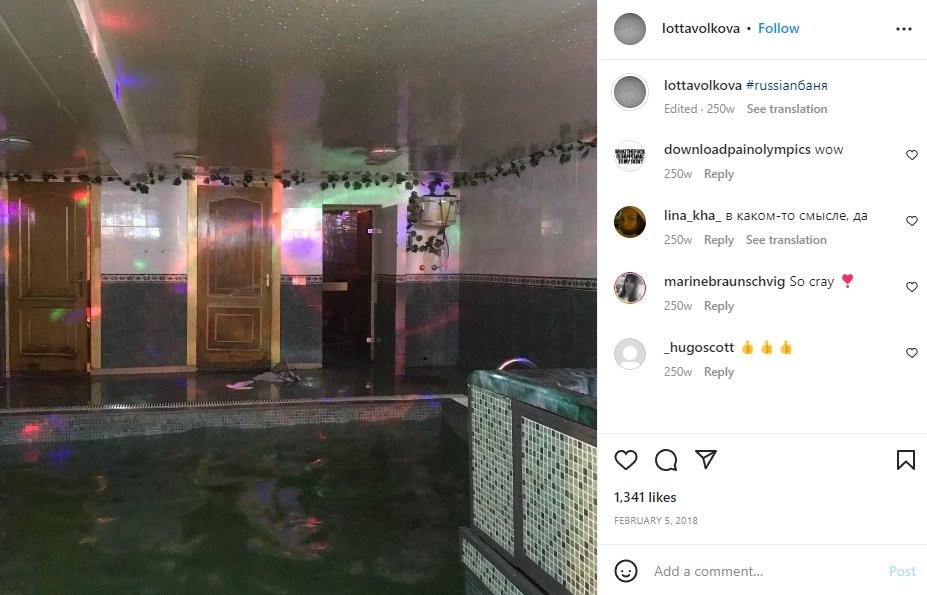 Update: Did
finally speak out against #Balenciaga after this thread ? We need her to condemn and avoid working with Cannibalotta aka #LottaVolkova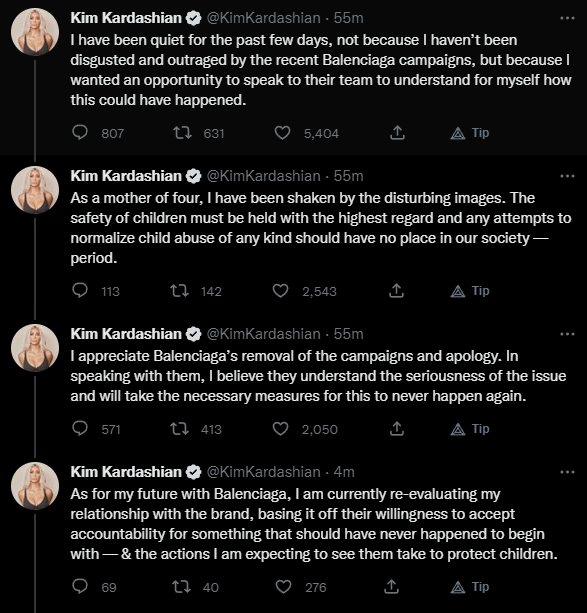 A quick Q & A With CannibalLotta AKA #LottaVolkova :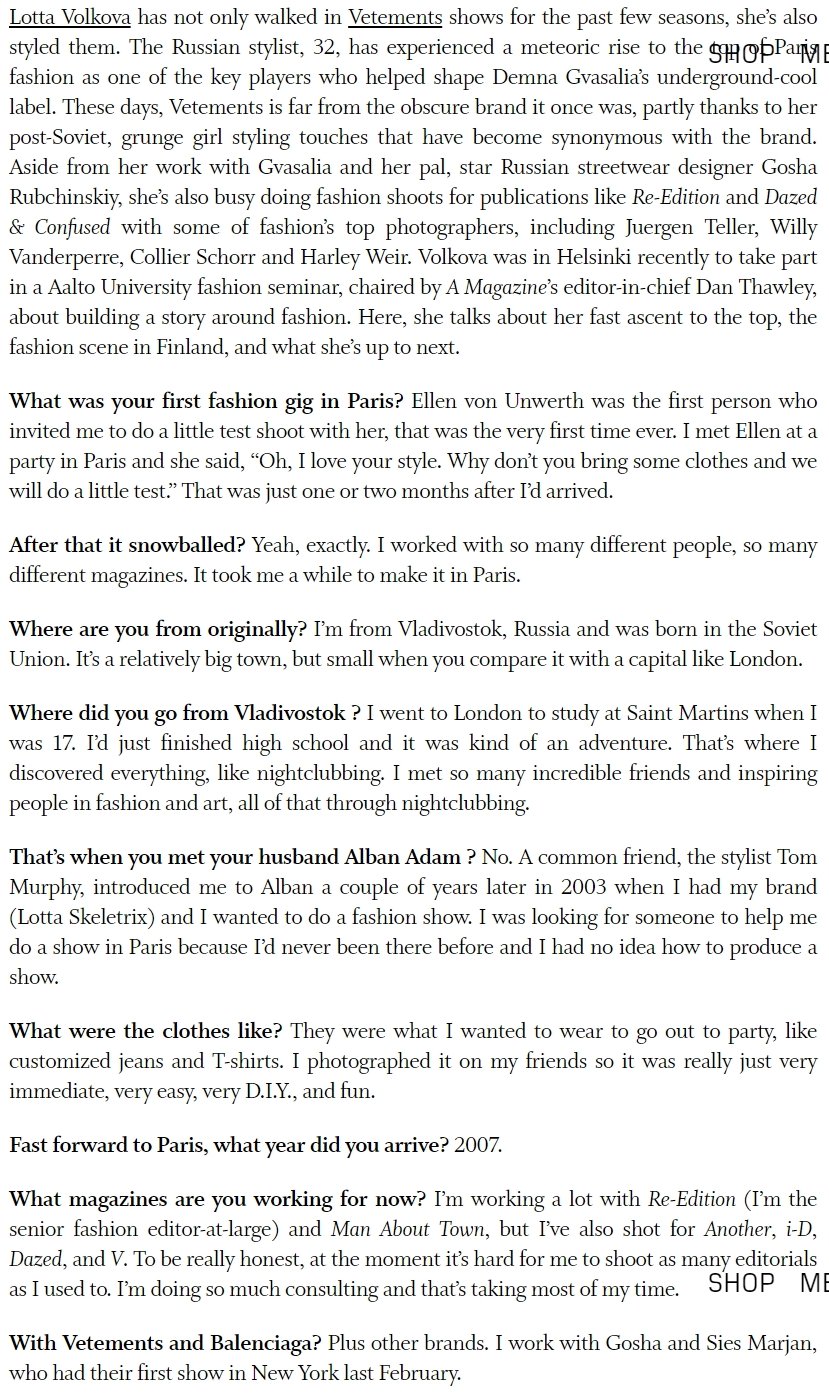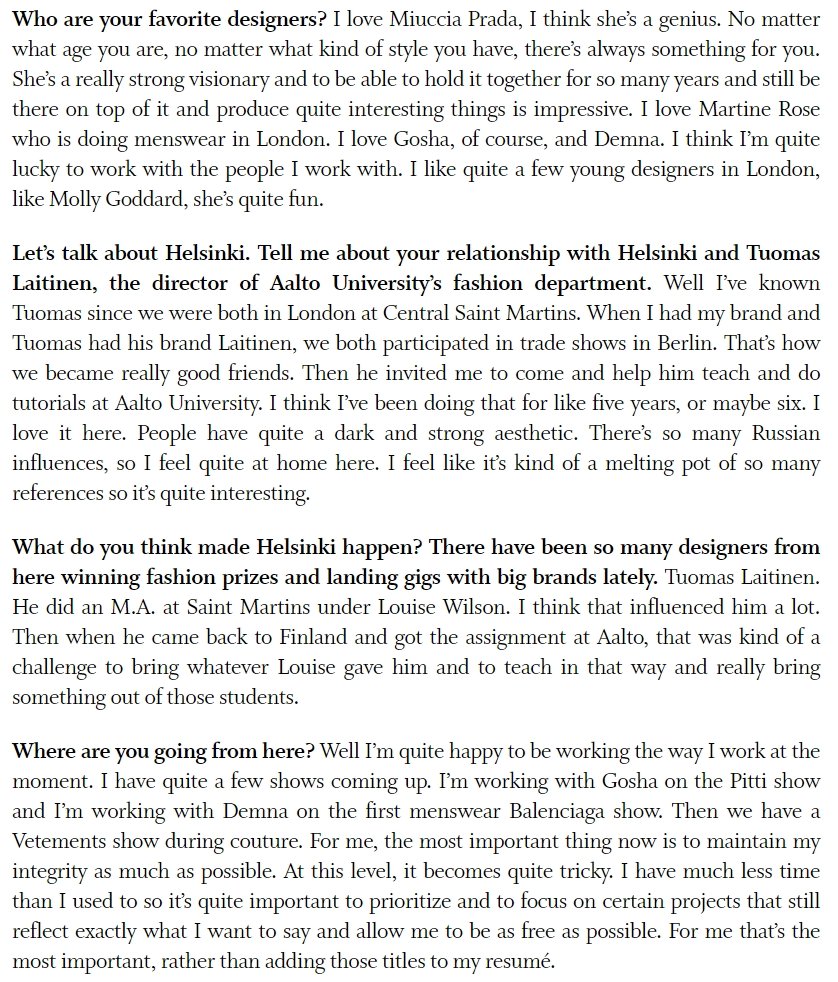 Update: Demna admitted all 3 of them are pedophiles. Do we need more evidence? Gosha had already been accused by 2 boys, This is who is running #Balenciaga They've opened up #FashionGate Stay tuned for more.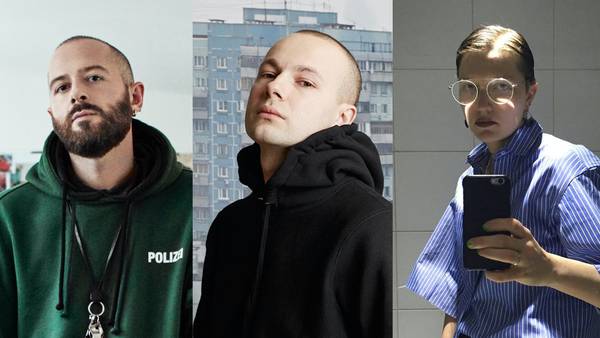 Alexandra Zarini, the great-granddaughter of Guccio Gucci has filed a lawsuit in Los Angeles against three family members: Her stepfather Joseph Ruffalo, her mother Patricia Gucci, and her grandmother Bruna Palombo. If they do this to their own imagine.
This is from the popular series of AHS, where witches burn another witch and she screams BALENCIAGA, is that a product placement or does it mean something else ? #FashionGate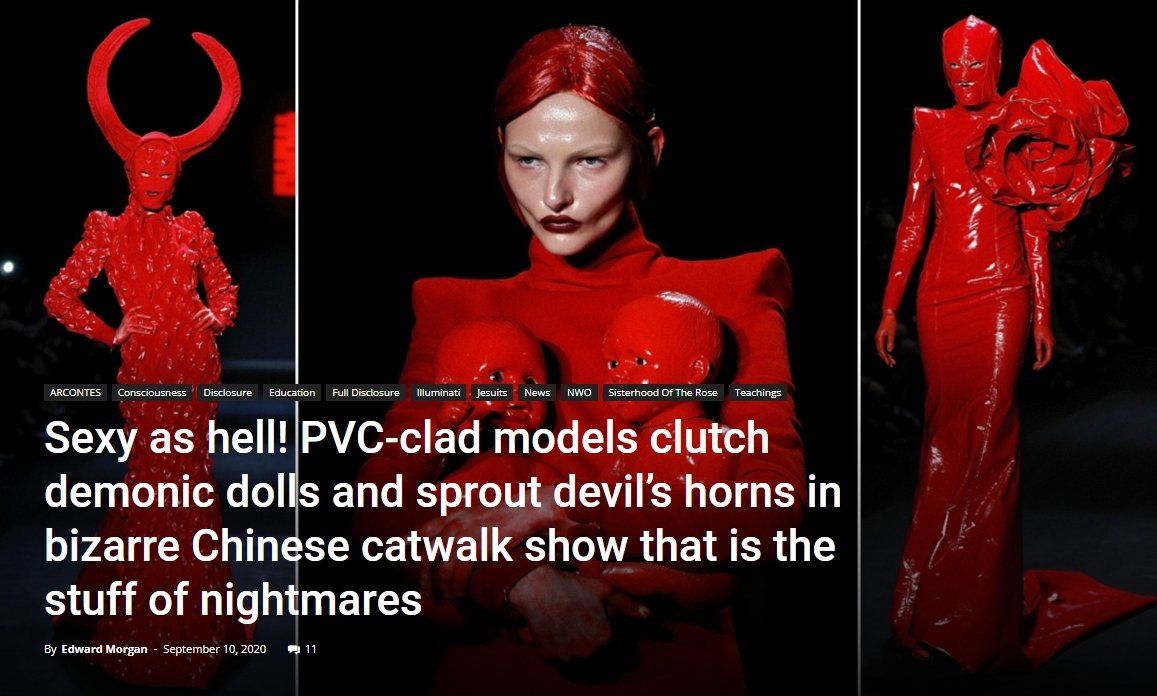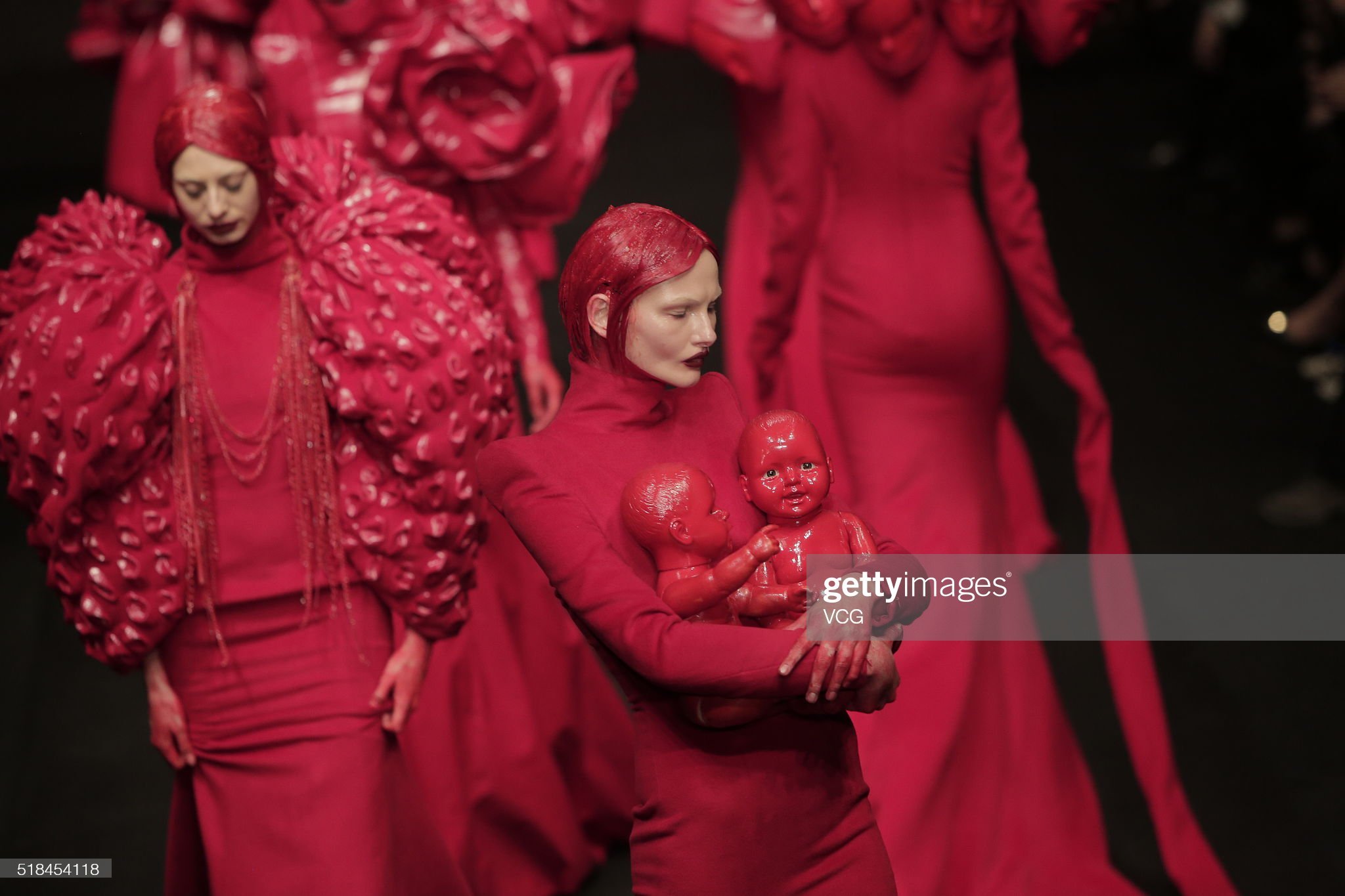 The show is from a Chinese dutch designer: Sheguang Hu Collection from this Mercedes-Benz China Fashion Week A/W 2016/2017 – Day 7 This shows us however that there's no border to what's going on in this so called fashion world.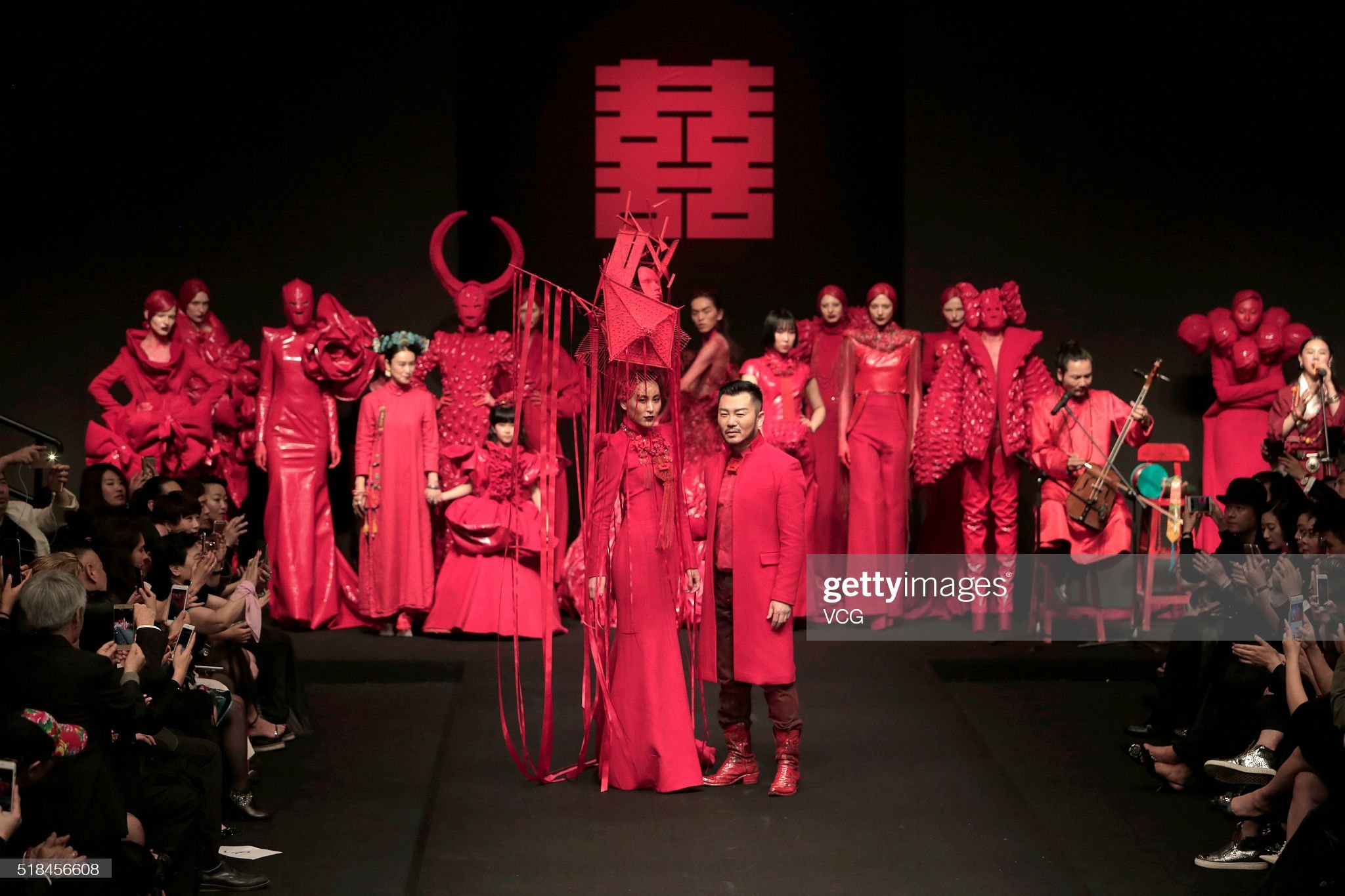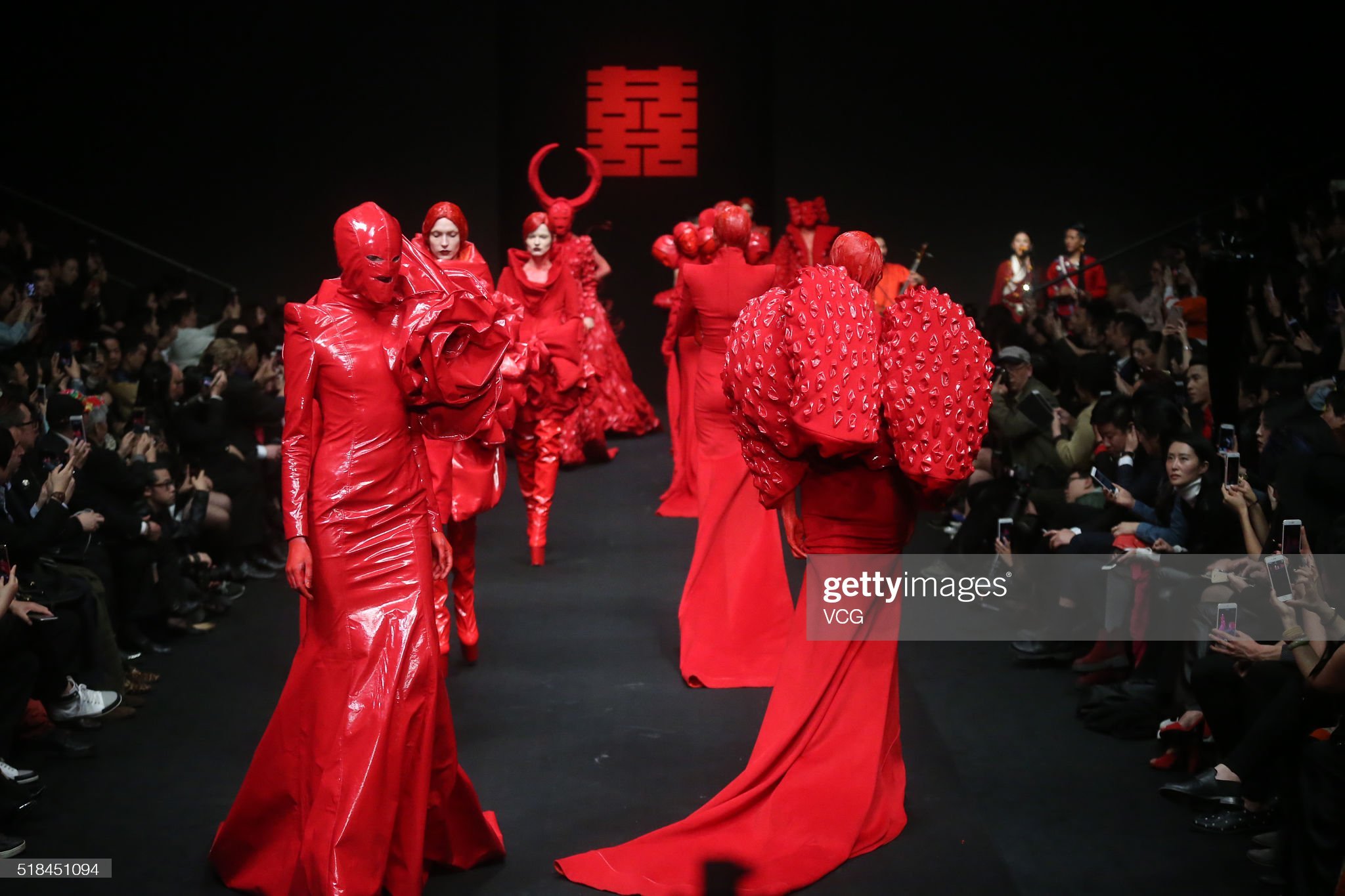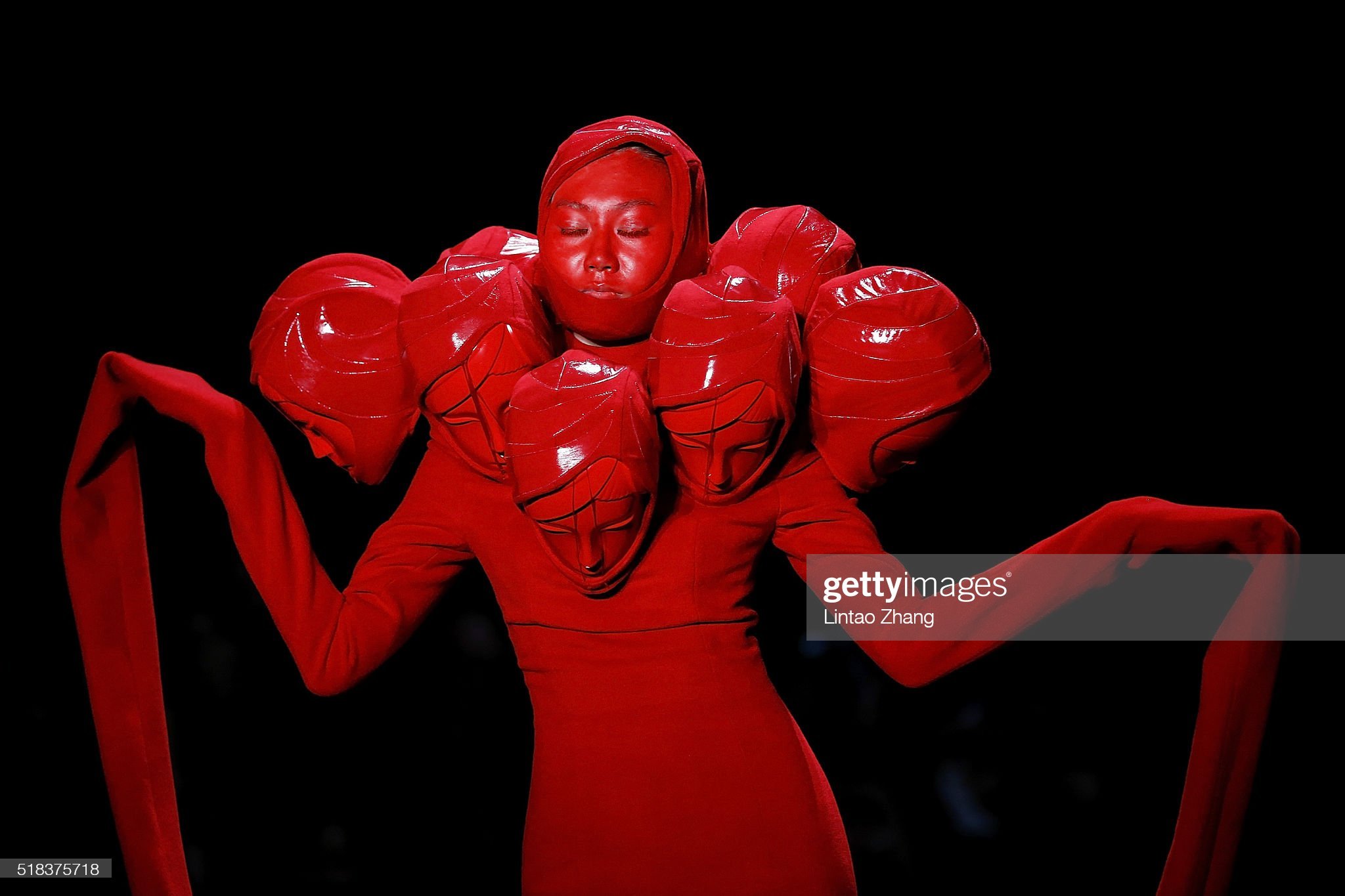 Update on the Photographer(1)
: I find first of all the article he mentions very strange, why restrict child porn but not guns, his own pic is in there maybe he can tell us about this weird comparison between child porn and gun crime.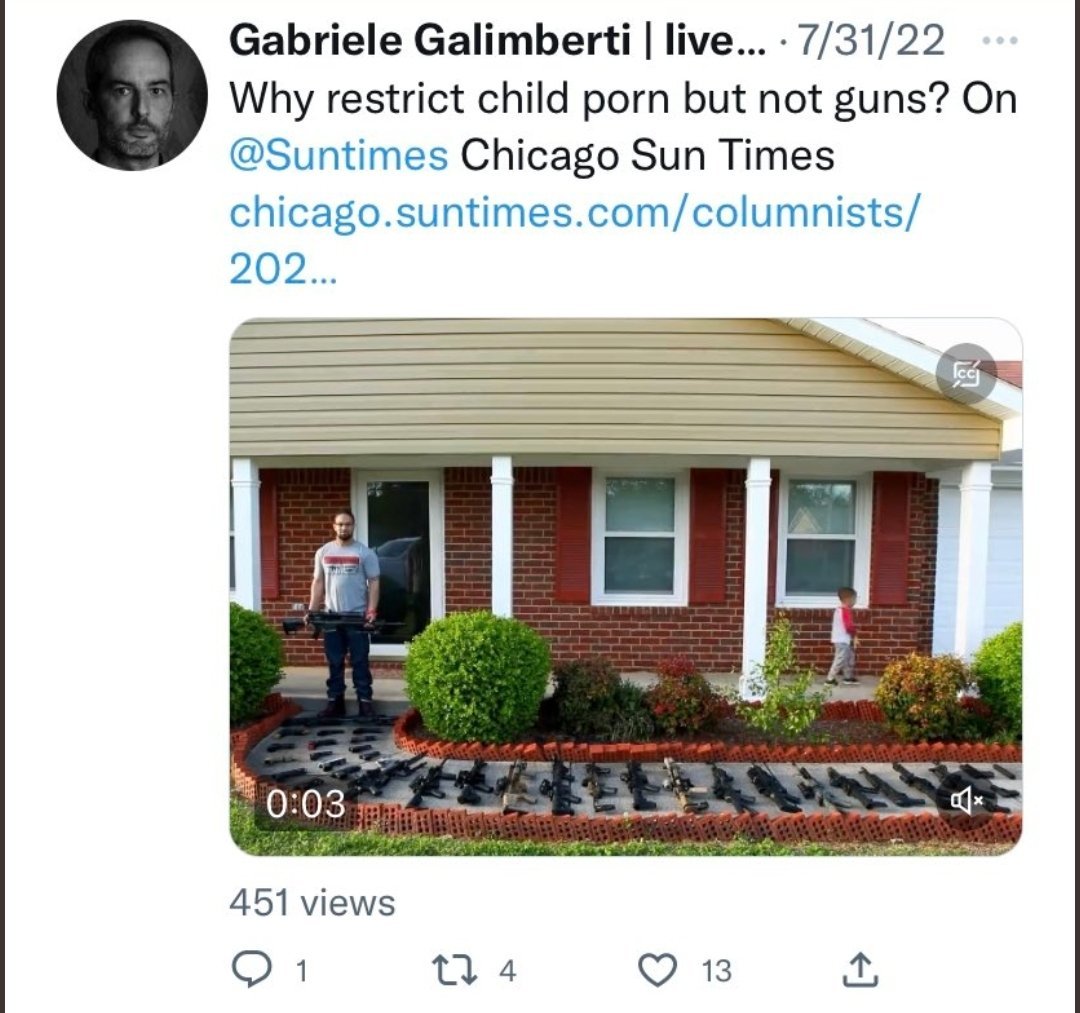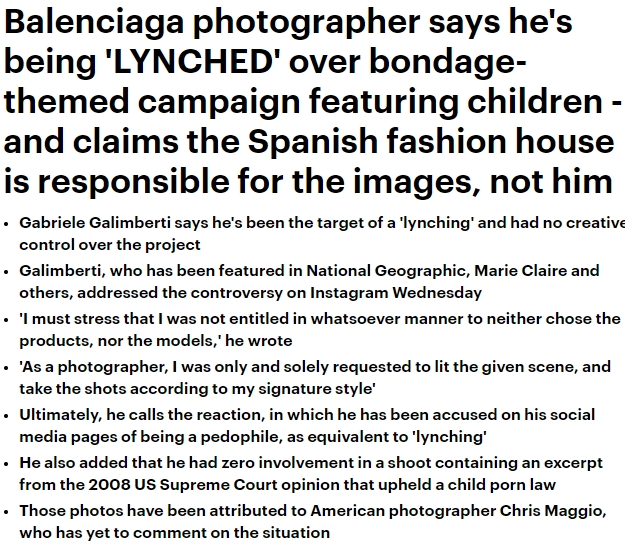 Update on the photographer(2) He could've told the truth that he wasn't in control in the #Balenciaga shoot but this isn't a novice young kid that became a photographer yesterday, he has connections in the industry and he was completely unaware who he was working with ? B.S……
Update on the photographer(3) Gun crime is something serious but I feel not enough is done to protect children from pedophiles etc, especially the sexualization on these drag shows where kids are involved that's been going on lately.
Update on the photographer(4) It didn't take me long to notice how strange the #Balenciaga clique is and for a prominent photographer like him didn't know, or was the pay good ? Maybe he was naive and didn't realize what he was involved with. I don't think he should get attacked
Update on the photographer(5) The reason you can't attack anyone is it's serious but he should be very clear what actually happened who was involved not just snitching on the other photographer. I thought it was interesting he takes pics of guns,toys and mentions guns and cp…
Update on Alban Adam: He officially has closed his account :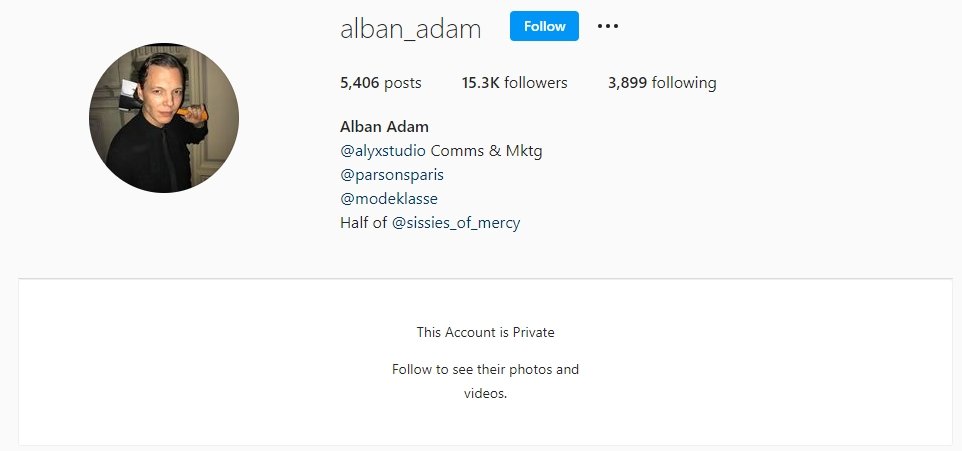 A Sad Fact (1): Did You Know Brooke Shields Have Been on Playboy cover when she was 10 years of age, this was in 1975 by the consent of her own mother. The 2nd time was 1986 10 years later. She was also in a Calvin Klein 1980 ad where she was only 15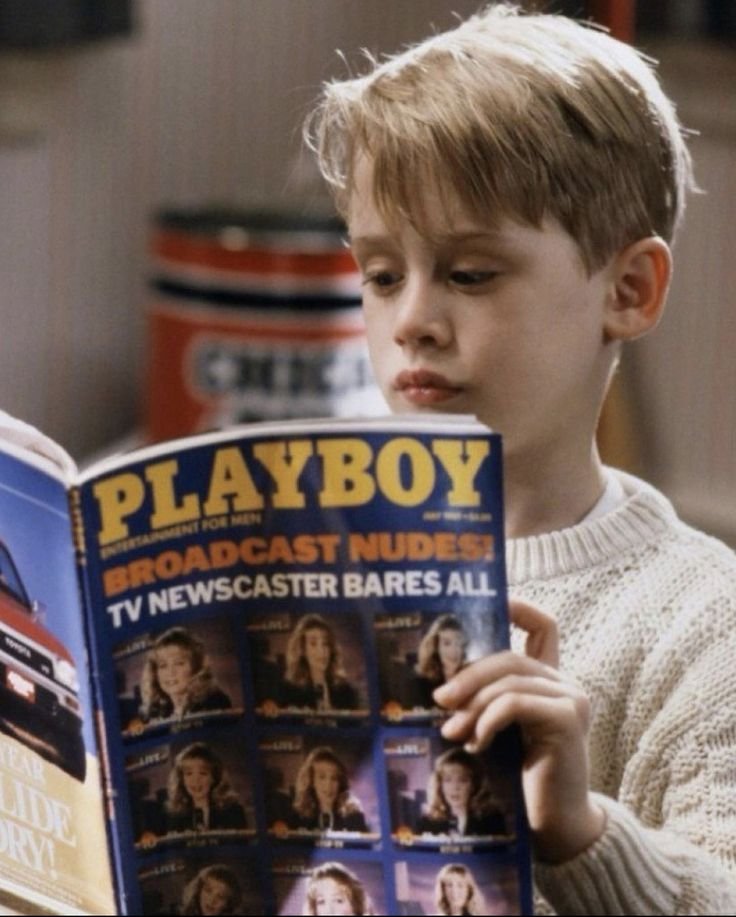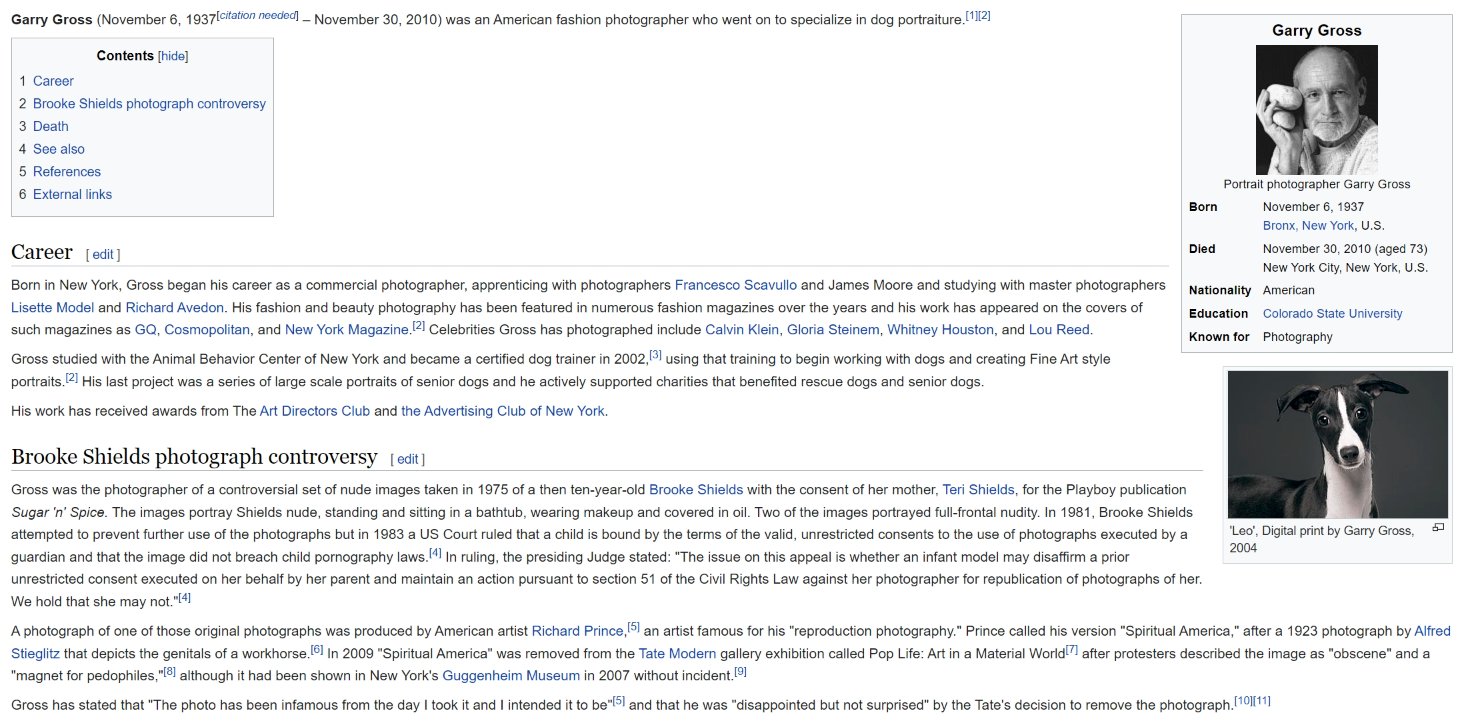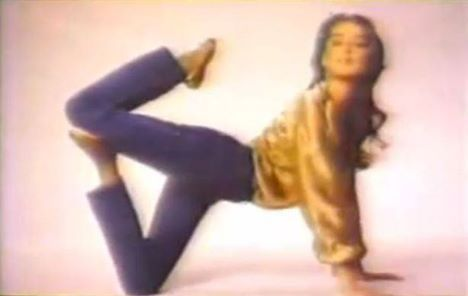 A Sad Fact (2) She was only 15 on the Calvin Klein aka CK ad. This ad is where She became infamous for uttering the flirtatious line: "Do you know what comes between me and my Calvins? Nothing." Imagine a 15 year old saying that ?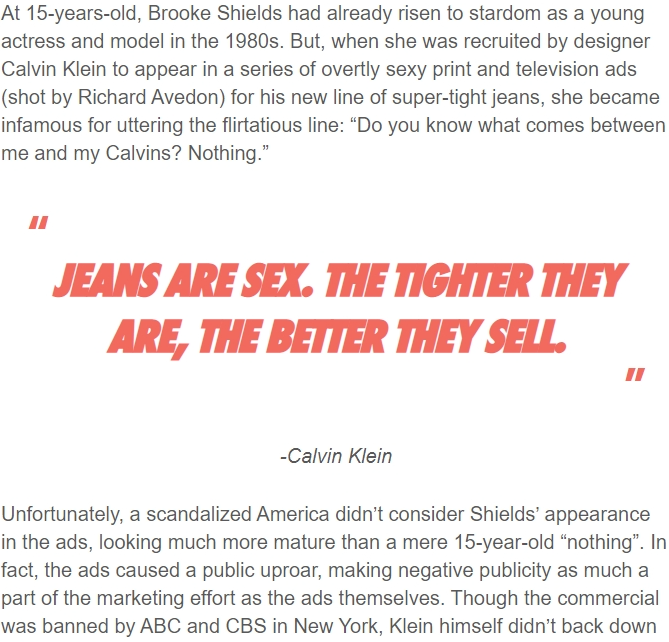 Update Can Anyone Ask Why Nicole Kidman is Still supporting these #BalenciagaGroomers and their brand: Interesting how they show off everyone that was involved in that shoot but completely radio silent on all the children ads. Kidmans history is well…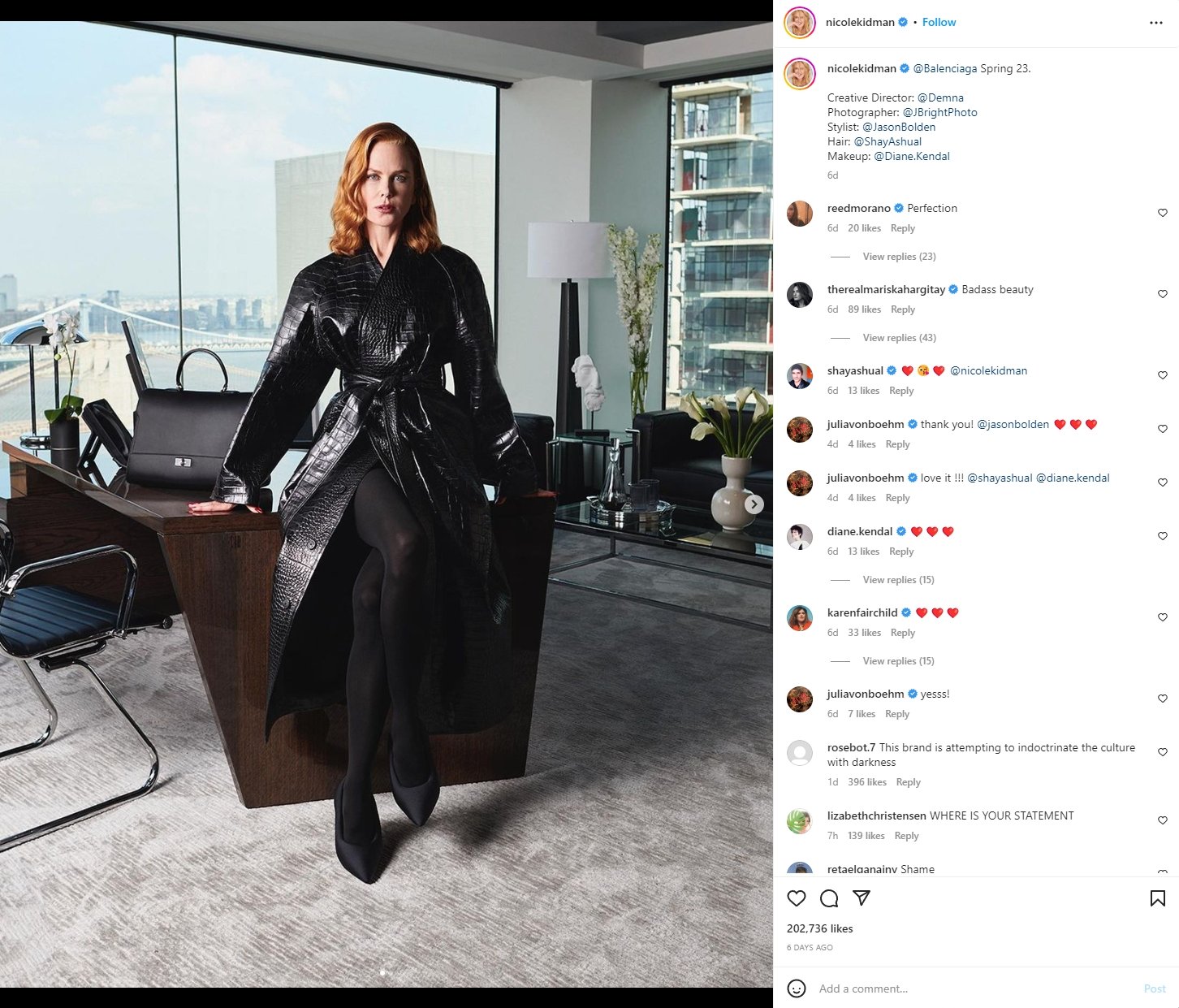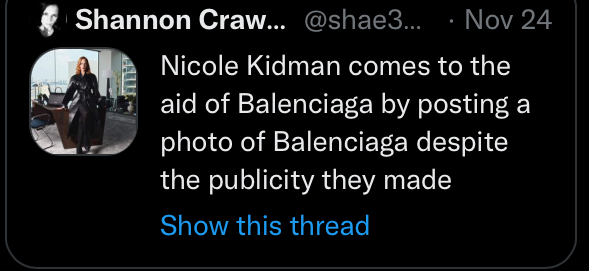 Update some media have started, Remember this isn't just about her, it's about #FashionGate and the industry that takes advantage of Children : We need to know everyone involved in shooting any kids pictures,ads,campaigns. 1. https://meaww.com/who-is-lotta-volkova-balenciaga-stylists-past-under-scanner-fashion-house-bdsm-photoshoot-scandal…
Update #LottaVolkova Has Been Running #Balenciaga from the start, don't take my word for it, Demna Gvasalia himself said they couldn't even afford her on the first Balenciaga debut: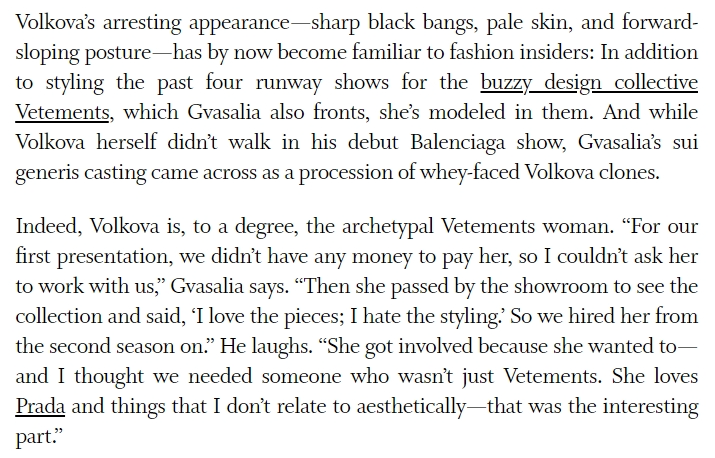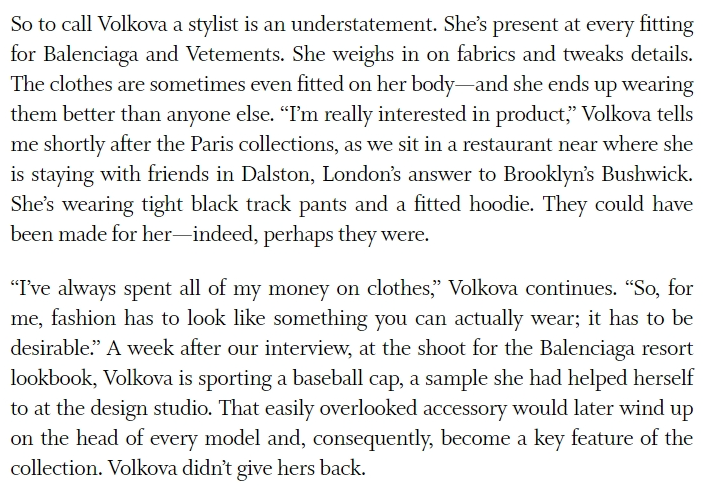 Update I've blocked
the reason being is I wrote to Oli early on with my research and Oli released it as a discovery, ignored my dm, That Tells me
don't actually care about the kids rather their status and ego. Avoid Fake News Pretending to be Real…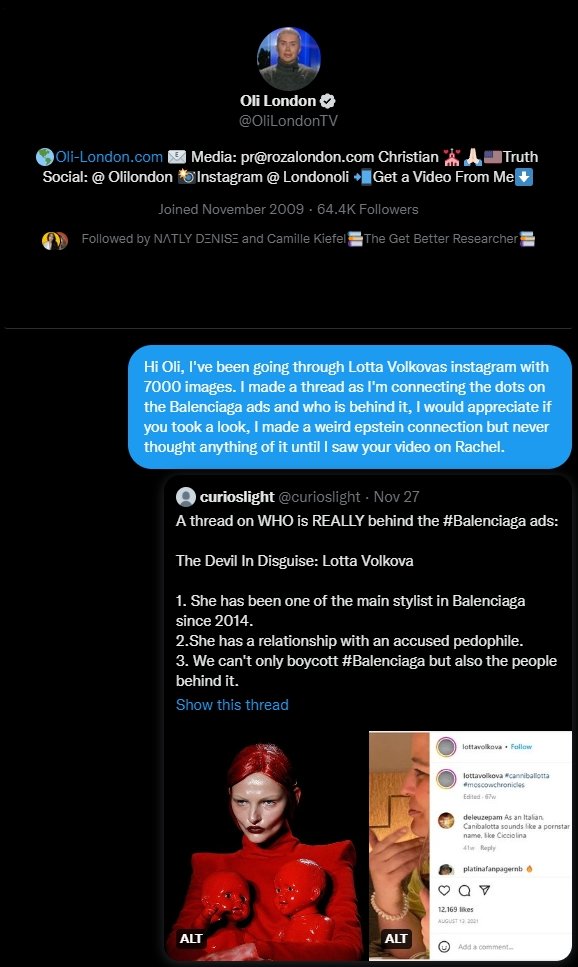 Update: They Are Trying To Discredit My Thread, If They Only Knew How Many Hours My Eyes Got Exposed To That BS..
No I don't Remember No Moral Panic, Now GTFO the Thread You #FashionGate NPC, Block Delete And Avoid Anything He Is Involved With.
Update :
released an article on this written by
, First Of All Why Did She Drag
into the article ? 2nd She Is Truly A Sherlock Holmes As She credits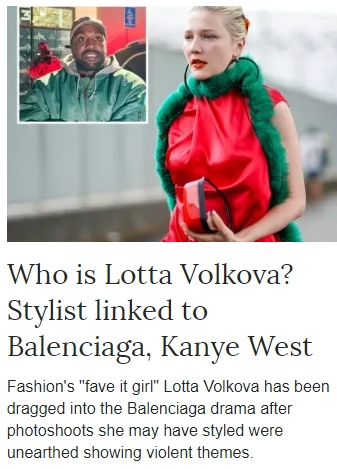 I'm Block Her Based On Her Great Journalism! https://newsweek.com/balenciaga-controversy-fashion-lotta-volkova-kanye-west-1762721
Update: I will give the audience and myself a break atleast for now. I want to bring the attention to this former IDF soldier
Exposing The IDF Demolition A School #FreePalestinianChildren From #IsraeliCrimes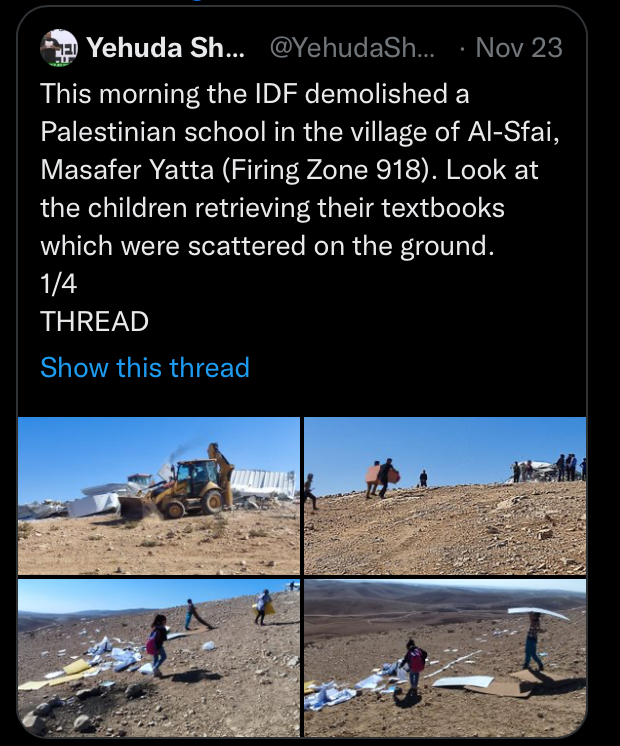 BREAKING UPDATE  Alban Adam And Lotta Volkova Are/Were Married? #FashionGate Kudos to
for this info I knew they where close but this and also he told an amazing story of their come up in the fashion industry fake it til you make it….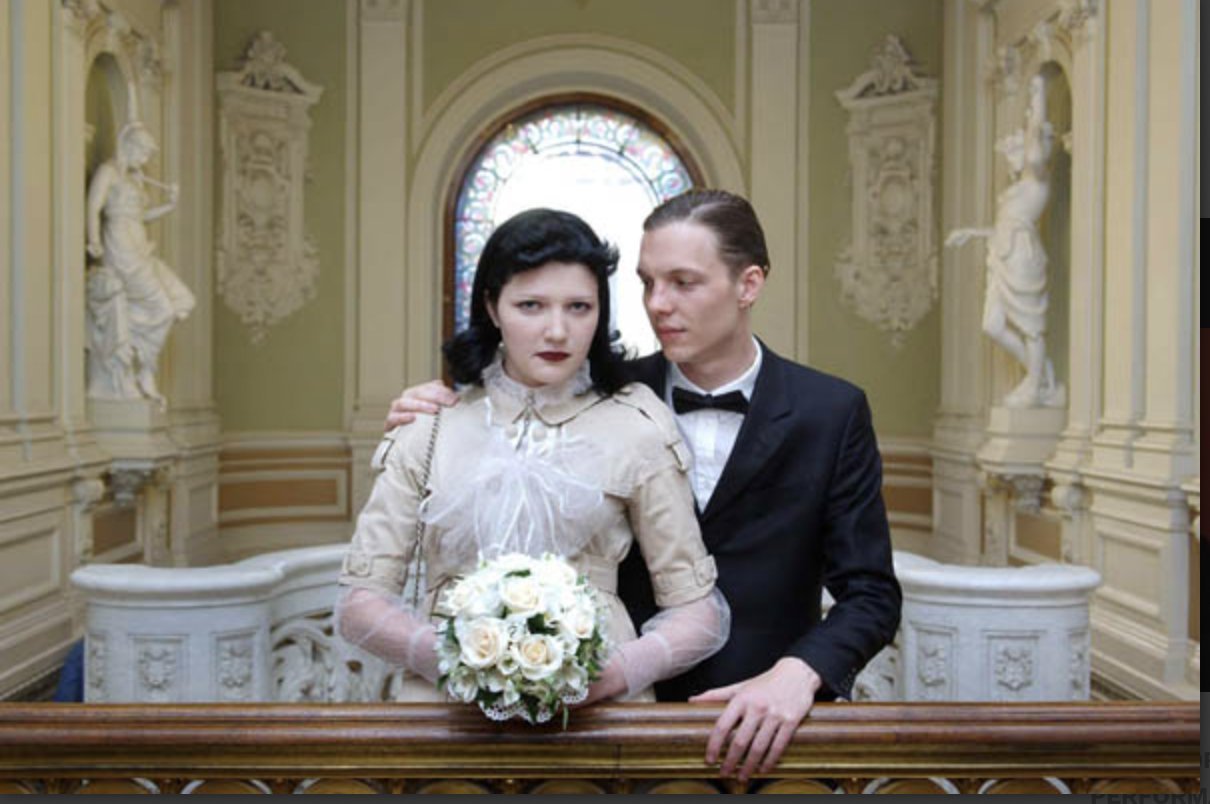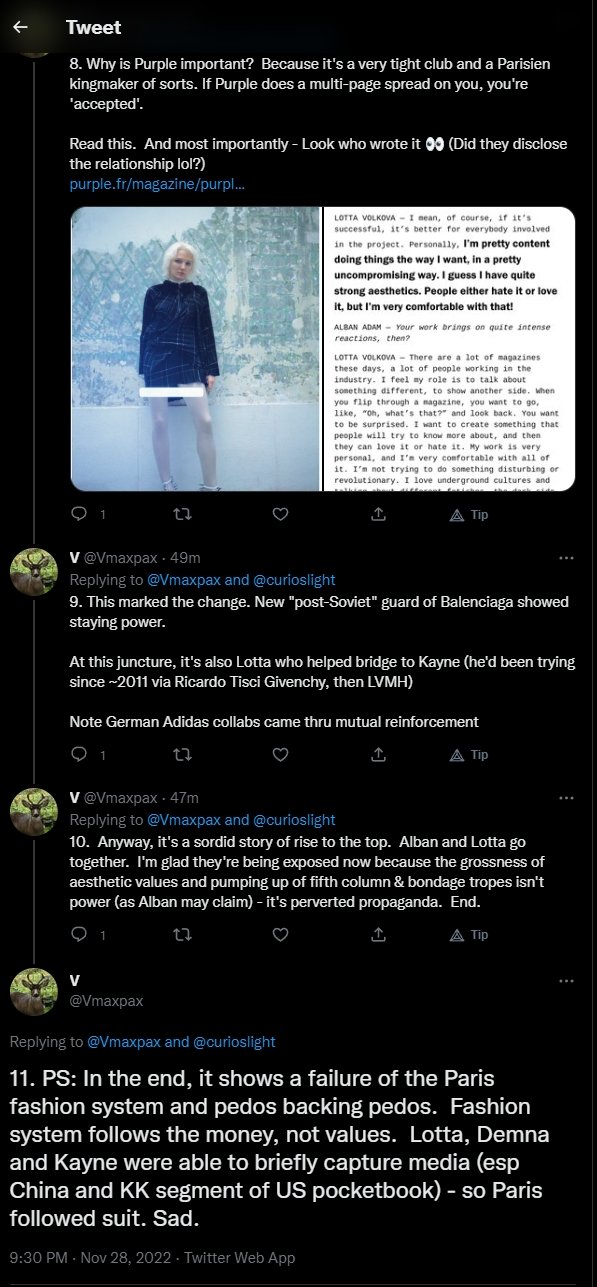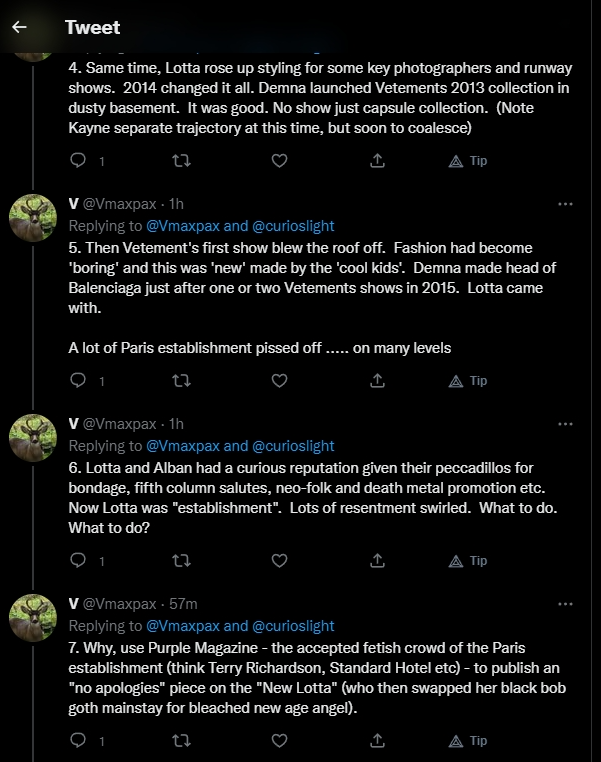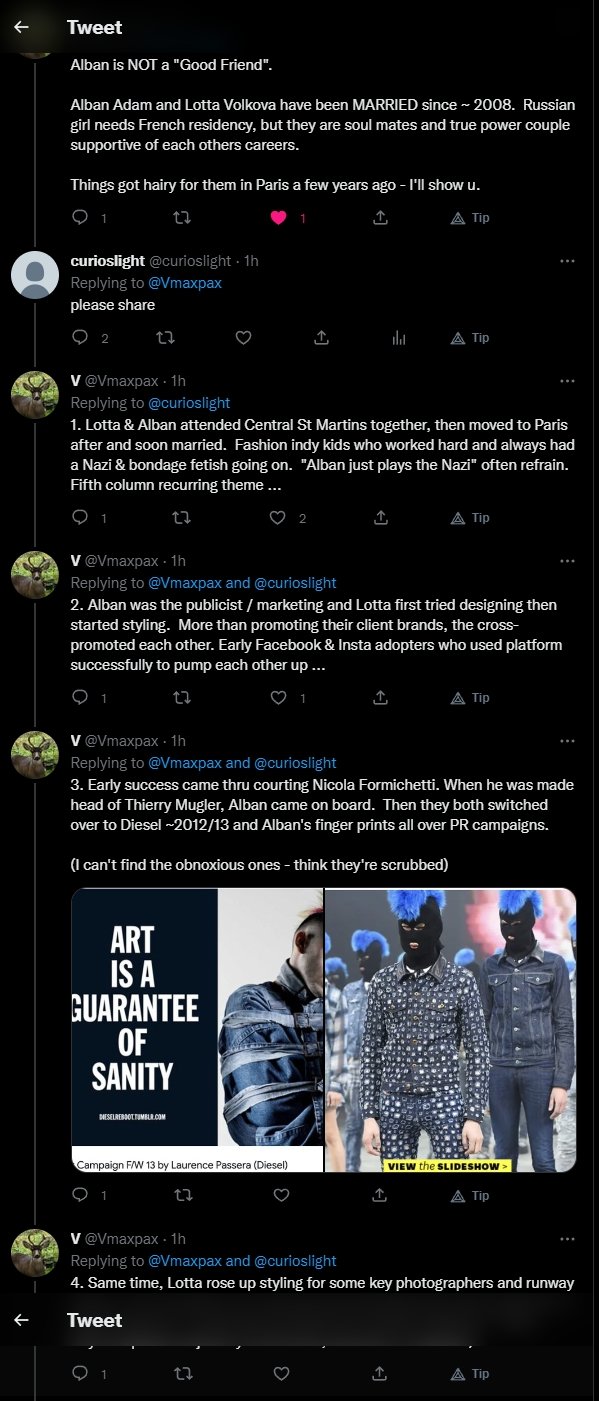 Update: #Balenciaga "Apology" They Then Expect Us Too Buy Their
x #BalenciagaGroomers Shoes For $850 Look At These Shoes, They Look Like They Wore Them On A Muddy Catwalk If
Don't Condemn And Disassociate Themselves, We Will Boycott, Our Wallets Are The Power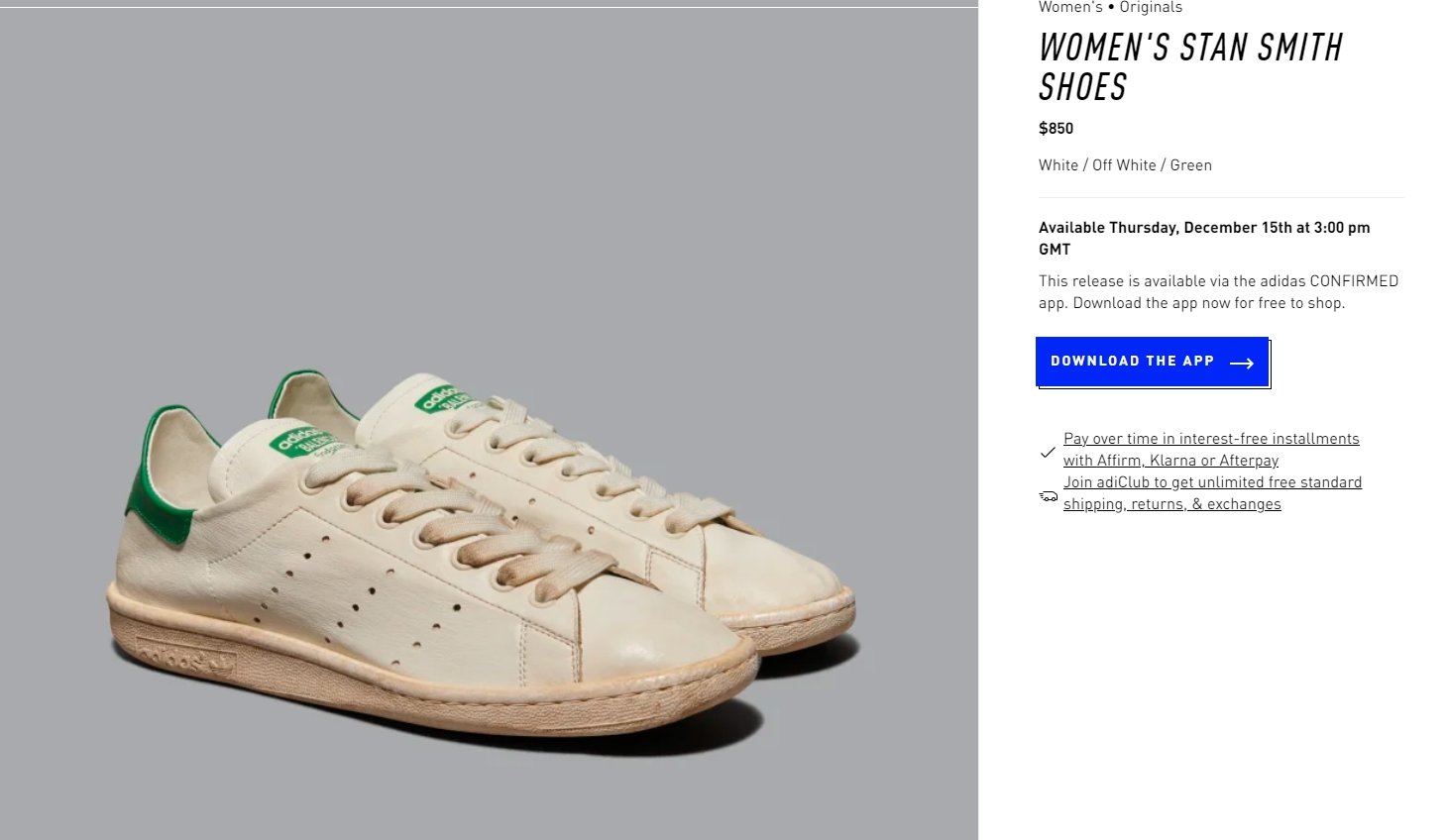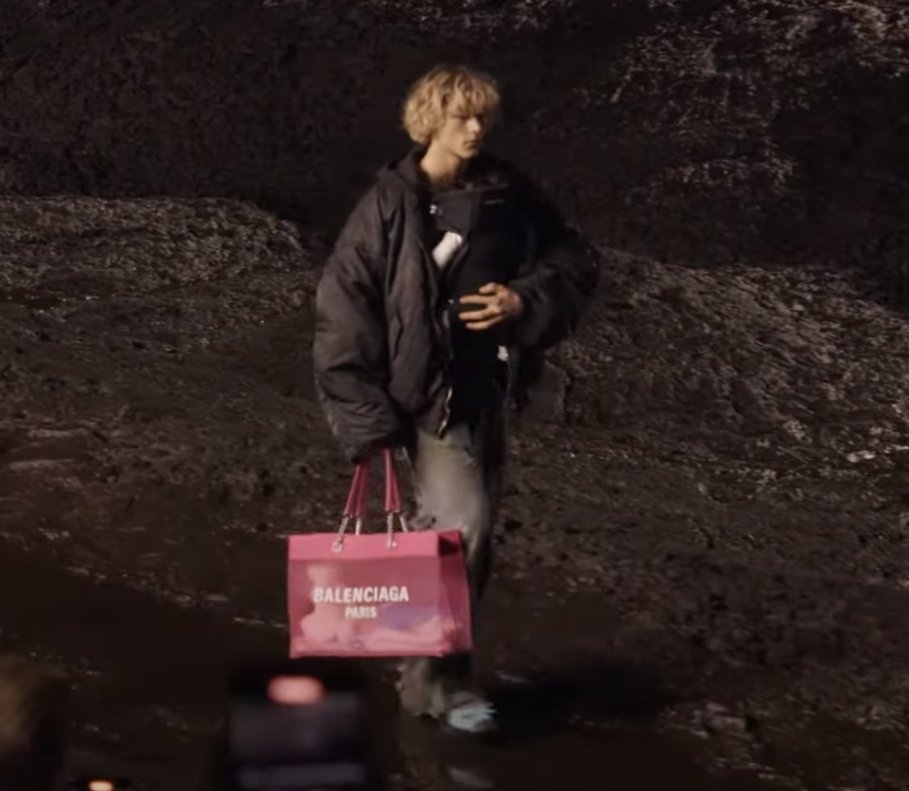 magine She Wants to Sell You, These Shoes For $950 By A Brand That Goes By The Name Of #balenciga BTW THAT IS A GARBAGE BAG ON A CATWALK
Radio Silence Starts To Make Think That They Don't Care If They Work With A Brand Inspired by sexualizing children….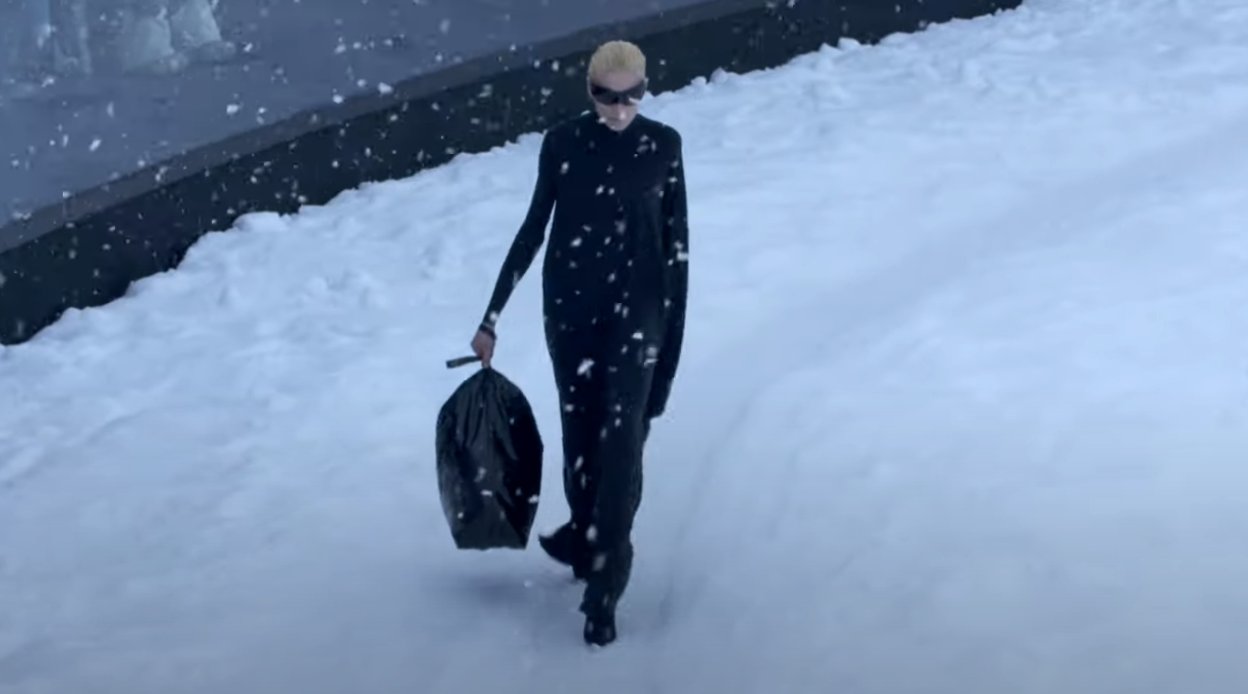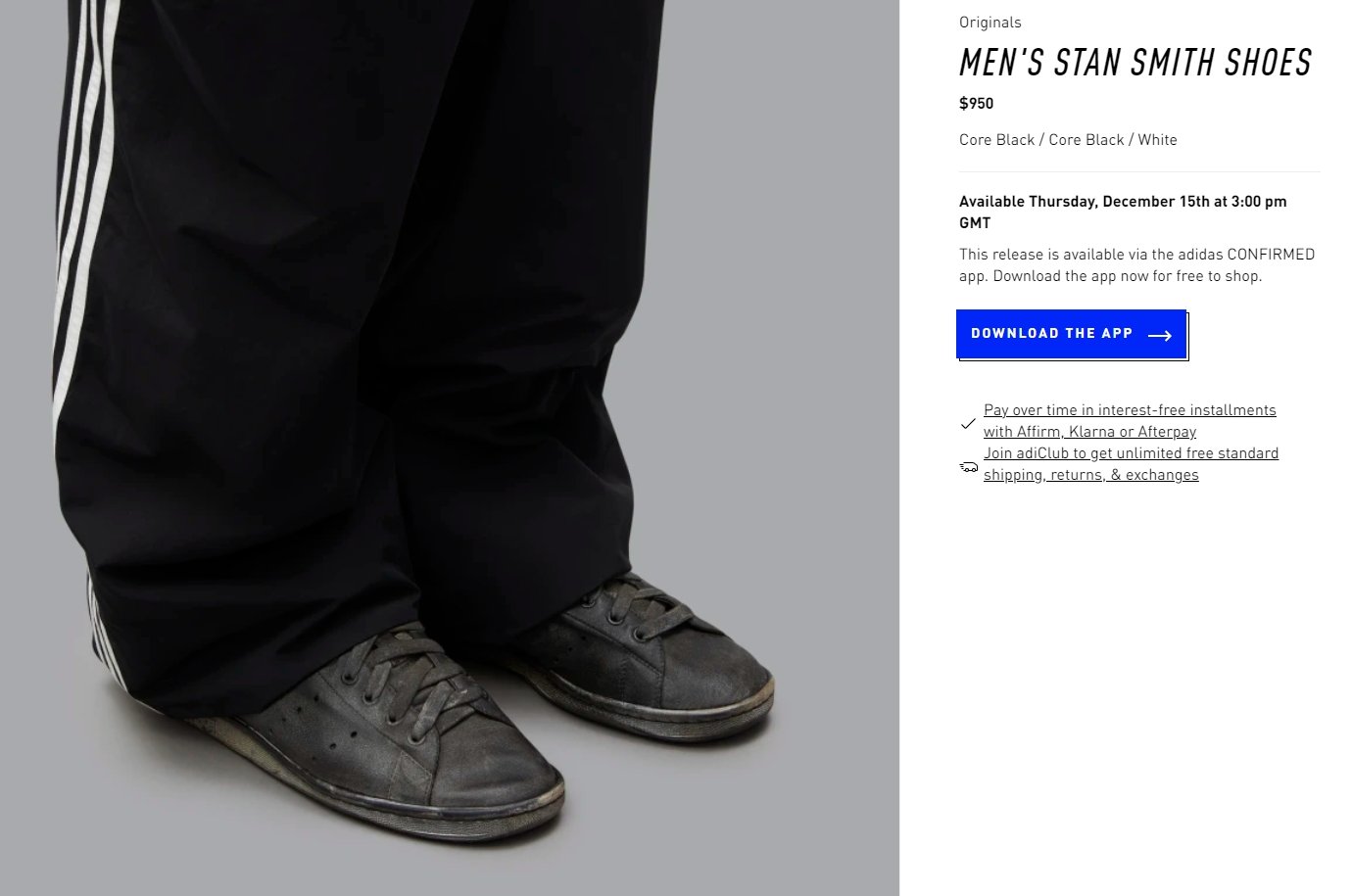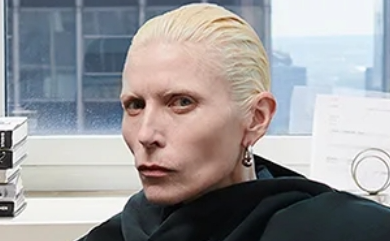 Update The Shine(1) I will address the Shining fans there's many ways to interpret that movie, I was however focusing on the boy that had the shine and "they" these being wanted it, in Doctor Sleep we see a young boy being tortured where they consume his shine. continued..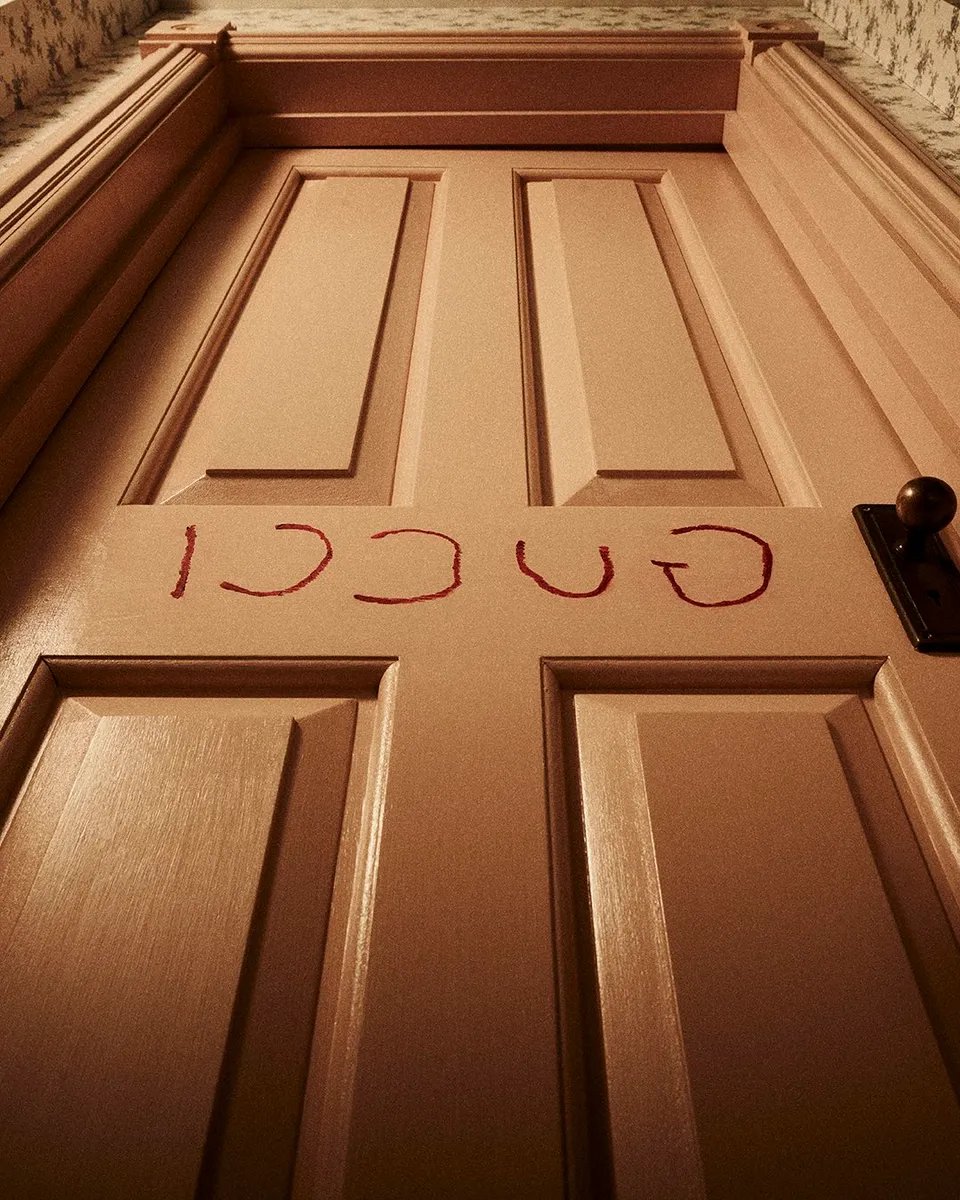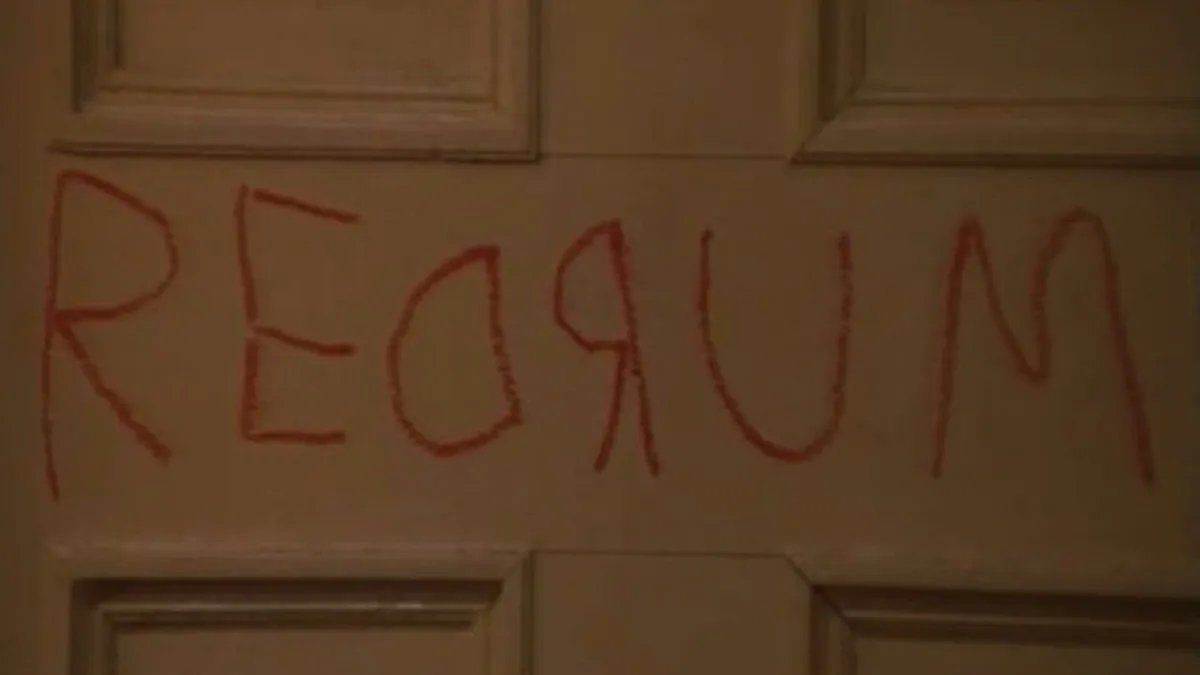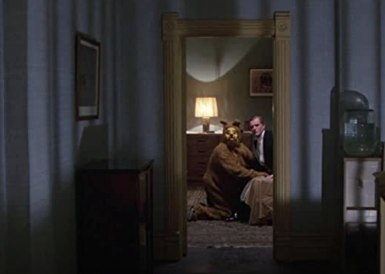 The Shine(2) The key here is their choice and it wasn't coincidental. There is a lot of symbolism and nothing is random. Especially in Kubricks movies. Kubrick however didn't go the distance of showing us a child being tortured on the cinema.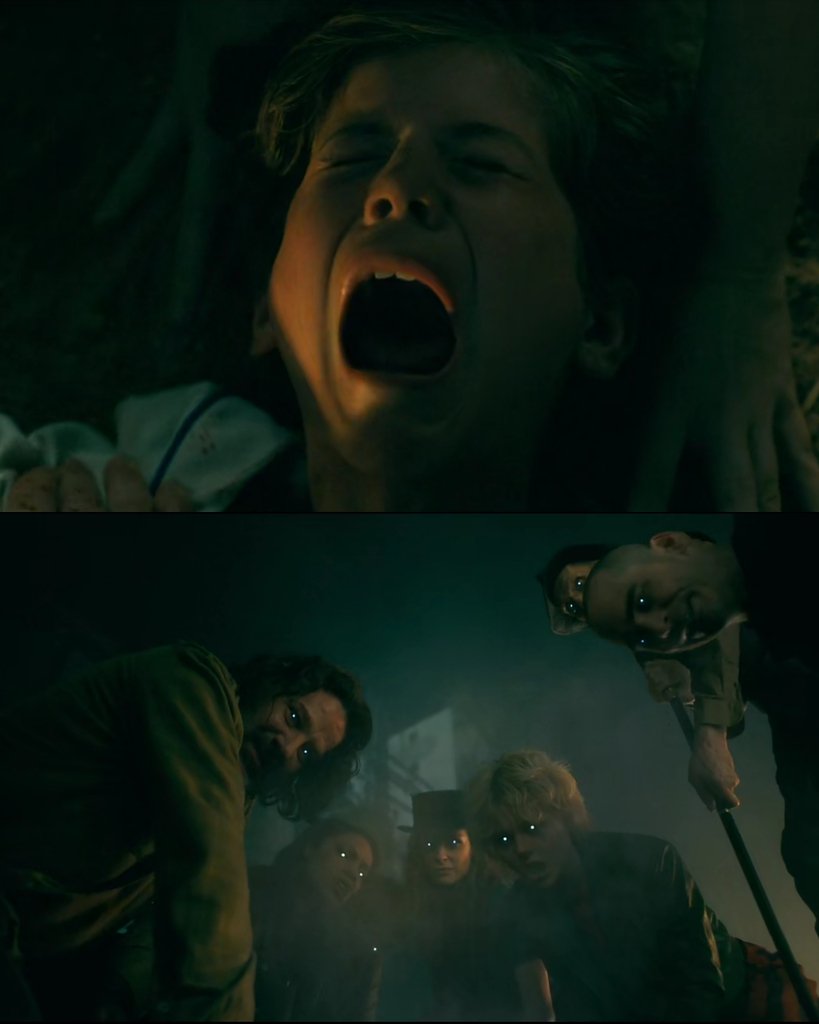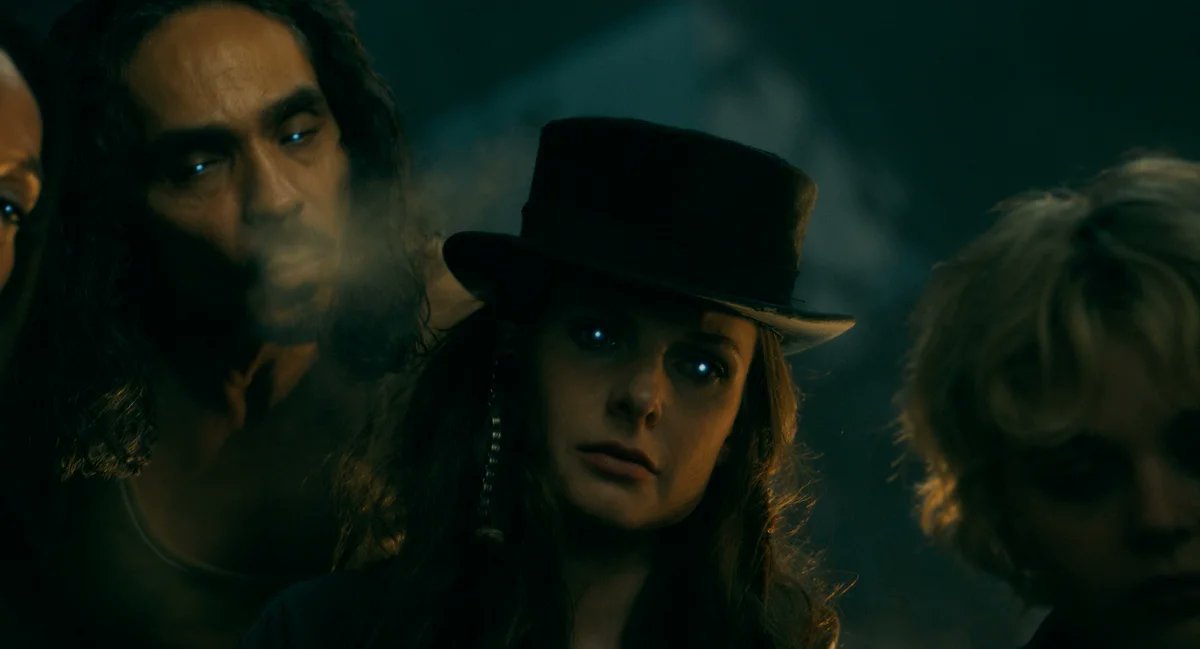 The Shine(3) Those that have watched that scene knows it's probably one of the most horrible scenes in cinematic history. The irony is that all the cast except the little boy got traumatized by the scene. they calmed us down by saying we also got traumatized just like the viewer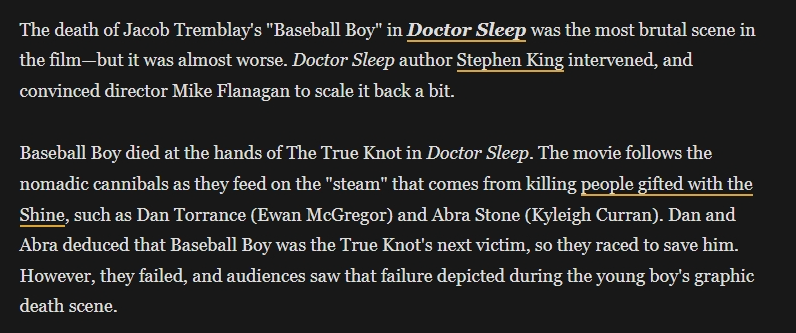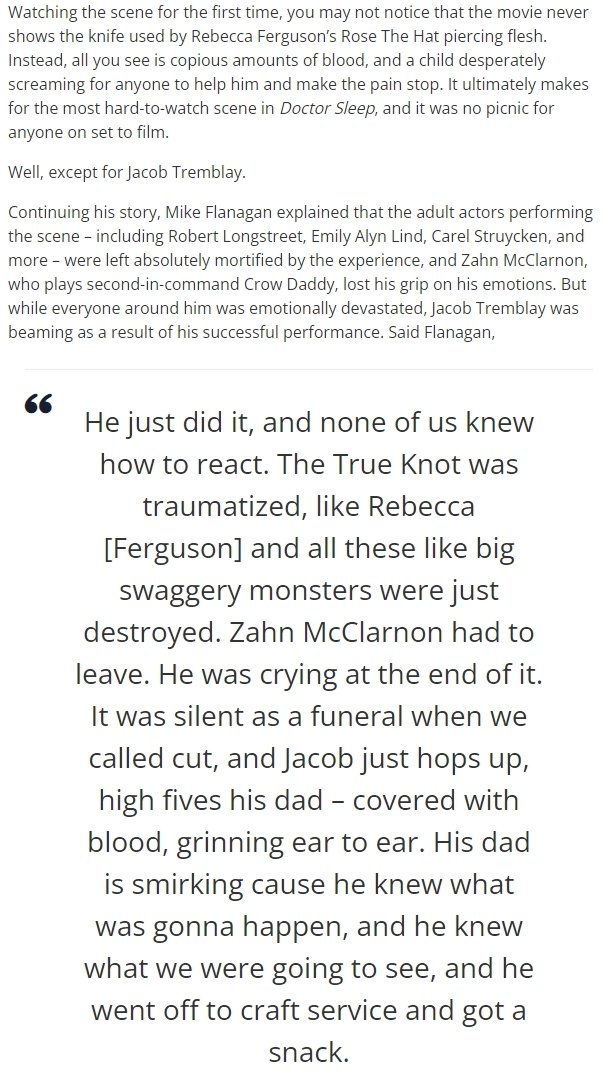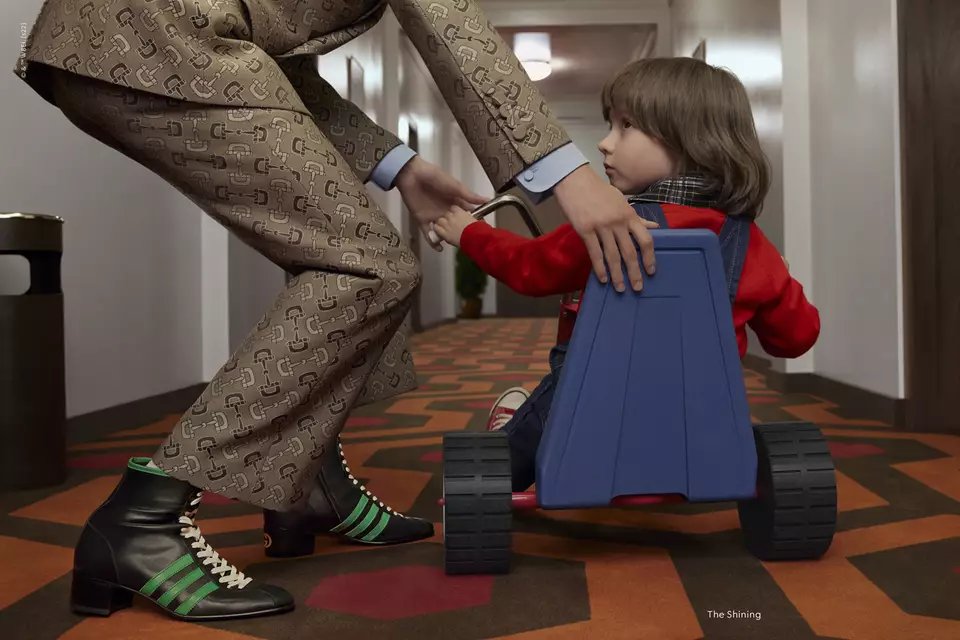 The Shine(4) I got so angry at how that scene was tolerated.. There's a limit in Art, Fashion, Photography, Games It don't matter harming or sexualizing kids is out of the question. Gucci also picked Eyes Wide Shut Scene, is she the girl that sacrificed herself in the movie ?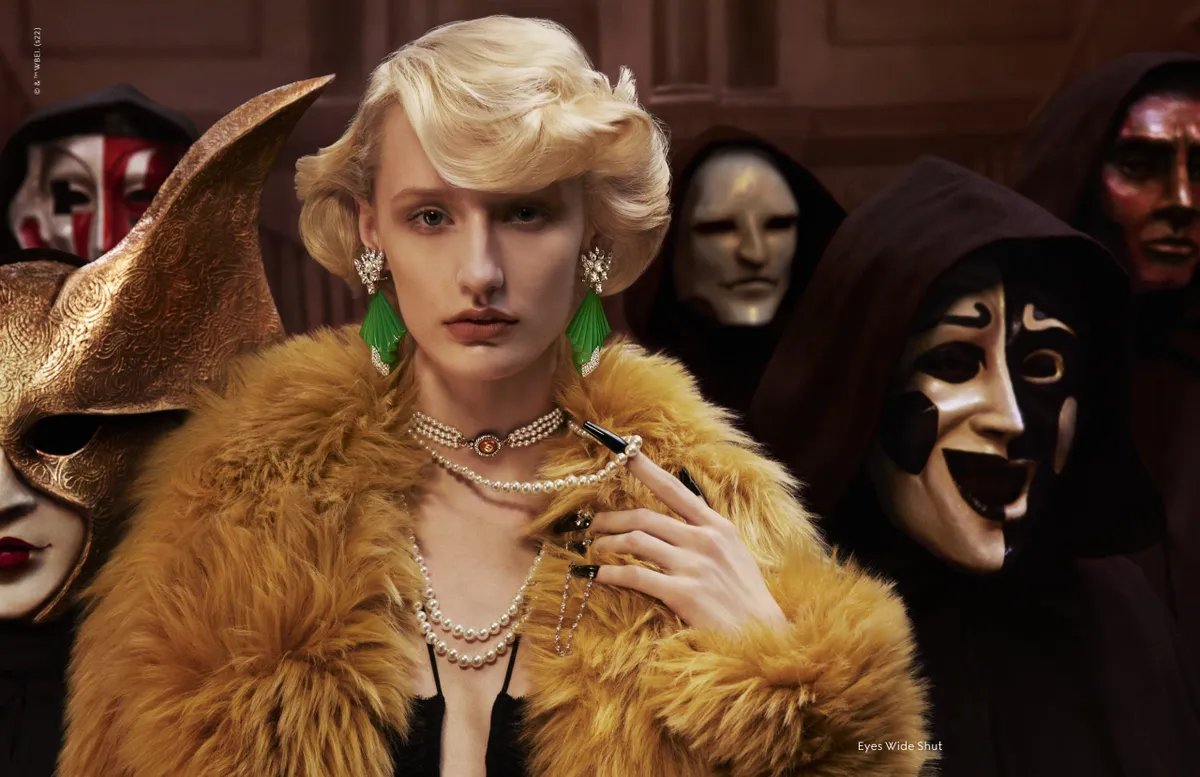 The Shine(5) Eyes Wide Shut is a movie that needs its own thread tbh but look first at Cruise going up the stairs there's 2 men that's sitting there. Then ending of the movie they're in a toy store, the same men come and disappear with the girl, the mother don't even call for her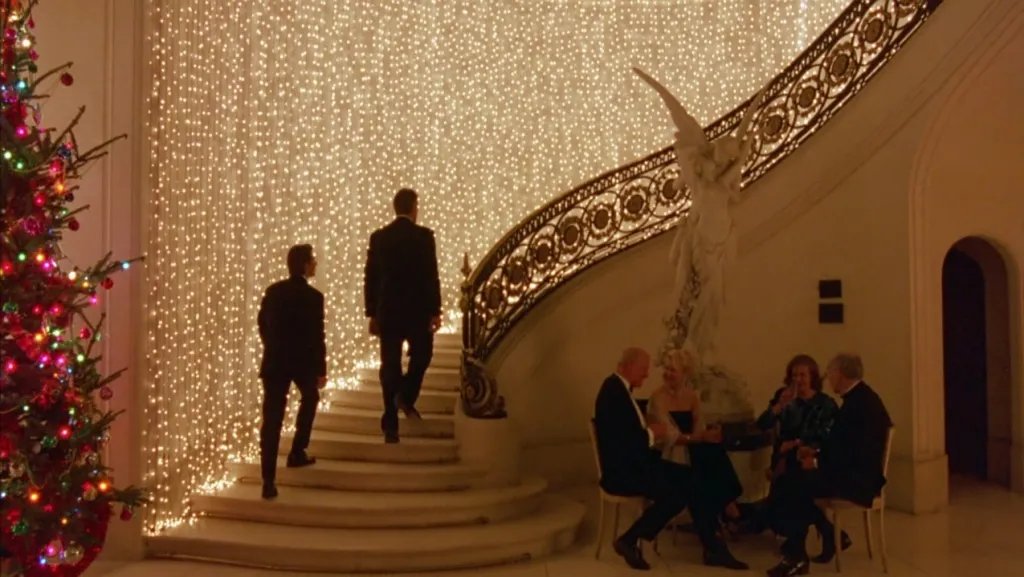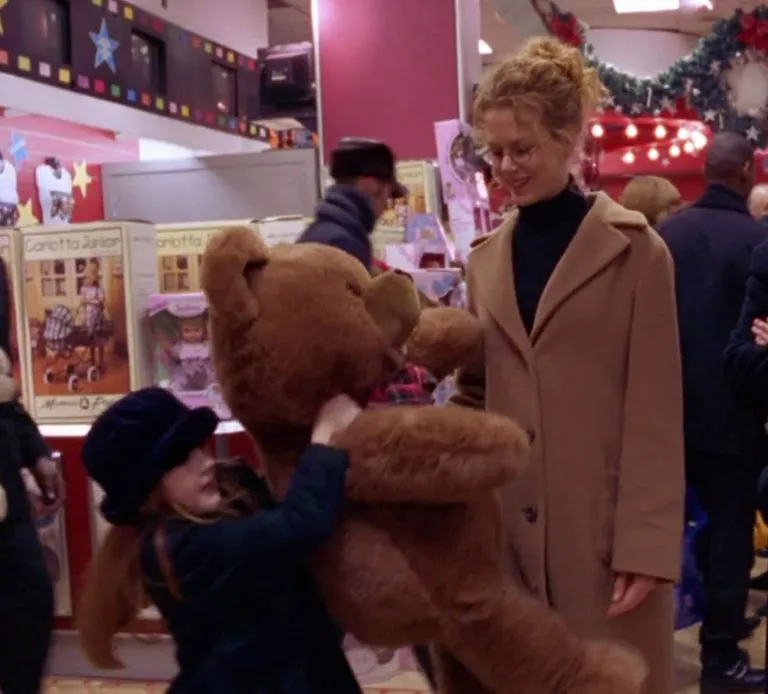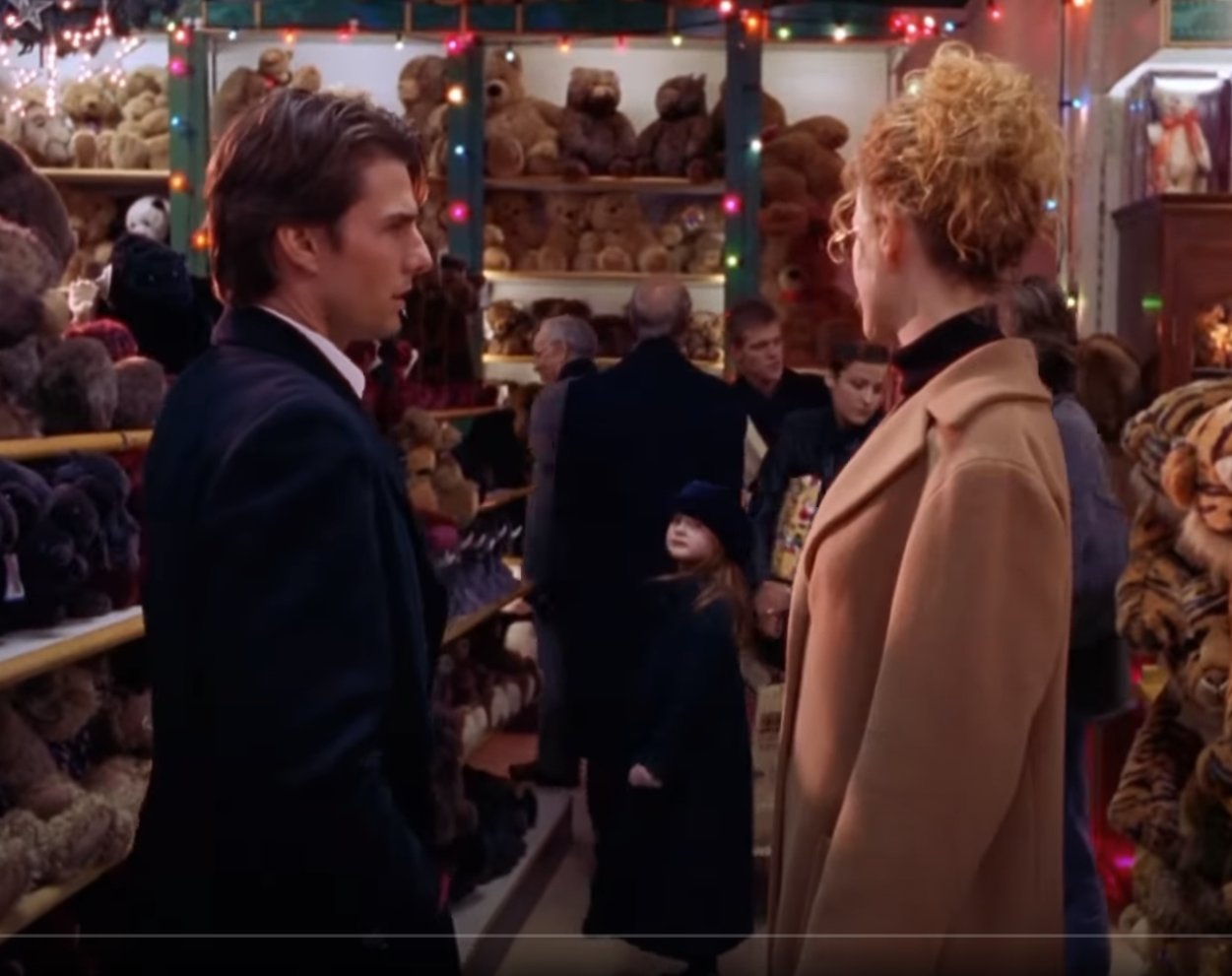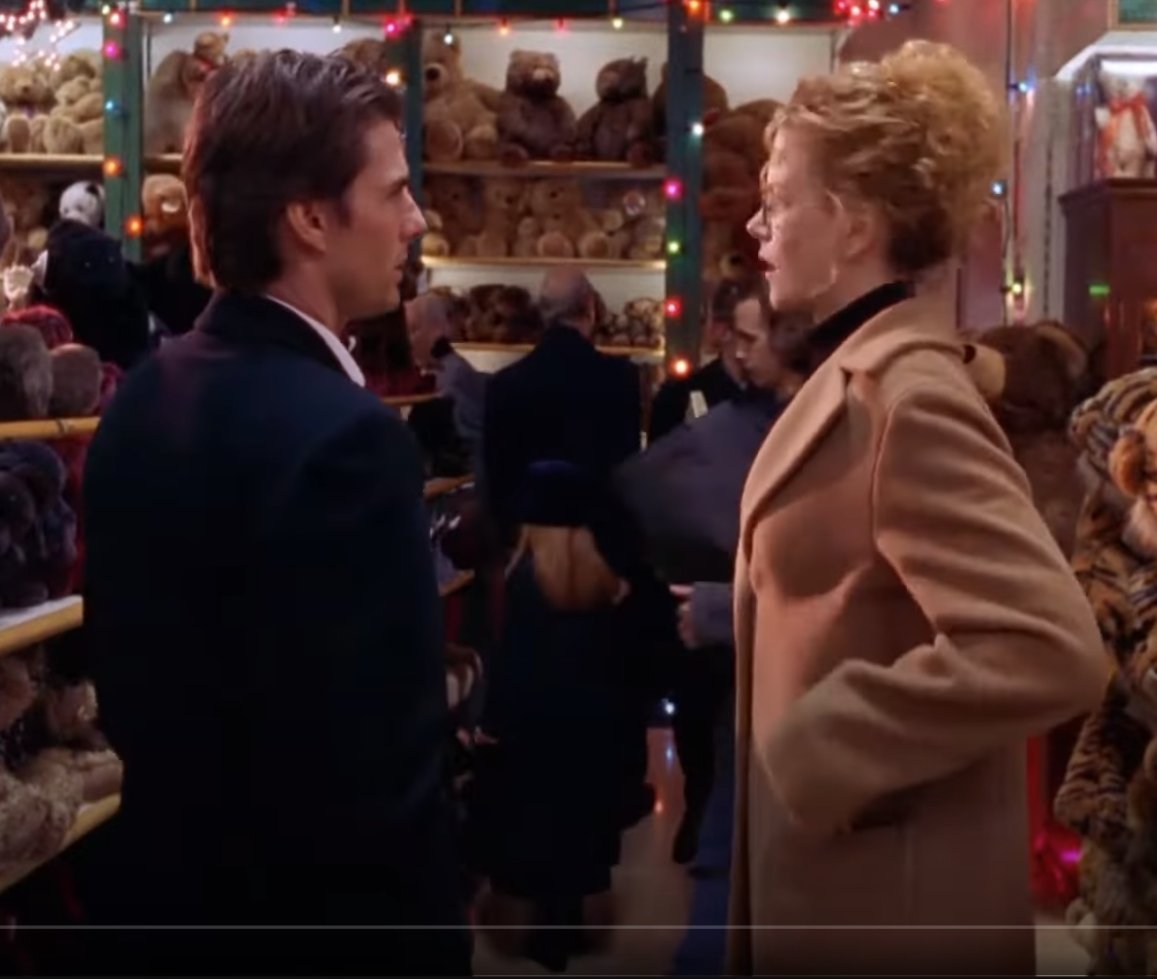 Update: The media starting to pick on this they're slow but we're still waiting for
to stop pretending to not be aware of what is going on and close down their Balenciaga page. #FashionGate New Thread Coming Up Tomorrow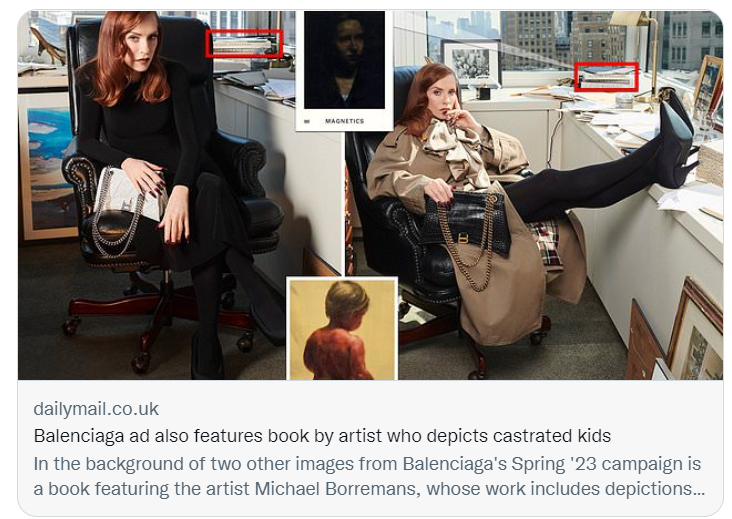 They Burned
On A Stake For Sharing One Documentary Available on Amazon! They Closed Down The Bank Of
For A Tweet #Balenciaga With Its #BalenciagaGroomers ad, No One Has Said Anything In The Media
Still Plans To Sell Their Merch #ProtectOurKids
Update: I see many that get angry and trust me my blood boiled the deeper I went into this  However I Don't Want Anyone Trying Something Dumb like Hurting Anyone that works with and for #Balenciaga The Same Goes For Lotta Volkova! Our Wallets Are Our Weapons #BoycottEmAll
Update! #Balenciaga Are Looking For Some Young Boys: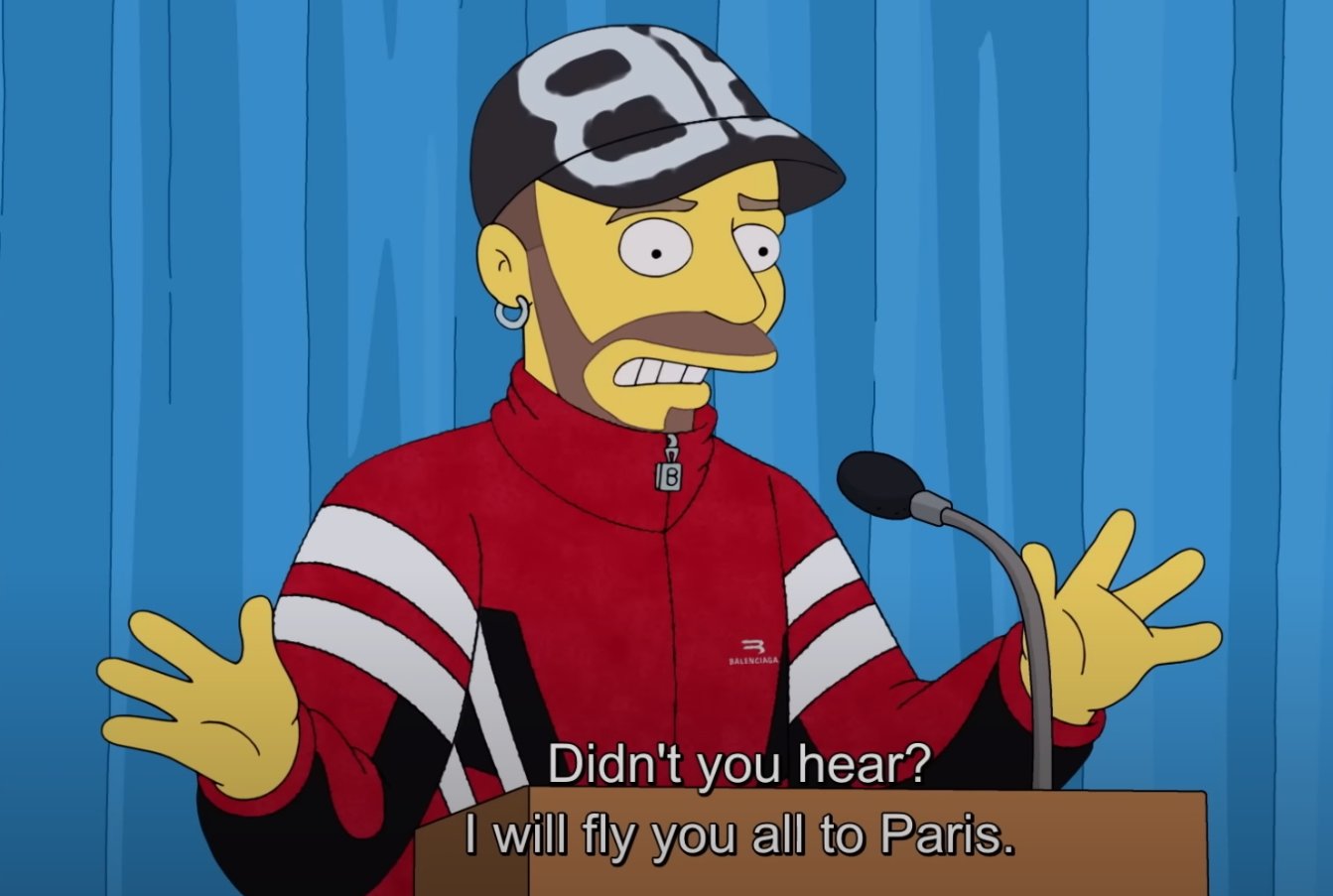 Update! on #Balenciaga Did Simpsons Really Tell Us A Year Ago ? This is from The Simpsons Balenciaga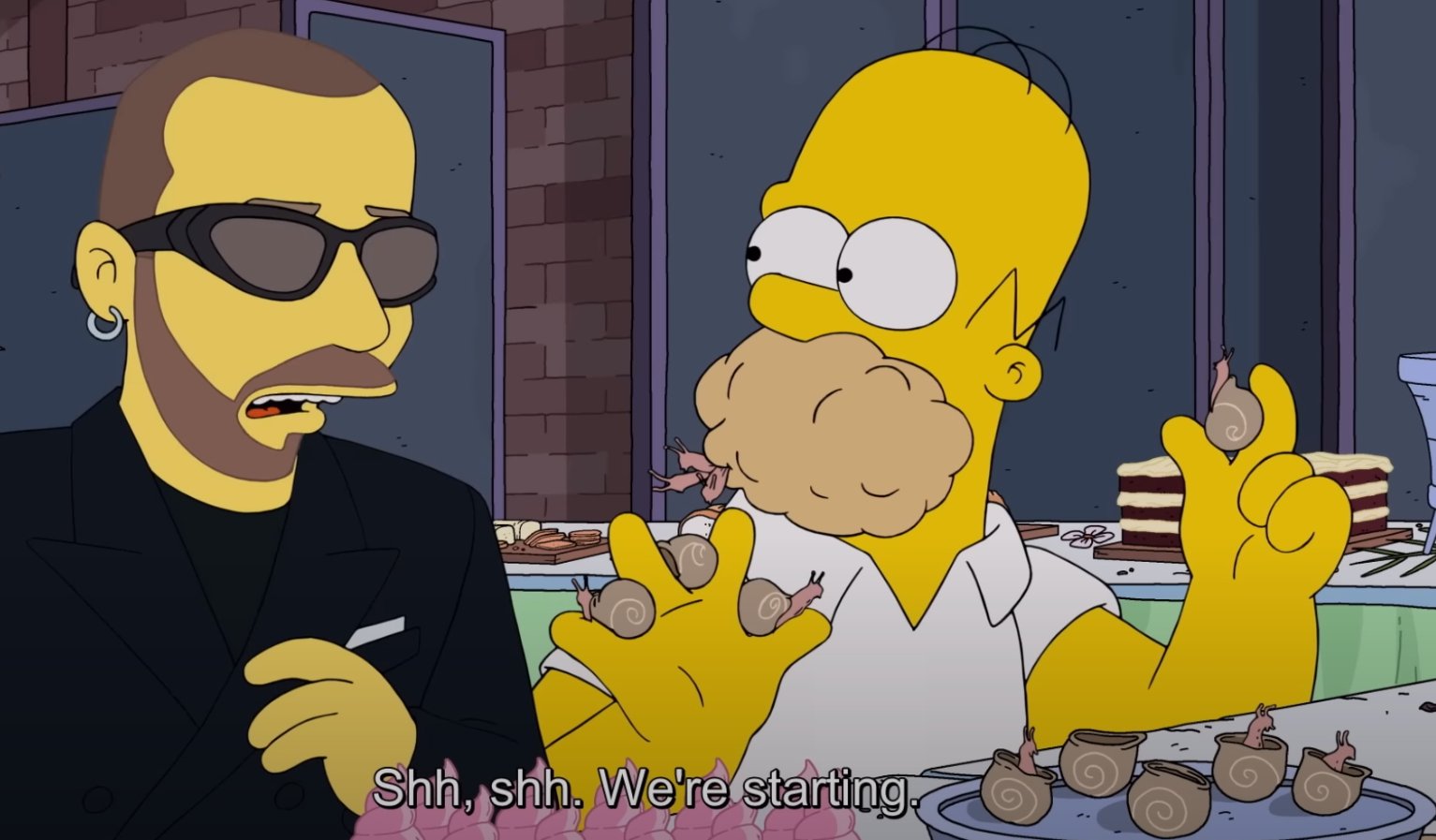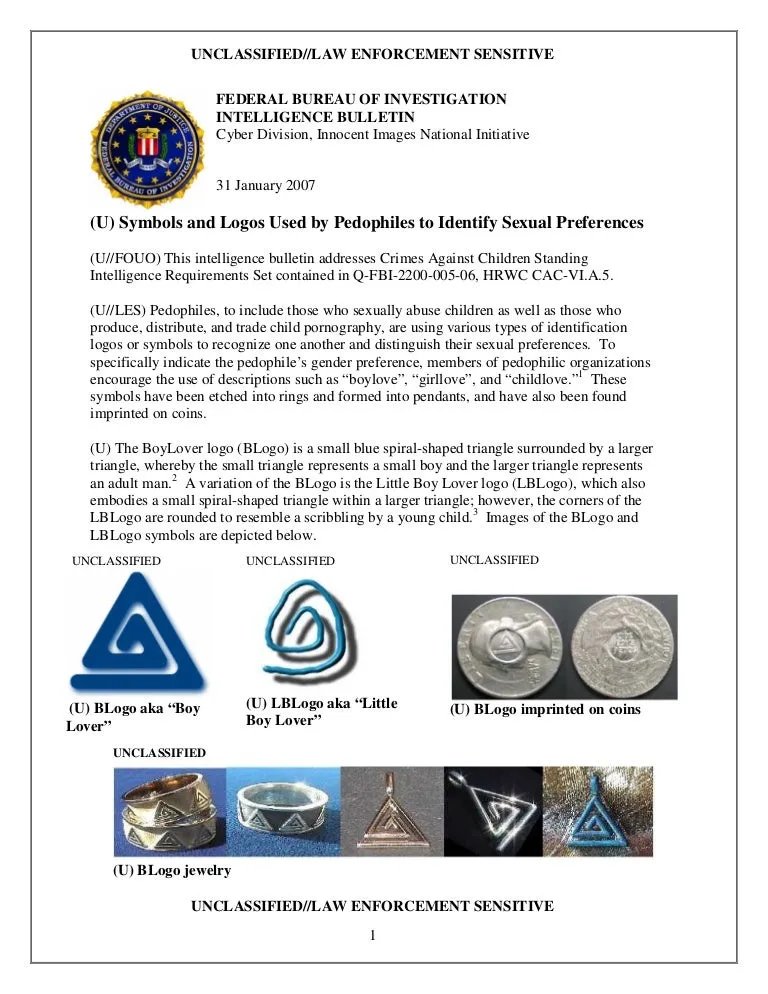 A very interesting analysis of The Shining Who Was the man in the bear costume ? by Rob Agler.  This could open the eyes for those that are a little confused on The Teddy Bear We See Everywhere. https://youtu.be/dW2GrG7Zk0U

MAJOR UPDATE  I have made this thread very long but I will add the link to this one here: Make sure you read,like and share. It's time we start to think big and understand Kim Kardashian and #Balenciaga are run by well keep reading :

Major Update(1): Salma Hayeks husband owns #Balenciaga, Kering is a parent organization of Gucci and Balenciaga brands, lead by François-Henri Pinault, Chairman & CEO.

Everyone knows by now that Kering owns Balenciaga
However Did you know Majority is owned by.. Keep Reading 🐇🕳️ pic.twitter.com/kfFcEtvCtJ

— curioslight (@curioslight) November 29, 2022
Major Update(1): Salma Hayeks husband owns #Balenciaga, Kering is a parent organization of Gucci and Balenciaga brands, lead by François-Henri Pinault, Chairman & CEO. Everyone knows by now that Kering owns Balenciaga However Did you know Majority is owned by.. Keep Reading 
Major Update! on Alban Adam old insta. #FashionGate is live! This is gold from the one and only
on his old https://twitter.com/itsnatlydenise/status/1597673872933154817?s=20&t=V5qA46FyowfI52f-sQzTTw… One user also share his old tumblr: http://operationshummingbirds.tumblr.com
Bidding war on CP art
This Leaves me speechless, I also don't mean to create this dark horrendous threads but imagine wtf is Instagram doing ?
This is a chess peace, well you can have a look yourselves, this is what they want in the end, us black,white,different religions, different politics it don't matter to them. We're just some chess pieces. George Michael have sold the piece to the right.
Also I see nike shoes in this one..
Source: @curioslight
TMBfiles and The Millennial Bridge would like to personally thank digital soldiers such as @curioslight and the many others in our fight against exploitation of children. Keep up the fight, God bless and God have mercy on our souls.