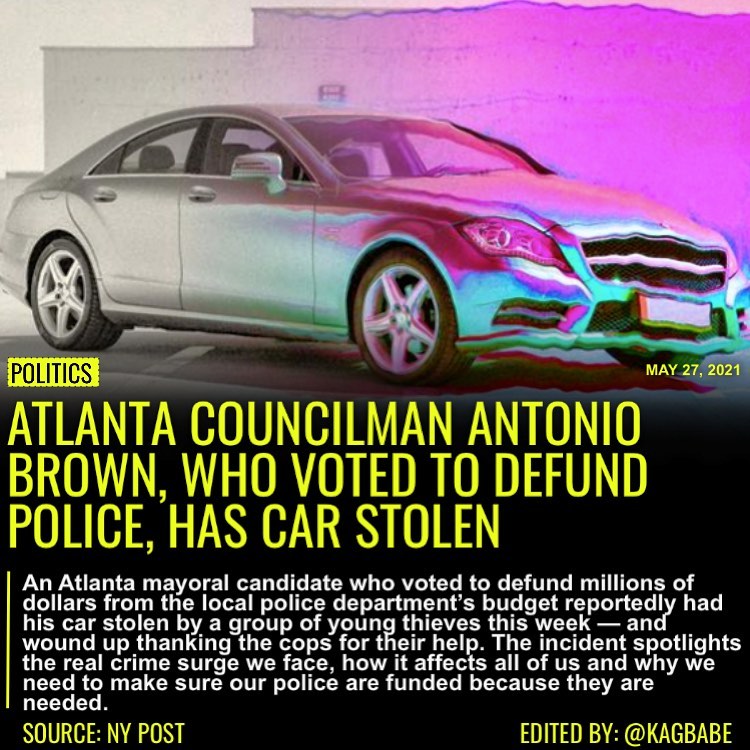 An Atlanta mayoral candidate who voted to defund millions of dollars from the local police department's budget reportedly had his car stolen by a group of young thieves this week — and wound up thanking the cops for their help.
City Council Member Antonio Brown had just gotten out of his white Mercedes coupe to speak to fellow community leader Ben Norman in northwest Atlanta's Dixie Hills community Wednesday when he spotted four or five kids — the youngest only 6 or 7, WAGA-TV reported.
The children were walking around a store — and within seconds were inside Brown's car, he said.
"One kid was in the driver's seat," Brown told the outlet. "Ben attempted to open the door to get him out of the car. He fought with Ben. I then engaged and tried to get him out of the car. The three other kids were trying to figure out how to get in the car or stay out of the car. He started to hit on the gas. Ben let go."
"As he started to speed up, and I knew that if I had not let go, I knew I probably could have killed myself because he was going so fast, I would have started to tumble," he added. "And I would have hurt him."
Brown said he filed a report with the Atlanta Police Department.
"Thanks to everyone that reached out to check on me, appreciate the love and support. My car hasn't been recovered but the situation could've ended a lot worse," he tweeted Wednesday night.
"Thanks to @Atlanta_Police for taking swift action to address the situation. It's time we Reimagine Atlanta Together."
Reimagine is the new way Democrats are framing the "defund the police" debate.
Authorities confirmed they later found his car, but did not say if they made any arrests. Brown said he doesn't want to press charges, according to WAGA-TV.
It appeared that the kids acted out of desperation, Brown told WSB-TV.