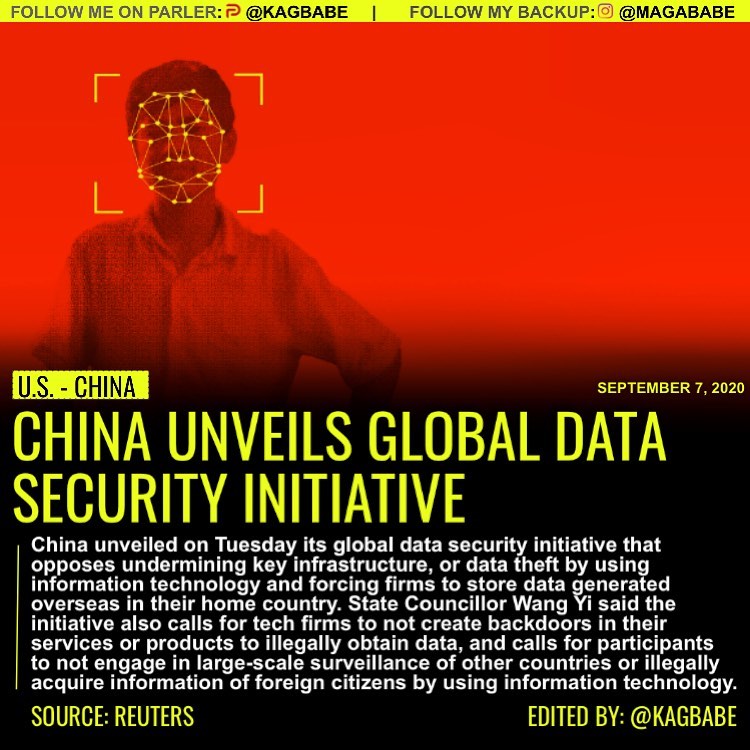 China has launched its own initiative to set global standards on data security, countering U.S. efforts to persuade like-minded countries to ringfence their networks from Chinese technology.
Chinese Foreign Minister Wang Yi announced the initiative on Tuesday at a seminar in Beijing on global digital governance, according to people briefed on the matter.
Given rising risks to data security that require a global solution, "what is pressing now is to formulate global rules and norms that reflect the aspiration and interests of the majority of countries," said a briefing note on the new initiative that Chinese diplomats provided to foreign counterparts, a copy of which was reviewed by The Wall Street Journal.
Beijing's initiative comes amid heightened tensions with Washington over issues including trade and technological competition, which has raised the specter of an increasingly bifurcated internet.
In recent months, the Trump administration has taken steps to curtail what it describes as national-security threats from Chinese tech firms like Huawei Technologies Co. and popular Chinese apps including ByteDance Ltd.'s TikTok and Tencent Holdings Ltd. 's WeChat. Chinese officials, meanwhile, have accused the U.S. of imposing a double standard and of trying to sabotage the efforts of Chinese businesses to expand.  The Chinese initiative comes about a month after U.S. Secretary of State Mike Pompeo announced the Clean Network program, which would exclude Chinese telecommunications firms, apps, cloud providers and undersea cables from internet infrastructure used by the U.S. and other countries.
Under its new "Global Initiative on Data Security," China would call on all countries to handle data security in a "comprehensive, objective and evidence-based manner" and maintain an open, secure and stable supply chain for information and communications technology and services, according to a draft.
⬇️
China has launched its own initiative to set global standards on data security, countering U.S. efforts to persuade like-minded countries to ringfence their networks from Chinese technology.

Chinese Foreign Minister Wang Yi announced the initiative on Tuesday at a seminar in Beijing on global digital governance, according to people briefed on the matter.

Given rising risks to data security that require a global solution, "what is pressing now is to formulate global rules and norms that reflect the aspiration and interests of the majority of countries," said a briefing note on the new initiative that Chinese diplomats provided to foreign counterparts, a copy of which was reviewed by The Wall Street Journal.

Beijing's initiative comes amid heightened tensions with Washington over issues including trade and technological competition, which has raised the specter of an increasingly bifurcated internet.

In recent months, the Trump administration has taken steps to curtail what it describes as national-security threats from Chinese tech firms like Huawei Technologies Co. and popular Chinese apps including ByteDance Ltd.'s TikTok and Tencent Holdings Ltd. 's WeChat. Chinese officials, meanwhile, have accused the U.S. of imposing a double standard and of trying to sabotage the efforts of Chinese businesses to expand.  The Chinese initiative comes about a month after U.S. Secretary of State Mike Pompeo announced the Clean Network program, which would exclude Chinese telecommunications firms, apps, cloud providers and undersea cables from internet infrastructure used by the U.S. and other countries.

Under its new "Global Initiative on Data Security," China would call on all countries to handle data security in a "comprehensive, objective and evidence-based manner" and maintain an open, secure and stable supply chain for information and communications technology and services, according to a draft.
⬇️