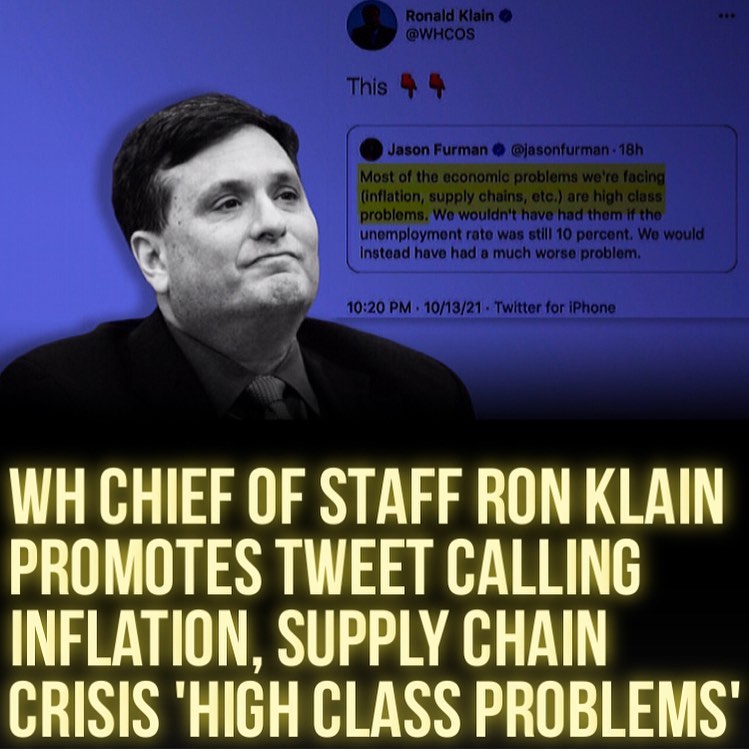 Daily Mail:
White House Chief of Staff Ronald Klain claimed Wednesday evening that the current U.S. economic issues, including inflation and delays, are just 'high class problems'.
Jason Furman, a Harvard Economics professor and former chairman of President 's Council of Economic Advisers, tweeted: 'Most of the economic problems we're facing (inflation, supply chains, etc.) are high class problems.'
'We wouldn't have had them if the unemployment rate was still 10 percent,' he added of earlier rates. 'We would instead have had a much worse problem.'
Klain retweeted the post along with, 'This' and two emoji fingers pointing down to the tweet – indicating his agreement.
'As long as we're on the subject of class, it appears Mr Klain and the entire Biden White House missed Economics 101,' Republican Georgia Representative Buddy Carter told DailyMail.com on Thursday.
'Inflation hurts working families and seniors on fixed incomes the most while their runaway spending is leaving all our children and grandchildren under a crushing mountain of debt to China,' he continued.
GOP Representative Byron Donalds of Florida told Daily Mail that the comments from Klain are indicative of the 'tone-deafness' of the Biden administration.
'The cluelessness embroiling the White House stems from the top down, and that is evident with the tone-deaf statements coming from the Press Secretary and Chief of Staff,' he said.
'While they ignore the reality of Biden's failed economic agenda, everyday Americans feel the pain of Bidenomics at the pump, grocery store, and just about every aspect of daily life,' the congressman continued. 'The American people are not better off today than before Biden got into office, and skyrocketing inflation is one of the many reasons this is the case.'