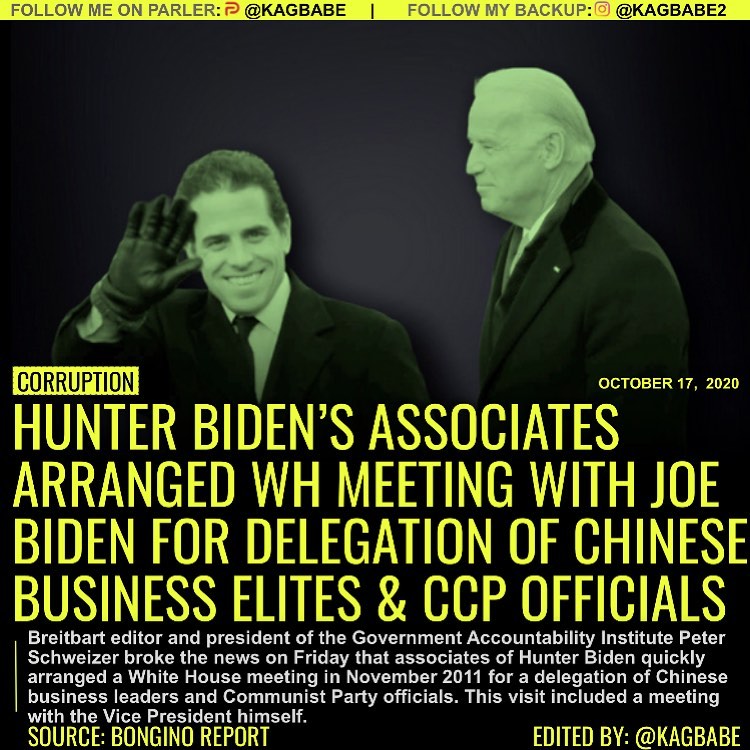 Evidence is mounting that former Vice President Joe Biden not only knew his man-child son was profiting from his powerful perch in government, but that he himself may have financially benefited from these arrangements.
A new story of Biden family corruption has emerged, and it is unrelated to The New York Post's bombshell story about the emails found on Hunter Biden's laptop.
Breitbart editor and president of the Government Accountability Institute Peter Schweizer broke the news on Friday that associates of Hunter Biden quickly arranged a White House meeting in November 2011 for a delegation of Chinese business leaders and Communist Party officials. This visit included a meeting with the Vice President himself.
Schweizer, the author of several books which trace the money trail of the Clintons' and the Bidens' many dubious transactions, has forged a relationship with Bevan Cooney, one of Hunter Biden's former business partners.
Cooney was involved with Hunter Biden and their mutual associate Devon Archer in a 2016 bond fraud investment scheme, which landed him in prison. Archer was convicted in the case, however, a "federal judge vacated his conviction. But an appellate court overturned the lower court judge's ruling, reinstating Archer's conviction." He is currently awaiting sentencing. Hunter Biden was never indicted in the scheme.
Needless to say, Cooney feels some resentment toward Biden. He told Schweizer he "believes he was the 'fall guy' for the fraud scheme."
After reading Schweizer's 2018 book, "Secret Empires," Cooney contacted him through investigative journalist Matthew Tyrmand and has since provided the password to his email account to Schweizer, whose team has begun wading through some 26,000 emails.
⬇️
Evidence is mounting that former Vice President Joe Biden not only knew his man-child son was profiting from his powerful perch in government, but that he himself may have financially benefited from these arrangements.

A new story of Biden family corruption has emerged, and it is unrelated to The New York Post's bombshell story about the emails found on Hunter Biden's laptop.

Breitbart editor and president of the Government Accountability Institute Peter Schweizer broke the news on Friday that associates of Hunter Biden quickly arranged a White House meeting in November 2011 for a delegation of Chinese business leaders and Communist Party officials. This visit included a meeting with the Vice President himself.

Schweizer, the author of several books which trace the money trail of the Clintons' and the Bidens' many dubious transactions, has forged a relationship with Bevan Cooney, one of Hunter Biden's former business partners.

Cooney was involved with Hunter Biden and their mutual associate Devon Archer in a 2016 bond fraud investment scheme, which landed him in prison. Archer was convicted in the case, however, a "federal judge vacated his conviction. But an appellate court overturned the lower court judge's ruling, reinstating Archer's conviction." He is currently awaiting sentencing. Hunter Biden was never indicted in the scheme.

Needless to say, Cooney feels some resentment toward Biden. He told Schweizer he "believes he was the 'fall guy' for the fraud scheme."

After reading Schweizer's 2018 book, "Secret Empires," Cooney contacted him through investigative journalist Matthew Tyrmand and has since provided the password to his email account to Schweizer, whose team has begun wading through some 26,000 emails.
⬇️