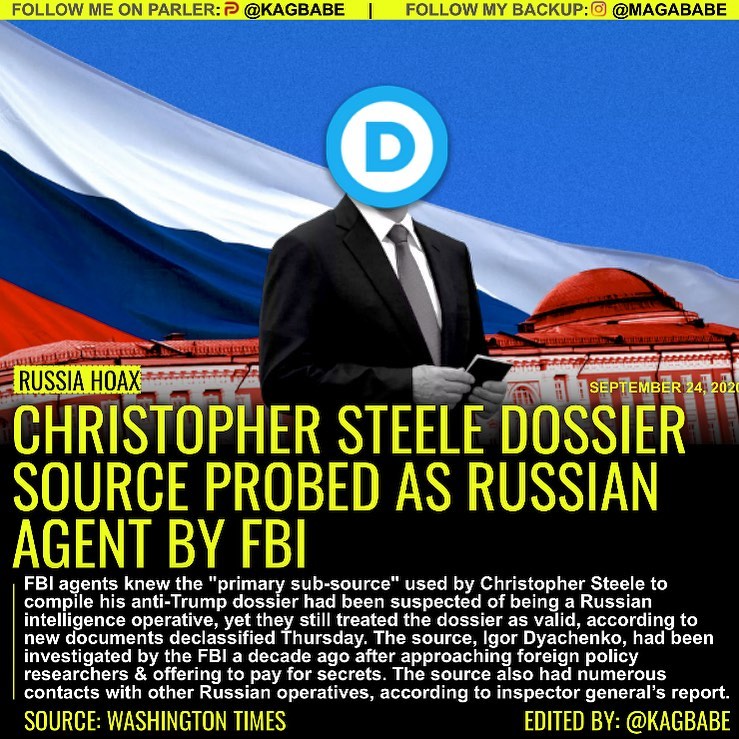 FBI agents knew the "primary sub-source" used by Christopher Steele to compile his anti-Trump dossier had been suspected of being a Russian intelligence operative, yet they still treated the dossier as valid, according to new documents declassified Thursday.
The source, who is not named, had been investigated by the FBI a decade ago after approaching foreign policy researchers and offering to pay for secrets. The source also had numerous contacts with other Russian operatives, according to an inspector general's report.
Yet none of that information was shared with the Foreign Intelligence Surveillance Court when the FBI sought a secret wiretap on Trump campaign figure Carter Page.
Instead the FBI was still defending the Steele dossier as late as 2018.
"This is the most stunning and damning revelation the committee has uncovered," said Sen. Lindsey Graham, chair of the Judiciary Committee, who released the documents publicly after Attorney General William P. Barr ordered that part of the inspector general's report declassified.
The Steele Dossier accused Mr. Trump of conduct ranging from grotesque to treasonous. It has largely been discredited, with some lawmakers on Capitol Hill saying it amounted to Russian disinformation.
But the dossier was used to obtain a secret spy warrant on Mr. Page, and it was leaked to the press in the days before Mr. Trump was inaugurated, helping fuel claims that he was colluding with Russia. Then-FBI Director James B. Comey even raised the contents of the dossier with Mr. Trump at their first meeting during the presidential transition, kicking off the bad blood that would lead to Mr. Comey's firing and appointment of the special counsel.
⬇️
FBI agents knew the "primary sub-source" used by Christopher Steele to compile his anti-Trump dossier had been suspected of being a Russian intelligence operative, yet they still treated the dossier as valid, according to new documents declassified Thursday.

The source, who is not named, had been investigated by the FBI a decade ago after approaching foreign policy researchers and offering to pay for secrets. The source also had numerous contacts with other Russian operatives, according to an inspector general's report.

Yet none of that information was shared with the Foreign Intelligence Surveillance Court when the FBI sought a secret wiretap on Trump campaign figure Carter Page.

Instead the FBI was still defending the Steele dossier as late as 2018.

"This is the most stunning and damning revelation the committee has uncovered," said Sen. Lindsey Graham, chair of the Judiciary Committee, who released the documents publicly after Attorney General William P. Barr ordered that part of the inspector general's report declassified.

The Steele Dossier accused Mr. Trump of conduct ranging from grotesque to treasonous. It has largely been discredited, with some lawmakers on Capitol Hill saying it amounted to Russian disinformation.

But the dossier was used to obtain a secret spy warrant on Mr. Page, and it was leaked to the press in the days before Mr. Trump was inaugurated, helping fuel claims that he was colluding with Russia. Then-FBI Director James B. Comey even raised the contents of the dossier with Mr. Trump at their first meeting during the presidential transition, kicking off the bad blood that would lead to Mr. Comey's firing and appointment of the special counsel.
⬇️