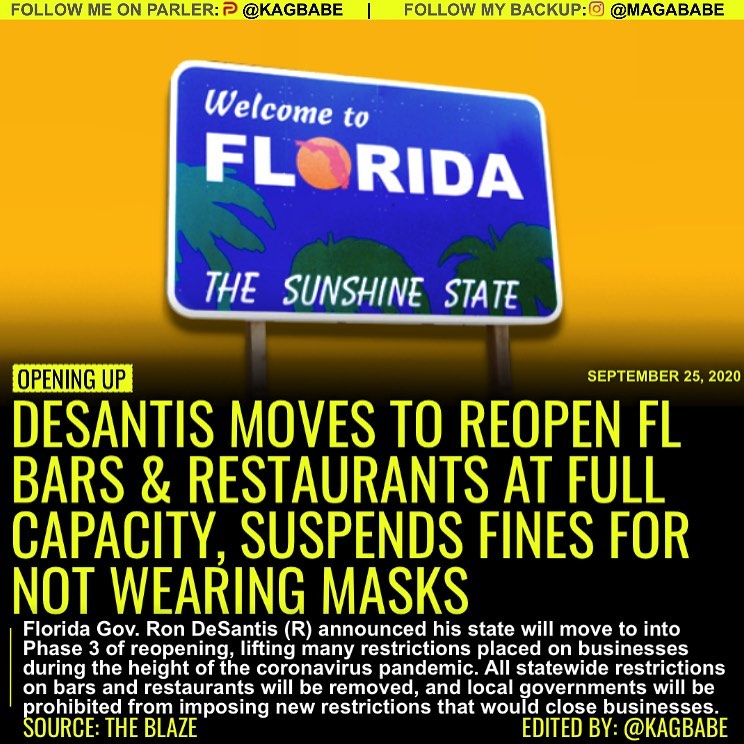 Florida Gov. Ron DeSantis (R) on Friday announced his state will move to into Phase 3 of reopening, lifting many restrictions placed on businesses during the height of the coronavirus pandemic.
All statewide restrictions on bars and restaurants will be removed, and local governments will be prohibited from imposing new restrictions that would close businesses, WJXT reported.
DeSantis' executive order will allow restaurants to open at a minimum of 50% capacity and are allowed to operate at full capacity. The governor also suspended the collection of fines or fees for not wearing a mask.
"I think that this will be very, very important to the industry," DeSantis said. "The order that I'm signing today will guarantee restaurants can operate and will not allow closures. They can operate at a minimum of 50% regardless of local rule."
DeSantis' order follows comments he made Thursday questioning the effectiveness of closing restaurants in stopping the spread of COVID-19.
"I don't think the closure of restaurants has proven to be effective. I get at how you could potentially have spread there, but I also have to look at that. They've been able to use outdoors, but we can't have these businesses dying, so they're not going to be able to be closed by locals anymore and they will to be able to operate at the capacity that they're comfortable with. So that's going to happen," DeSantis said.
⬇️
Florida Gov. Ron DeSantis (R) on Friday announced his state will move to into Phase 3 of reopening, lifting many restrictions placed on businesses during the height of the coronavirus pandemic.

All statewide restrictions on bars and restaurants will be removed, and local governments will be prohibited from imposing new restrictions that would close businesses, WJXT reported.

DeSantis' executive order will allow restaurants to open at a minimum of 50% capacity and are allowed to operate at full capacity. The governor also suspended the collection of fines or fees for not wearing a mask.

"I think that this will be very, very important to the industry," DeSantis said. "The order that I'm signing today will guarantee restaurants can operate and will not allow closures. They can operate at a minimum of 50% regardless of local rule."

DeSantis' order follows comments he made Thursday questioning the effectiveness of closing restaurants in stopping the spread of COVID-19.

"I don't think the closure of restaurants has proven to be effective. I get at how you could potentially have spread there, but I also have to look at that. They've been able to use outdoors, but we can't have these businesses dying, so they're not going to be able to be closed by locals anymore and they will to be able to operate at the capacity that they're comfortable with. So that's going to happen," DeSantis said.
⬇️