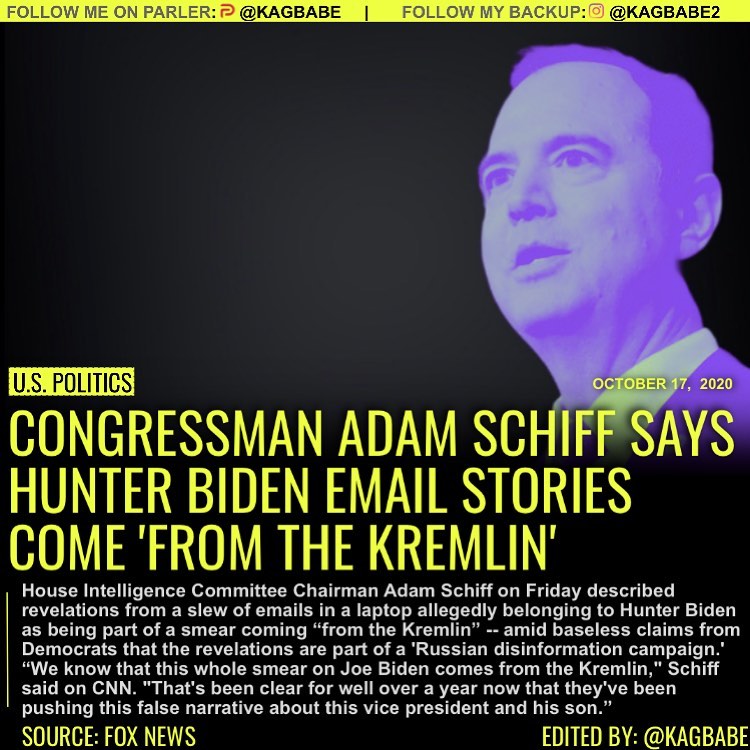 House Intelligence Committee Chairman Adam Schiff on Friday described revelations from a slew of emails in a laptop allegedly belonging to Hunter Biden as being part of a smear coming "from the Kremlin" — amid baseless claims from Democrats that the revelations are part of a 'Russian disinformation campaign.'
"We know that this whole smear on Joe Biden comes from the Kremlin," Schiff said on CNN. "That's been clear for well over a year now that they've been pushing this false narrative about this vice president and his son."
The California Democrat was responding to emails, found on a laptop purported to belong to the son of Democratic nominee Joe Biden.
The emails reveal Hunter introduced his father to a top executive at Ukrainian energy company Burisma Holdings in 2015.
Another email shows an outline of a payout for Biden as a part of a deal with a Chinese energy firm.
Adam Schiff has claimed there has been collusion between President Trump and the Russians for the past 4 years. He said he had "evidence in plain sight," but has yet to reveal any or provide it to the FBI or DOJ. Robert Mueller also failed to find any collusion between the Trump campaign and Russia after a thorough investigation.
On Friday, Schiff said that Russia has an "obvious interest" in denigrating Biden and wants Trump to win.
"I think we know who the driving force behind this smear has been all along, it's been the president and the Kremlin," he said, calling him "the gift that doesn't stop giving" for Moscow.