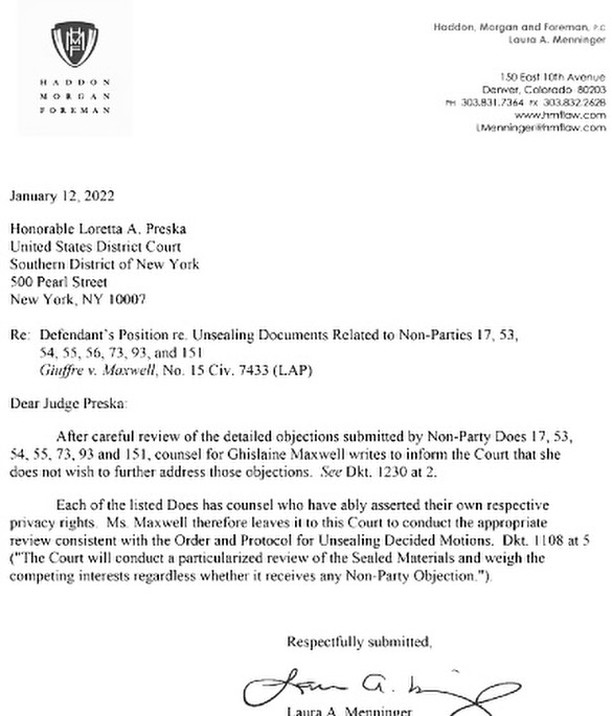 ICYMI: The actual letter written by Maxwell Defense Atty. Laura Meninger to Judge Preska on "leaving the decision up to the court" to decide the unsealing of "John Does":
𝗝𝗢𝗛𝗡 𝗗𝗢𝗘𝗦, 𝗛𝗢𝗟𝗗 𝗢𝗡𝗧𝗢 𝗬𝗢𝗨𝗥 𝗕𝗨𝗧𝗧𝗦!!!!
'After careful review of the detailed objections submitted by [the eight Non-Party Does], counsel for Ghislaine Maxwell writes to inform the Court that she does not wish to further address those objections,' the letter states.
'Each of the listed Does has counsel who have ably asserted their own respective privacy rights. Ms. Maxwell therefore leaves it to this Court to conduct the appropriate review consistent with the Order and Protocol for Unsealing Decided Motions.'
……
.
.
🔘𝙁0𝙡𝙡0𝙬 𝙩𝙝𝙚 𝙗🅰️₵𝙠↺𝙥 ⇢ @natlydenise3.0
💋𝗙𝗼𝗹𝗹𝗼𝘄 𝘁𝗵𝗲 𝙻𝚒𝚏𝚎𝚜𝚝𝚢𝚕𝚎🪡 𝗽𝗮𝗴𝗲⇢ @NatlysWorld
💄**𝗡𝗲𝘄 𝗖𝗼𝘀𝗺𝗲𝘁𝗶𝗰 𝗟𝗶𝗻𝗲⇢ @natlydenisecosmetics
🗞𝗡𝗲𝘄𝘀 𝗼𝗻 𝗛𝘂𝗺*𝗻 𝗧𝗿*𝗳𝗳*𝗰𝗸*𝗻𝗴⇢ @TheDailyTrafficK
👊🏼𝗖𝗼𝗺𝗯𝗮𝘁 𝗛𝘂𝗺*𝗻 𝗧𝗿*𝗳𝗳*𝗰𝗸*𝗻𝗴⇢ @CounterTraffickingAlliance
🦛 𝗠𝘆 𝘃𝗲𝗹𝘃𝗲𝘁 𝗵𝗶𝗽𝗽𝗼⇢ @_chickennuggetking_
🎙𝙋𝙤𝙙𝙘𝙖𝙨𝙩 & 𝙔𝙤𝙪𝙩𝙪𝙗𝙚⇢ link in bio
🐦𝗧𝘄𝗶𝘁𝘁𝗲𝗿: @𝗜𝘁𝘀𝗡𝗮𝘁𝗹𝘆𝗗𝗲𝗻𝗶𝘀𝗲
🔥𝐆𝐄𝐓𝐓𝐑: @𝐧𝐚𝐭𝐥𝐲𝐝𝐞𝐧𝐢𝐬𝐞
🔷𝐓𝐞𝐥𝐞𝐠𝐫𝐚𝐦 𝐜𝐡𝐚𝐧𝐧𝐞𝐥: t.me/natlydenise