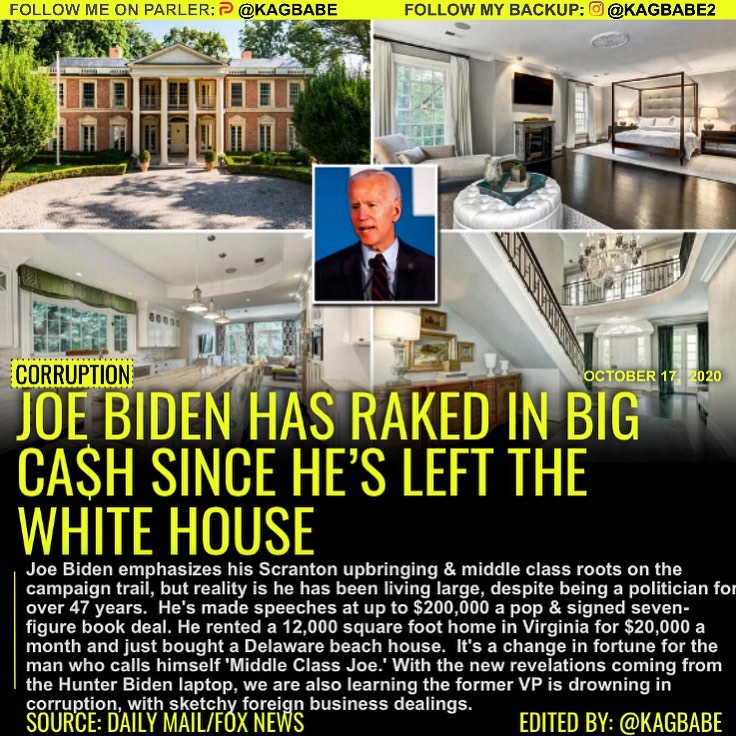 Joe Biden has raked in the cash since he's left the vice presidency – making speeches at up to $200,000 a pop, signing a seven-figure book deal, and renting a 12,000-square-foot home in Northern Virginia from a wealthy venture capitalist.
He even has demands in his contract for raspberry sorbet and chartered flights for his speeches.
The details about the new life of the man who calls himself 'Middle Class Joe' were revealed in June 2019 by the Washington Post, which used public records to track down Biden's new lifestyles of the rich and famous.  The paper revealed the Bidens rent a home in McLean, Va., that contains five bedrooms and10 bathrooms, marble fireplaces, a gym and a sauna.  It's owned by Mark Ein, a wealthy venture capitalist who has donated to politicians on both sides of the aisle, including George W. Bush and Hillary Clinton. Ein also owns the Washington Kastles and the Washington City Paper.
Biden's campaign wouldn't give the dollar amount the former vice president pays to live there but called it a 'substantial monthly rent.'
Real estate website Zillow estimates rent for the home to be around $20,000 a month.
Additionally the former vice president and his wife Jill purchased a $2.7 million, 4,800-square-foot vacation house in Rehoboth Beach, Del., in 2017.
The Bidens have owned their 7,000-square foot lakeside home in Wilmington for more than two decades.
Financing his new life is the former vice president's book deal, paid speeches and foreign business dealings.  According to Hunter Biden's emails, the son of the former VP has arranged meetings with oligarchs and CCP officials at the white house when his father was serving as VP. Some emails show he agreed to end investigations into corruption, in exchange for hefty payments and deals.
The Washington Post cited 65 instances in which Biden gave a speech or appeared at a book event, noting that in 10 instances of them he did not take a fee but did have his travel paid for.
Biden's campaign said he has given less than 50 paid speeches.
He charged between $150,000 and $200,000 per speech…
⬇️
Joe Biden has raked in the cash since he's left the vice presidency – making speeches at up to $200,000 a pop, signing a seven-figure book deal, and renting a 12,000-square-foot home in Northern Virginia from a wealthy venture capitalist.

He even has demands in his contract for raspberry sorbet and chartered flights for his speeches.

The details about the new life of the man who calls himself 'Middle Class Joe' were revealed in June 2019 by the Washington Post, which used public records to track down Biden's new lifestyles of the rich and famous.  The paper revealed the Bidens rent a home in McLean, Va., that contains five bedrooms and10 bathrooms, marble fireplaces, a gym and a sauna.  It's owned by Mark Ein, a wealthy venture capitalist who has donated to politicians on both sides of the aisle, including George W. Bush and Hillary Clinton. Ein also owns the Washington Kastles and the Washington City Paper.

Biden's campaign wouldn't give the dollar amount the former vice president pays to live there but called it a 'substantial monthly rent.'

Real estate website Zillow estimates rent for the home to be around $20,000 a month.

Additionally the former vice president and his wife Jill purchased a $2.7 million, 4,800-square-foot vacation house in Rehoboth Beach, Del., in 2017.

The Bidens have owned their 7,000-square foot lakeside home in Wilmington for more than two decades.

Financing his new life is the former vice president's book deal, paid speeches and foreign business dealings.  According to Hunter Biden's emails, the son of the former VP has arranged meetings with oligarchs and CCP officials at the white house when his father was serving as VP. Some emails show he agreed to end investigations into corruption, in exchange for hefty payments and deals.

The Washington Post cited 65 instances in which Biden gave a speech or appeared at a book event, noting that in 10 instances of them he did not take a fee but did have his travel paid for.

Biden's campaign said he has given less than 50 paid speeches.

He charged between $150,000 and $200,000 per speech…
⬇️