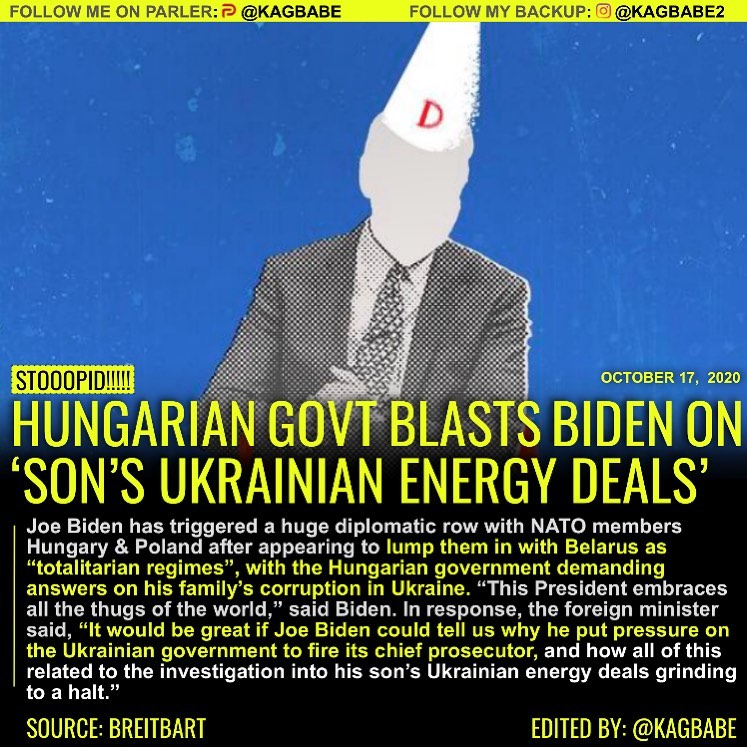 Joe Biden has triggered a huge diplomatic row with NATO members Hungary and Poland after appearing to lump them in with Belarus as "totalitarian regimes", with the Hungarian government demanding answers on his family's alleged corruption in Ukraine.
"You see what's happening in everything from Belarus to Poland to Hungary and the rise of totalitarian regimes in the world, and, as well as, this President embraces all the thugs of the world," said the 77-year-old presidential hopeful at a recent town hall event.
Biden's seeming comparison of Poland and Hungary, both European Union democracies and parties to the NATO defence alliance in good standing, with Belaurs and other "totalitarian regimes" sparked outrage in both countries, with the Hungarian government of Trump ally Viktor Orbán launching an all-out counter-attack on the Democrats and Biden personally.
"We may still remember the kind of Central European policy the Democrats pursued for eight years; we may still recall the continuous lecturing, accusations and attacks," railed the country's foreign minister, Péter Szijjártó, in a video message uploaded to Facebook, denouncing Biden's comments as having "nothing to do with reality".
Szijjártó further recalled how, under Obama and Biden, "members of the U.S. diplomatic corps in Budapest openly took part in opposition protests and published 'extraordinarily biased' statements with the aim of supporting left-liberal parties and attacking the Hungarian government," according to the official About Hungary website.
The foreign minister went on the note that Biden seemed "particularly busy" when it came to foreign policy under the Obama administration, suggesting that for a time, "and I exaggerate a bit, Biden spent more of his time outside D.C. in Ukraine than in rural America."
"This was the time when his son happened to be a chief executive at a key Ukrainian energy company; this was also the time when there were deals in the Ukrainian energy sector that were suspected of being corrupt," the Hungarian continued.
⬇️
Joe Biden has triggered a huge diplomatic row with NATO members Hungary and Poland after appearing to lump them in with Belarus as "totalitarian regimes", with the Hungarian government demanding answers on his family's alleged corruption in Ukraine.

"You see what's happening in everything from Belarus to Poland to Hungary and the rise of totalitarian regimes in the world, and, as well as, this President embraces all the thugs of the world," said the 77-year-old presidential hopeful at a recent town hall event.

Biden's seeming comparison of Poland and Hungary, both European Union democracies and parties to the NATO defence alliance in good standing, with Belaurs and other "totalitarian regimes" sparked outrage in both countries, with the Hungarian government of Trump ally Viktor Orbán launching an all-out counter-attack on the Democrats and Biden personally.

"We may still remember the kind of Central European policy the Democrats pursued for eight years; we may still recall the continuous lecturing, accusations and attacks," railed the country's foreign minister, Péter Szijjártó, in a video message uploaded to Facebook, denouncing Biden's comments as having "nothing to do with reality".

Szijjártó further recalled how, under Obama and Biden, "members of the U.S. diplomatic corps in Budapest openly took part in opposition protests and published 'extraordinarily biased' statements with the aim of supporting left-liberal parties and attacking the Hungarian government," according to the official About Hungary website.

The foreign minister went on the note that Biden seemed "particularly busy" when it came to foreign policy under the Obama administration, suggesting that for a time, "and I exaggerate a bit, Biden spent more of his time outside D.C. in Ukraine than in rural America."

"This was the time when his son happened to be a chief executive at a key Ukrainian energy company; this was also the time when there were deals in the Ukrainian energy sector that were suspected of being corrupt," the Hungarian continued.
⬇️