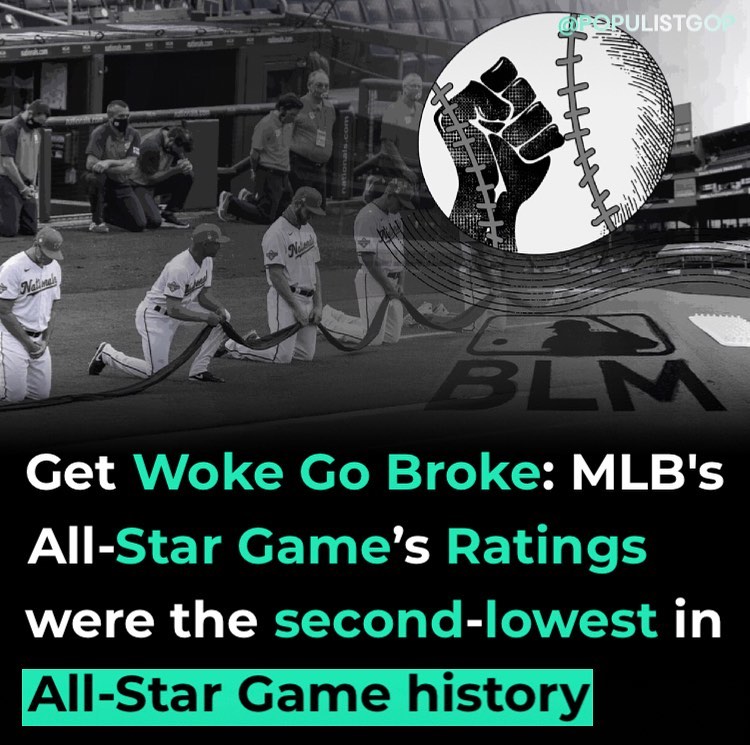 Major League Baseball gambled, and MLB lost. Baseball fans weren't buying the removal of the All-Star Game from "Jim Crow" Georgia, and they weren't tuning in to the Colorado all-star game on Fox Sports Tuesday night. Television viewership was the second-lowest in All-Star Game history.
There have been a lot of reports lately about sports severely hemorrhaging fans, and baseball isn't alone in paying a steep price for cramming woke social justice madness down the throats of sports fans. We've been chronicling the great fan tune-out of NFL and NBA broadcasts, along with ESPN programming, as well.
Just 8.2 million people watched the Summer Classic, beating only the 2019 game. By just one percent. This low figure corroborates a YouGov / Yahoo News poll that found almost half of U.S. sports fans had changed their sports viewing habits. This was prompted by pro sports swinging far to the Left.
The 2021 all-star game was going to be held in Atlanta. But when Republican state lawmakers in Georgia passed legislation to protect voter integrity, President Joe Biden called it "Jim Crow," and MLB buckled to left-wing pressure to move the game. It was played in Denver, even though Colorado has tighter voting regulations than Georgia. Stupid is as stupid does, baseball.
Here's further evidence of how Americans are repudiating wokeball sports. In 1980, 36 million people watched the telecast of baseball's All-Star Game. No matter whether they were gone fishing or watching paint dry Tuesday, multitudes of fans clearly wanted no part of another sport capitulating to the radical Left.
⬇️