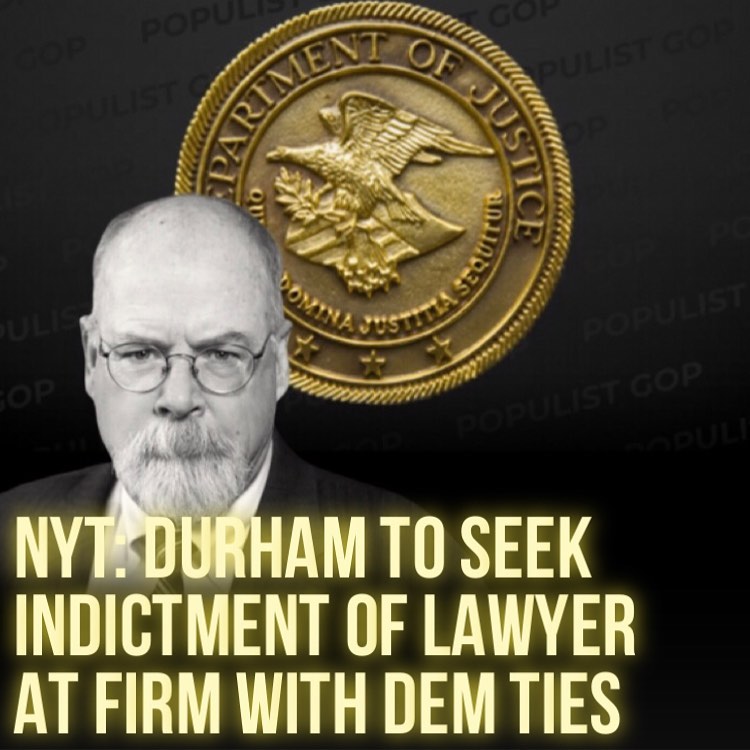 NYT:
The lawyer, Michael Sussmann, is accused of lying to the F.B.I. in a 2016 meeting about Trump and Russia.
John H. Durham, the special counsel appointed by the Trump administration to scrutinize the Russia investigation, has told the Justice Department that he will ask a grand jury to indict a prominent cybersecurity lawyer on a charge of making a false statement to the F.B.I., people familiar with the matter said.
Any indictment of the lawyer — Michael Sussmann, a former federal prosecutor and now a partner at the Perkins Coie law firm, and who represented the Democratic National Committee on issues related to Russia's 2016 hacking of its servers — is likely to attract significant political attention.
Donald J. Trump and his supporters have long accused Democrats and Perkins Coie — whose political law group, a division separate from Mr. Sussmann's, represented the party and the Hillary Clinton campaign — of seeking to stoke unfair suspicions about Mr. Trump's purported ties to Russia.
The case against Mr. Sussmann centers on the question of whom his client was when he conveyed certain suspicions about Mr. Trump and Russia to the F.B.I. in September 2016. Among other things, investigators have examined whether Mr. Sussmann was secretly working for the Clinton campaign — which he denies.
An indictment is not a certainty: On rare occasions, grand juries decline prosecutors' requests. But Mr. Sussmann's lawyers, Sean M. Berkowitz and Michael S. Bosworth of Latham & Watkins, acknowledged on Wednesday that they expected him to be indicted, while denying he made any false statement.
A spokesman for Attorney General Merrick B. Garland, who has the authority to overrule Mr. Durham but is said to have declined to, did not comment. Nor did a spokesman for Mr. Durham.
The accusation against Mr. Sussmann focuses on a meeting he had on Sept. 19, 2016, with James A. Baker, who was the F.B.I.'s top lawyer at the time.
Because of a five-year statute of limitations for such cases, Mr. Durham has a deadline of this weekend to bring a charge over activity from that date.