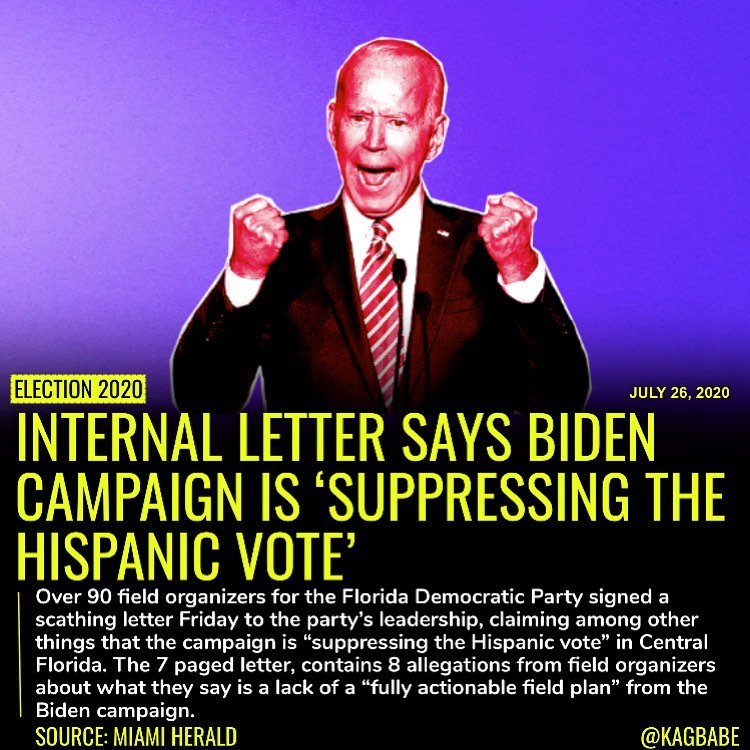 Over 90 field organizers for the Florida Democratic Party signed a scathing letter Friday to the party's leadership, claiming among other things that the campaign is "suppressing the Hispanic vote" in Central Florida.
The seven-page internal letter, obtained by the Miami Herald, contains eight allegations from field organizers about what they say is a lack of a "fully actionable field plan" from the Biden campaign as it transitions into the Florida party to coordinate voter outreach efforts.
This letter comes 100 days out from the general election and as recent polls show enthusiasm about voting among Latinos in battleground states like Florida could be waning in light of the COVID-19 pandemic.
Among the claims: mistreatment of field organizers, relocating trained staff members without explanation, lack of organizing resources and taking on volunteers who are then left in limbo.
In a battleground state where elections are historically won by thin margins — and as presidential campaigns ramp up outreach efforts in Florida's Hispanic communities — organizers claim that the Coordinated Campaign lacks key infrastructure and perpetuates a "toxic" work culture that is hurting morale among on-the-ground staffers.
One big issue is that at least a handful of organizers were recently transferred from a heavily-Puerto Rican part of the state to counties with a small percentage of Hispanics.
"Four of five Spanish-speaking organizers along the I-4 corridor who were moved to North Florida were Puerto Rican," the letter says.
⬇️
Over 90 field organizers for the Florida Democratic Party signed a scathing letter Friday to the party's leadership, claiming among other things that the campaign is "suppressing the Hispanic vote" in Central Florida.

The seven-page internal letter, obtained by the Miami Herald, contains eight allegations from field organizers about what they say is a lack of a "fully actionable field plan" from the Biden campaign as it transitions into the Florida party to coordinate voter outreach efforts.

This letter comes 100 days out from the general election and as recent polls show enthusiasm about voting among Latinos in battleground states like Florida could be waning in light of the COVID-19 pandemic.

Among the claims: mistreatment of field organizers, relocating trained staff members without explanation, lack of organizing resources and taking on volunteers who are then left in limbo.

In a battleground state where elections are historically won by thin margins — and as presidential campaigns ramp up outreach efforts in Florida's Hispanic communities — organizers claim that the Coordinated Campaign lacks key infrastructure and perpetuates a "toxic" work culture that is hurting morale among on-the-ground staffers.

One big issue is that at least a handful of organizers were recently transferred from a heavily-Puerto Rican part of the state to counties with a small percentage of Hispanics.

"Four of five Spanish-speaking organizers along the I-4 corridor who were moved to North Florida were Puerto Rican," the letter says.
⬇️