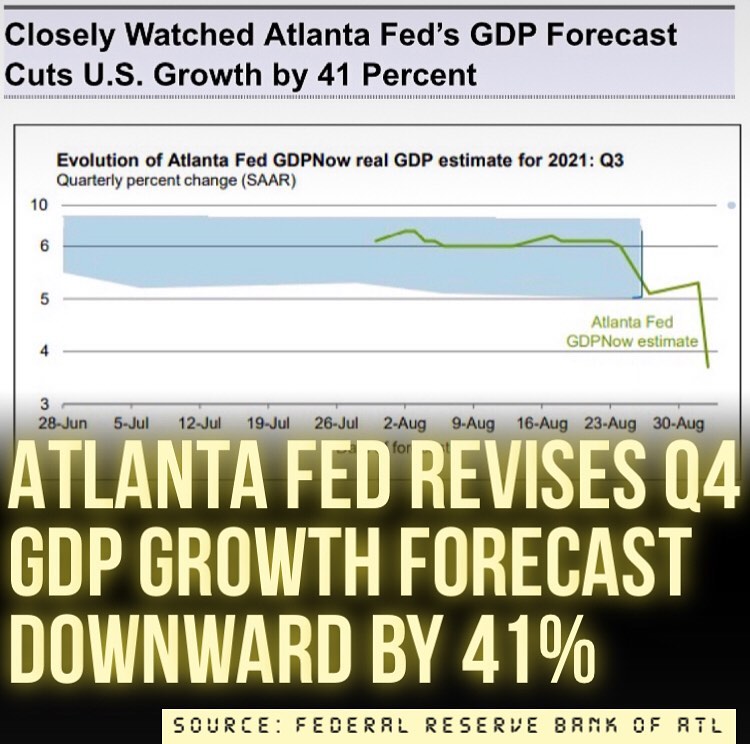 Wall Street on Parade:
The highly respected and closely watched Atlanta Fed's GDPNow forecast for the third quarter has been slashed by 41 percent since August 2 – from 6.3 percent GDP growth to a tepid 3.7 percent projected GDP growth on September 2.
The next update to its forecast will occur tomorrow after the Producer Price Index (PPI) is released at 10 a.m. (The GDPNow update typically occurs within a few hours of a new data release.)
Despite this dramatic deceleration in growth prospects for the U.S. economy in the current quarter, the following headline ran at Bloomberg News yesterday: "Fed Says Growth Downshifted Slightly July-Aug, Cites Delta."
Downshifted slightly?
The Bloomberg News report was based on the Federal Reserve's Beige Book – which looks at economic conditions across the 12 Federal Reserve Districts. One sentence stands out in the newly released Beige Book:
"Economic growth downshifted slightly to a moderate pace in early July through August."
That entire sentence is problematic. The Atlanta Fed's GDPNow forecast for the third quarter took a dramatic turn for the worse from mid-August to the end of August, dropping from 6.2 percent on August 17 to 5.1 percent on August 27. That's a deceleration of 18 percent in 10 days.
The Federal Reserve, where Jerome Powell would like to keep his job as Chair, is now between a rock and a hard place. If it presents the hard facts on the ground it risks further dampening the mood of the consumer – who represents two-thirds of GDP growth in the U.S.